A booming veteran population and the start of work on a new clinic that will treat them drew the secretary of the U.S. Department of Veterans Affairs to town Friday.
An advocate of giving veterans options in their health care, Robert Wilkie said the opening of the North Charleston annex is a sign of times to come at the VA.
The site is one of about two dozen being built across the country. For now, the land at 6450 Rivers Ave. is soft mulch and grass. A low fence separates the property from Hanahan Road. Trees still stand on all sides, though dust rises from tractors at work at the neighboring plot. 
It's a rapidly developing area, one that's expected to be more convenient for many patients that will use the clinic.
More than 400,000 veterans now live in South Carolina. Joe Cunningham, D-S.C., said during prepared remarks Friday the 1st Congressional District is home to more veterans than any other in the state. 
The 75,000-square-foot clinic is being built by Carnegie Management and Development Corp. It will cost $10 million to complete is expected toserve about 20,000 veterans annually. Its focus will be primary care, women's health and mental health.
The idea is that primary care patients will use the centrally located clinic just off Interstate 26, while those with more complex problems will head to the VA's full-service  hospital in the peninsula's medical district.
Scott Isaacks, director of the local VA medical center, has stressed that he needs more space and staff. With flooding on the peninsula also top of mind, the Charleston VA needs to be able to be agile, Isaacks said during a groundbreaking ceremony for the annex Friday. 
But it is run by the federal government, not known for being light on its feet. 
Wilkie, secretary of the Department of Veterans Affairs, said he is working on "creative" ways to hire people to jobs in the system by offering competitive salaries, relocation pay and student debt relief. He said the North Charleston clinic is a sign of how VA is beginning to spread out geographically.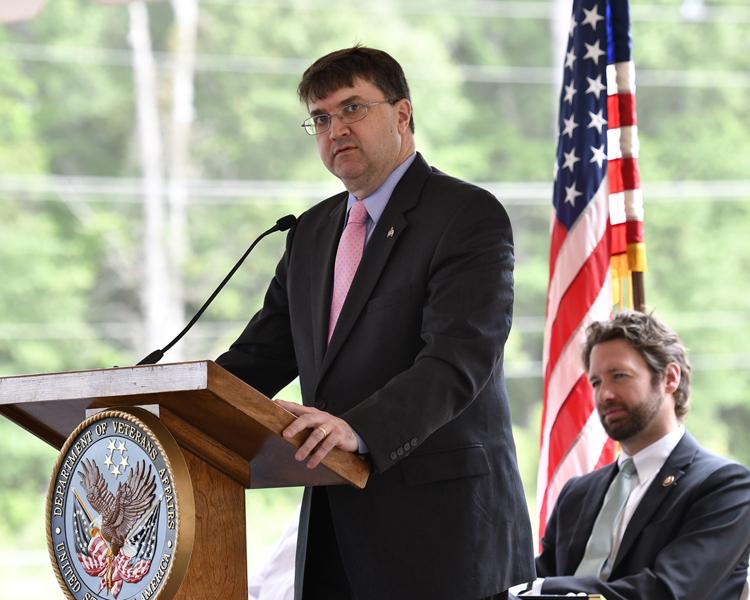 Wilkie called the Ralph H. Johnson VA Medical Center in downtown Charleston the second- or third-best agency hospital in the country. Veterans Affairs has 170 hospitals across the U.S. 
The Charleston VA Medical Center is among the highest-ranked, most robust VA facilities in the South. It is the fastest growing among its peers, Isaacks said.
At the moment, it is running out of space downtown. Parking is challenging. And flooding is a growing concern.
The federal government does move slowly, Wilkie said, but the North Charleston expansion shows "a way forward," an example of how VA might move quickly to cope with pressures.
Friday's groundbreaking is a sign of how health care facilities are dispersing, Wilkie said. The VA is doing what it can to bring services closer to where veterans live. 
"They need to spread out," Wilkie said. "They need to get foot traffic moving outside the hospital."
Wilkie has personal ties to South Carolina. He said his ancestors lived in the Upstate. His wife's family is from Horry County, and his son attends Clemson University.
Wilkie, a longtime Republican operative who was nominated for his post by President Donald Trump in May 2018, said he grew up in Fayetteville, N.C.
He has presided over a relatively calm period for the VA, following years of criticism over long wait times for  patients and other problems.
The department tasked with the care of 9 million veterans has come under fire in recent weeks over suicides that occurred at its facilities. Veterans groups lamented that strategies in place to cope with mental health challenges don't seem to be improving the situation. 
Wilkie said the agency has recently been able to hire close to 4,000 mental health professionals. 
He said he has also led an effort to make it easier for patients to seek care in the private sector, paid for by the federal government.
On June 6, Veterans Affairs will release new guidelines for veterans that will allow them to go to private providers if they are a 30-minute or more ride from a VA facility, or if they face a minimum 20-day wait. 
But he said veterans have been "voting with their feet." In recent years, the number of veterans seeking care outside of the VA has dipped. Wilkie declined to give the VA a letter grade, but said a 95 percent satisfaction rate is the only score the agency needs.