A new shopping center is in the works for a booming part of Berkeley County, but Wal-Mart won't be its neighbor.
The website for Hendon Properties of Atlanta shows the proposed development of a 28-acre retail site called North Creek on U.S. Highway 176 across from the Publix-anchored Market at Cane Bay Shopping Center.
The site also shows a Wal-Mart Supercenter across from Cane Bay High School at the new North Creek Drive and U.S. 176, but Jennifer Howard, spokeswoman for property owner WestRock Land and Development, said Wednesday the Wal-Mart plans "did not come to fruition." A Wal-Mart spokesman did not immediately respond for comment.
Hendon's plans for the proposed shopping center show a large, three-story storage building and several smaller shops for restaurants, retailers and other merchants along U.S. 176 and on both sides of North Creek Drive. North Creek Drive is directly across from Cane Bay Boulevard.
Plans call for the shopping center to be nearly 260,000 square feet with two 30,000-square-foot unnamed anchor stores.
A spokesman for the developer declined to comment on the proposed shopping center or a timetable for development Wednesday but said more details would be forthcoming.
The retail site is across from the 4,500-acre Cane Bay Plantation community on the edge of the similar-sized Nexton development. The site sits just west of the 2,300-acre master-planned Carnes Crossroads community.
Together, the three developments could one day be home to 75,000 residents, close to the current population of Mount Pleasant. All three are in different stages of development, though Cane Bay is farthest along with more houses on the ground.
Volvo Cars' $1 billion auto manufacturing plant is under construction west of the new mixed-used communities and is helping to drive growth in the area.
Hendon Properties also is the developer for the Harris Teeter-anchored Corner at Wescott Shopping Center in North Charleston, which opened three years ago.
Edging in
The first building to open soon as part of the new, mixed-use WestEdge development on peninsular Charleston will see three new restaurants and a fitness studio.
The Caroline, formerly called 99 WestEdge, a 237-unit apartment building scheduled to welcome its first tenants in January, will also house the commercial leaseholders. The multi-story building also has two other commercial tenants who have not committed but are under letters of intent.
The four tenants are Barre South, Hokkaido, BKeDSHoP and Jimmy John's.
Barre South, a locally owned barre studio, will expand its Charleston presence by opening a fitness studio on the ground floor space fronting WestEdge Street next spring. Owned by Brett Dunevant, the fitness site also operates in Mount Pleasant.
Hokkaido Japanese Restaurant will also open in the coming months. The Japanese restaurant focuses on sushi and dishes with an Asian flair.
Local baked goods concept, BKeDSHoP, specializes in fresh donuts and pretzels and will open its first retail location in Charleston. It will be joined by Jimmy John's, a chain sandwich shop.
Located across from Joe Riley Stadium, the apartments will offer an outdoor living and event space, swimming pool, dog spa, club room and fitness facility. Caroline is owned by South City Partners and Gateway Development Services, both of Atlanta.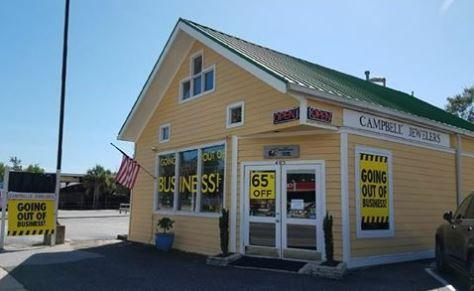 Into the sunset
The owners of a longtime jewelry shop in Mount Pleasant hope to be enjoying retirement soon.
For the past 30 years, Bruce and Cindy Campbell have operated Campbell's Jewelers at 405 W. Coleman Blvd. They now have all fine finished jewelry on sale up to 70 percent off as they plan to close the shop.
No date has been set for the store to close, but Cindy Campbell hopes it will be by year's end. She said it depends on how quickly everything sells. Fixtures and the building, which is next to Pelican's SnoBalls, are on the market as well.
"I want to sit on the new walkway along Shem Creek and watch the boats while my husband fishes," she said. "It will be nice to go to a movie matinee sometime."
Perking up
A new coffee shop is on the way to Johns Island. Sea Island Coffee recently leased 1,340 square feet to be constructed in Live Oak Square at 3112 Maybank Highway, according to the real estate firm Beach Commercial.
Setting up shop
Downtown Summerville now has a new home decor boutique. Cotton Down South at 206 W. Richardson Ave. specializes in farmhouse, vintage, shabby chic and rustic finds. Melinda Turner is the owner.
Temporary run
Mount Pleasant Towne Centre's newest shop is now open but not for long. Yoga-inspired, athletic apparel chain Lululemon opened Wednesday in a 3,673-square-foot space on Towne Centre Way. It's a seasonal appearance.
The grand opening includes in-store yoga style classes on weekends during November.
Lululemon has another local store on King Street in downtown Charleston.
Shopping reward
Citadel Mall is offering customers a free gift to entice them into the shopping center.
Customers who shop at the West Ashley retail destination can receive a gift with qualified receipts from any store or restaurant. Purchases must have been made between Oct. 25 and Nov. 3.
Gift items include kitchen strainers, spatula, insulated tote bag, whisk, ice cream scoop, measuring cups and a $5 meal coupon to use at select Citadel Mall eateries.
To claim a free gift, customers should take qualifying receipts to the mall management office 8:30 a.m. to 5 p.m. through Friday or until supplies run out.