As new industrial parks sprout in the Charleston region and the competition for workers heightens, Santee Cooper is hoping its unique commerce center plan combining nature, work and play will be a draw for businesses looking to give employees more than a 9-to-5 job.
The state-owned electric utility will break ground this week on Camp Hall — a roughly 4,000-acre business park adjacent to the Volvo Cars manufacturing campus nearing completion near Ridgeville in Berkeley County.
Camp Hall will combine traditional industrial tracts with amenities aimed at making workers' lives better, such as: walkable and bikeable nature trails through preserved forest and wetlands; a park and amphitheater; and campus-wide Wi-Fi service.
A village center at the heart of the industrial park will provide workers with the types of businesses they typically need on a regular basis — a gas station, day care, banks, grocery store, restaurants and fitness center — so they can run errands on lunch breaks, work out before clocking in or grab a bite to eat with co-workers at the end of the day.
All of the trails and amenities will be open to the public, not just those working at the site.
"Commerce parks typically have a lot of acreage, but everything is designed around getting people to and from work," Santee Cooper spokeswoman Mollie Gore said. "You usually have to drive somewhere else for lunch or to do all of your errands. Hopefully this will make it easier and more appealing for employees and easier for industries to fill those jobs."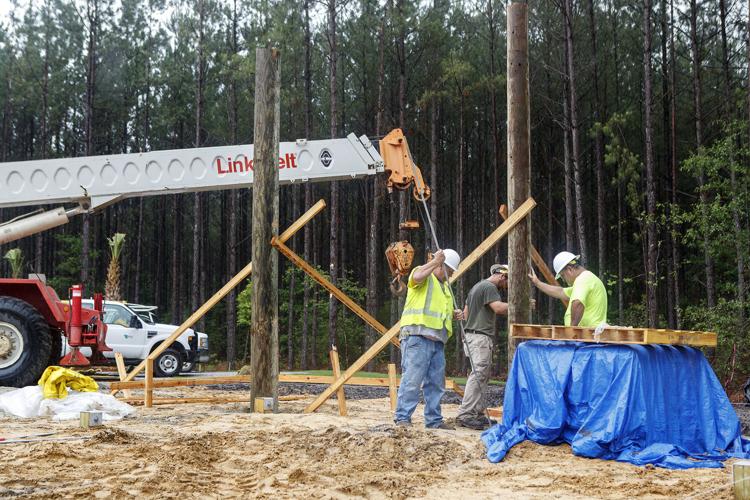 The industrial park, which will cost about $50 million to develop, is located off Interstate 26 at a new interchange being built for Volvo at mile marker 189. It will include more than a half-dozen sites for industries ranging from 7 acres to more than 600 acres, with subdividing possible.
The development costs are on top of about $40 million that Moncks Corner-based Santee Cooper and the electric cooperatives providing power to the site have already spent on land and infrastructure. The utility plans to recover its investment by selling parcels to businesses and through electricity sales. 
Santee Cooper has already signed up one industry for the project — a logistics and warehouse facility on a 75-acre tract that will be announced at this week's groundbreaking — and marketing is under way for the other sites.
It's a long-term project that will take several years to complete, and Santee Cooper is hoping to partner with other developers.
"The trails will be built out as we develop and open up parcels," Gore said. "We are working on some of the parcels already, with clearing, grading and infrastructure. We expect to start building out the village center within the next couple of years as the workforce there grows."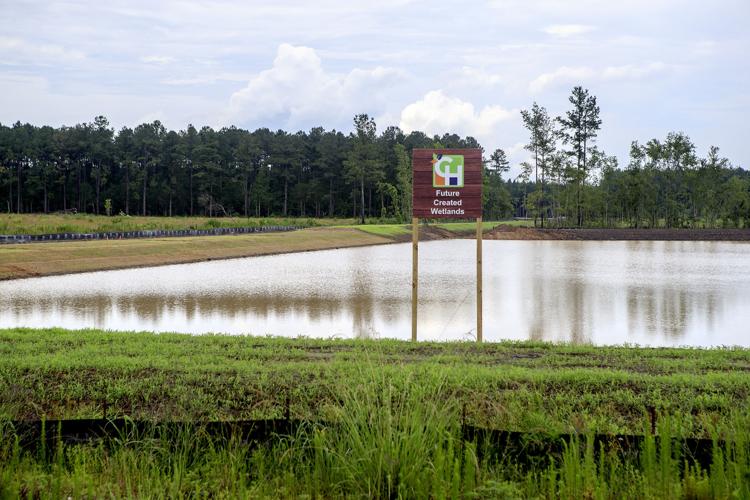 The combination of business, recreation and preservation — about half of the site will remain wooded areas and wetlands, including 365 acres of restored wetlands — is rare among industrial parks, according to Business Facilities magazine.
"The nature trail, ecological stuff and the village center are not features you typically find integrated into a large industrial tract," said Joyce Wasserman, an account executive with the magazine.
An example of the type of project Santee Cooper hopes to develop can be seen at the Research Triangle Park, a science and technology center started more than 50 years ago near Raleigh, N.C. Developers of that site are building Park Center — an eventual 100-acre mix of retail, residential and public parks in the middle of the sprawling site.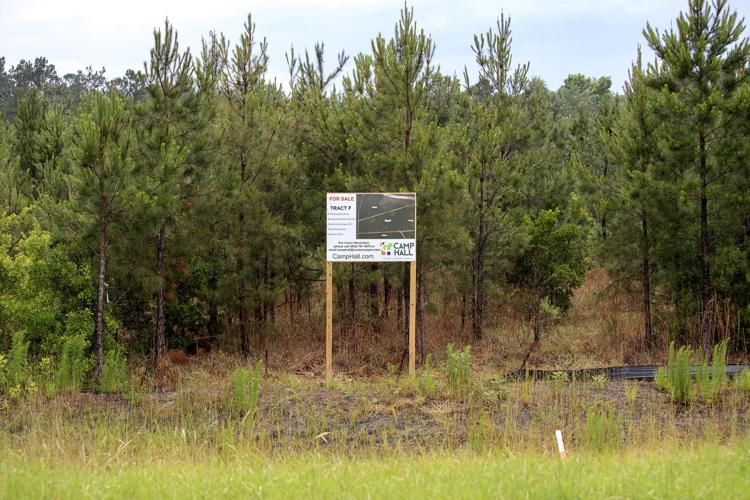 To develop Camp Hall's master plan, Santee Cooper solicited ideas from prospective workers through a survey conducted by MAU Workforce Solutions. Among the things workers said they are looking for: "Being able to take a walk during lunch for some mental health time and relieve stress. In other words, 'me time.'"
While the park will have the usual amenities important to industry — water, sewer, electricity, natural gas, high-speed Internet, roads and easy access to an interstate and the Port of Charleston — it also will include access to a rail network provided by state-owned Palmetto Railways and CSX Corp.
Santee Cooper hopes its biggest selling point, however, will be its unique focus on workers' needs.
"We think the modern work spaces will give Camp Hall a leg up in terms of attracting and retaining the workforce industries are going to need," Gore said.