A longtime Charleston-area restaurant shut off its burners one last time last week without much prior notice and little fanfare, but the site won't stay dark very long.
The oceanfront Banana Cabana at 1130 Ocean Blvd. on the Isle of Palms closed Dec. 13 after 27 years of serving burgers, pizzas and frozen cocktails. 
In its place will come a tenant that's no stranger to the building.
Ken Vedrinski, who owns the Italian seafood restaurant Coda del Pesce on the building's upper floor, has leased the 2,400-square-foot site and plans to open an oyster bar, according to Jim Moring of Restaurant Brokers.info, a subsidiary of The Commonwealth Co.
Vedrinski said he will call the new site Binky's Seaside Oyster and Liquor Bar. The name derives from his brother's nickname. Vedrinski said when he visits the panhandle of Florida, he notices oyster shacks with funky names and he wanted to mimic that style.
With an April opening targeted, the oyster bar will have wooden floors and corrugated steel for a more gritty feel than the upstairs venue, Vedrinski said.
"We want it to look like something that's been there a while," he said. "We don't want the perception that we have knocked out all of the cool stuff (on the island)."
He plans to be open seven days a week from 11 a.m. until closing from Memorial Day through Labor Day. Hours for the off season will be considered later.
Vedrinksi also operates Italian restaurant Trattoria Lucca in downtown Charleston.
Banana Cabana announced its closing on Facebook the day it stopped serving.
"After 27 memorable years, it is with a heavy heart that Banana is closing its doors today," according to the posting.
"We have enjoyed serving the island and travelers far and near. Thank you to all of our patrons for your support and for all of the moments you have shared with us. Please remember to support local businesses. We will always carry a piece of you in our hearts," the post concluded.
Owner Gary Hart said he was ready to semi-retire and get out of the business. He also said it was difficult to find reliable help in Charleston's bustling restaurant environment with the tight labor market. Vedrinski said seeking restaurant help is always challenging, but he has not encountered the problems of others as employees seek to have his establishments on their resume.
Holiday opening
Just in time for Christmas, a Pawleys Island retailer is setting up another shop in the Charleston area.
Carolina Gourmet will open a new store near Belk in Mount Pleasant Towne Centre on Thursday. It offers gift baskets, gourmet foods and kitchen gadgets, among other items. The shops are owned by Mark Pavlick.
Driving in and out
Sonic Drive-In recently reopened its restaurant at 2868 Highway 17 in northern Mount Pleasant after being closed following a fire in January.
But its sister store at 691 Long Point Road, also in Mount Pleasant, is now closed. AAA Fins Car Wash is slated to go on the former Sonic site. Nine other Sonics serve the Charleston region.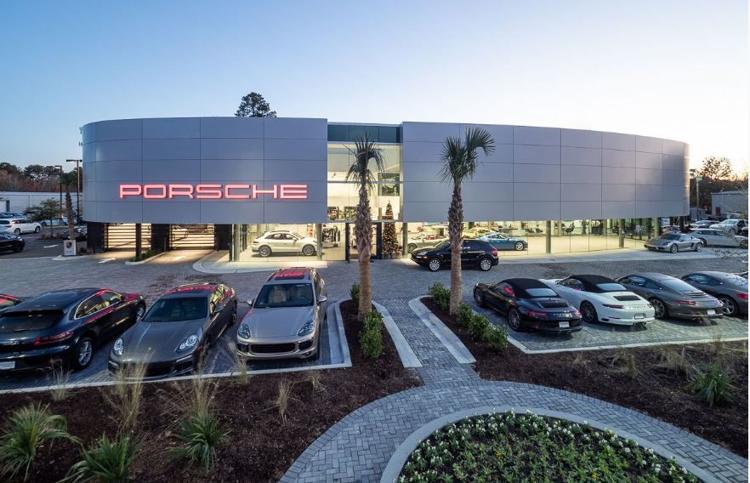 New wheels
Charleston's foremost luxury automobile dealer recently opened its newest showroom.
Customers will find Baker Motor Co.'s 20,000-square-foot, two-story Porsche Charleston at 1515 Savannah Highway.
It's 10 times larger than the previous facility at 1511 Savannah Highway and offers 30 percent more inventory, 12 service bays and two additional technicians. With a customer cafe, vehicle customization lounge and audio-visual elements for car-seekers, the showroom sits next to owner Tommy Baker's Infiniti and Mercedes-Benz dealerships.
Offering a stable of luxury dealerships in Charleston, Mount Pleasant and Wilmington, N.C., Baker will host a grand-opening event in the new year. The date has not been set.
"We're committed to providing the best automotive facilities in the nation right here in Charleston, and this facility is our most recent example of that," Baker said. "No detail has been overlooked. ... Enhancing the customer experience is a part of our DNA so we're excited to offer a new space that provides a five-star, club-like feel."
Severing ties
Upscale grocer Whole Foods Market and delivery service Instacart are going their separate ways.
Instacart executives told employees earlier this month the company's relationship with Whole Foods will begin to wind down in February and disappear within months.
Whole Foods operates two stores in the Charleston region — in Mount Pleasant and West Ashley — and they offer Instacart, Shipt and Amazon Prime delivery services.
Instacart started serving Whole Foods in 2014, but when Amazon bought Whole Foods in 2017 for $13.7 billion, the Seattle-based online retail giant started its own delivery operation at the grocer.
Whole Foods operates 496 stores across the U.S., and Instacart shoppers serve the Austin, Texas-based grocer as well as other supermarket chains.
Affected Instacart shoppers will be offered positions in other locations, according to the San Francisco-based company.
"We're committed to taking care of all impacted in-store Whole Foods shoppers who choose not to, or cannot, be placed in a new role," Instacart CEO Apoorva Mehta wrote to employees in a blog post published on the website Medium, according to the Austin American-Statesman. "I want to thank you all for your continued dedication to providing a great service for our customers."
A Whole Foods representative did not immediately respond for comment.
Instacart launched in 2012 and now serves 240 markets, including several major grocery chains. Increased competition and the arrival of in-store delivery offerings such as Amazon Prime nipped into Instacart's relevance at Whole Foods.
In October, Amazon expanded its one-hour delivery service from Whole Foods to include Charleston and nine other locations across the U.S. The service is now available in 63 cities with plans for further roll-outs across the nation.
Delivering deadlines
Holiday procrastinators take note: the world's largest retailer has set a few deadlines for online orders and deliveries.
Online orders at Walmart.com can be made until 4 p.m. Dec. 23 for pickup in the store by 5 p.m. Dec. 24.
On shipping orders for select items and certain locations, customers can order through Dec. 22 for delivery before Christmas. The cutoff time for most items to be shipped for Christmas arrival ended at 4 p.m. Wednesday.
Walmart will close its stores at 6 p.m. Christmas Eve and is closed on Christmas Day. It operates 10 superstores and five Neighborhood Market stores in the Charleston region as well as Sam's Club in North Charleston.
Makeover coming
Apparel shop Pixie Lily at 48 Society St. in downtown Charleston will be closed Dec. 24 through Jan. 8 for renovations. Many of its items are on sale ahead of the store overhaul.
Lights out
Momma Goldberg's Deli recently closed at 230 Mathis Ferry Road in Mount Pleasant. The Alabama-based chain opened the restaurant in 2014 as the first one in South Carolina.
Holiday market
The Johns Island Holiday Market is set for 10 a.m. to 3 p.m. Saturday at the site of the weekly farmers market on the campus of Charleston Collegiate School at 2024 Academy Road. Gifts and food will be available from artisans and farmers along with family-friendly activities. For complete details, go to johnsislandfarmersmarket.com.