In Charleston, the holidays have been turned up a notch this year.
New holiday lights are decorating King Street, an inaugural three-day event from the magazine Southern Living is coming to town and the South Carolina Aquarium is illuminated with an all-new display that could be the first of its kind. 
Kevin Kampwerth, director of brand identity and aquarium experience at the Concord Street attraction, said he'd had the idea for the event, which is called "Aquarium Aglow," in his head for a few years. It was a little over a year ago that leaders at the aquarium met and started to figure out how to make it happen. 
"We thought this would be a real opportunity for us from a revenue standpoint to start bringing people back," he said. 
Preparation really got going in February, Kampwerth said.
All of the displays, — which range from lights adorning indoor exhibits to a tree of lights outside the entrance, coordinated to music — were designed and made by aquarium staff. 
Near the aquarium's Ocean Tank there's a large, red squid suspended above the stairs. Around it are glowing jellyfish. All of those critters were made with recycled water bottles, Kampwerth said. The squid alone took roughly 1,000 water bottles to make.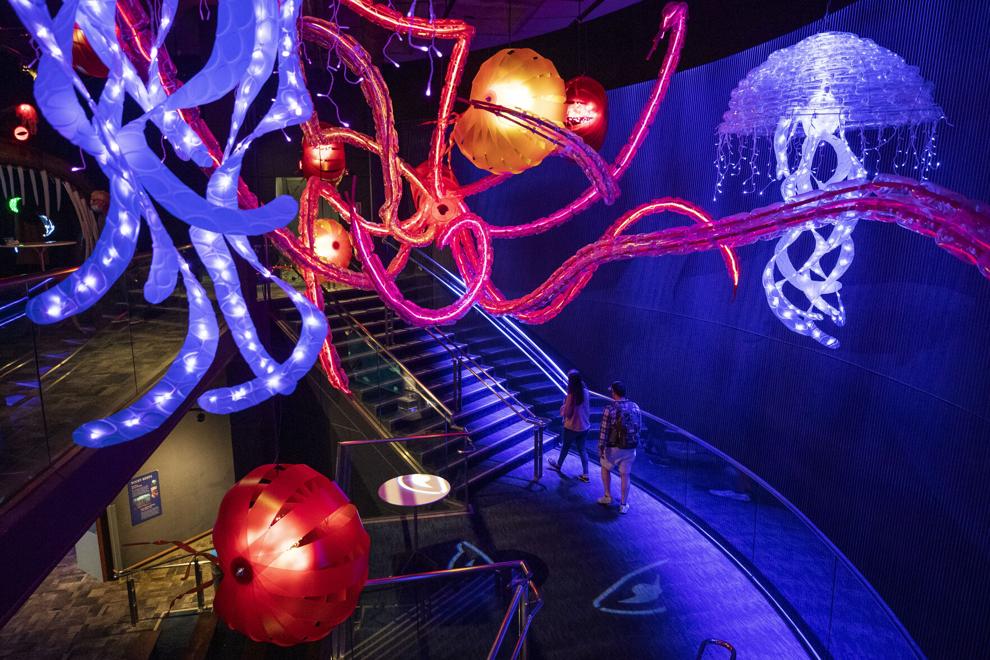 This program has been a big undertaking. 
It's pretty common for zoos and botanical gardens to have holiday light displays, but Kampwerth said he couldn't find another aquarium with an equivalent event.
There are challenges to it, especially from an animal perspective. The aquarium's animal care team has been involved from the very beginning. The animals are "always the priority," so a lot of work went into making sure the lights would not disturb any of the aquarium's several thousand residents. 
And, while evening events aren't new for the aquarium, this is the first time the attraction has been open at night this consistently. 
"It's really every department that's been involved in this," Kampwerth said. "It's probably the single biggest change in operations since we've been open."
But the hardest part has been done. Plans created for this inaugural event can be repeated and tweaked, as needed, and displays can be reused. 
The aquarium hopes to make it an annual event, Kampwerth said.
"We want it to be a family tradition," he said. 
Aquarium Aglow kicked off Nov. 18 and is being held on select nights through Jan. 2. 
Over on Meeting Street, a high-profile holiday event will make its debut the first weekend of December. 
Earlier this year, Southern Living, along with the nonprofit Historic Charleston Foundation and the tourism marketing group Explore Charleston, announced they were bringing a new three-day event to the city, Illumination Charleston.
"If there are two things our readers love more than anything, it's the holidays and the city of Charleston," said Sid Evans, editor-in-chief at Southern Living.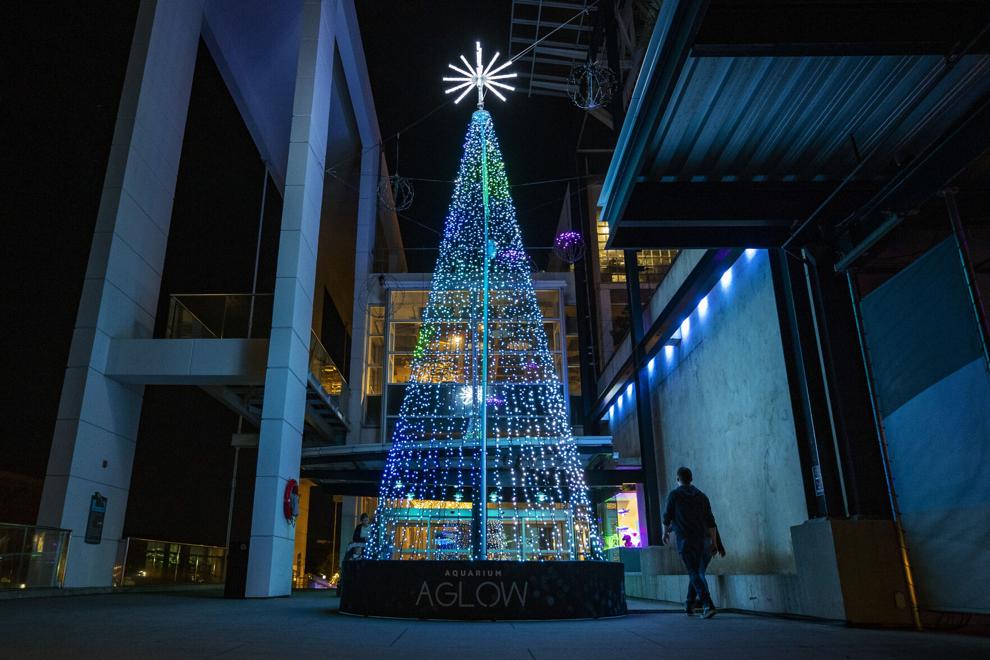 Discussions about bringing those elements together for an event started prior to the pandemic. This year, the timing seemed right to make it happen.
"I think this year people are looking forward to the holidays more than ever," Evans said. "I think they're starting to travel a bit more. They're looking for something extra special."
Exact numbers won't be known until after the event wraps, but Evans said there should be "quite a few people traveling to Charleston" for the weekend. 
With the city's recently renovated downtown visitor center as the central venue, the weekend will include cooking demonstrations, design talks, a market featuring goods from the magazine's "tastemakers" and tours of historic homes.
Evans said Southern Living wanted to "bring the pages of the magazine to life" with the slate of events.
Prep for Illumination Charleston has been ongoing for the better part of a year.  
"It's been a labor of love," Evans said. "I think it's going to be a terrific event."
That illumination theme also extends to new holiday lights wrapping trees on King Street. Downtown also has four new glowing signs, each that say, "JOY" with Charleston's signature pineapple standing in for the "O." One is in Marion Square where Charleston will host a tree lighting Dec. 2.
Travelers who do book a trip to the Holy City will also have the added perk of two new options for lodgings in the Historic District. The first newly built hotels on the peninsula to open since Hotel Bennett's 2019 debut both started welcoming guests this month. The Loutrel on State Street opened Nov. 1. The Saint Hotel on East Bay opened its doors Nov. 19. 
And there are other area attractions bringing back or introducing new holiday events. 
Boone Hall Farms in Mount Pleasant, for example, rolled out an inaugural three-day Christmas Tree Festival with family-friendly activities like a ferris wheel, cookie decorating and photos with Santa. That event started Nov. 26 and ends Nov. 28. 
While 2021 got off to a slow start, the tourism industry recovered enough this year that it met and in some cases exceeded pre-pandemic figures. And while the delta variant of COVID-19 raised concerns that the industry could backslide after a strong summer, that never happened. 
The most recent numbers show the local visitor sector is "basically paralleling" what it was doing at this time in 2019, said Daniel Guttentag, director of the College of Charleston's Office of Tourism Analysis.
"That's a really good, desirable place to be, especially after the delta wave," Guttentag said. 
October passenger counts at Charleston International Airport were a hair above where they were two years ago. Room nights sold for the month were about the same, up 1 percent from 2019.
December is traditionally one of the market's quietest months, Guttentag said, so it makes sense to try to build up that business. 
"At other times of year, we're as busy as we can be," he said. December is a time when there's "definitely opportunity to bring in more visitors." 
Plus, Charleston's mild winters make for an easier sell to visitors during the end-of-year holiday season than for other, colder destinations.
"It makes sense to double down on that appeal," Guttentag said.