The beach-going, flip-flop crowd will soon have a new place to eat and drink on Folly Beach.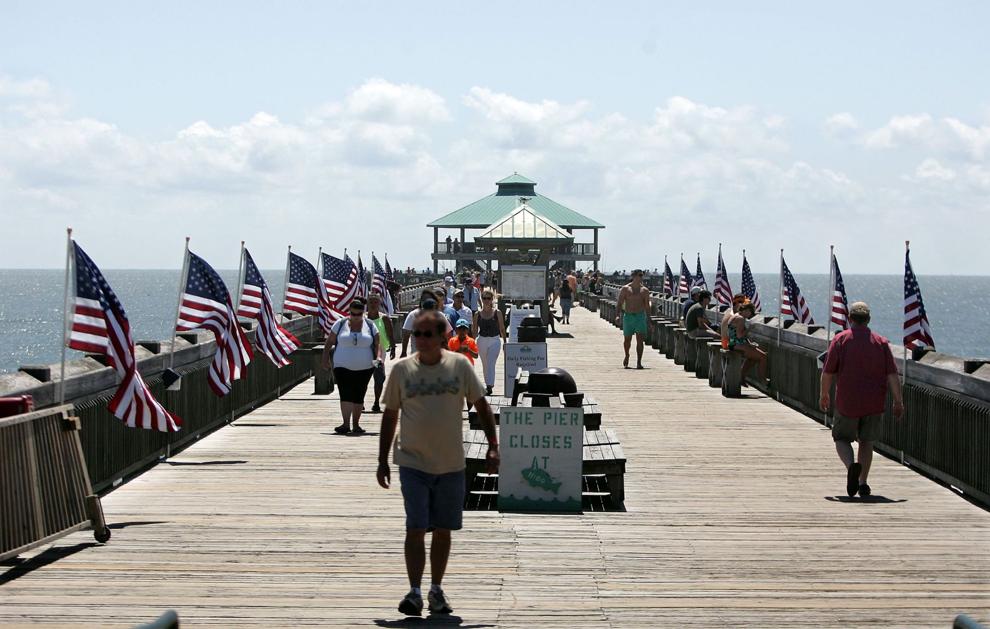 Pier 101, described as a casual, family-friendly restaurant, will take over the space vacated by Locklear's in the fall at the landward end of the Folly Beach pier, according to Jon Weitz, president of Avocet Hospitality Group, which will operate the new dining establishment. A March opening is targeted.
The 2,369-square-foot restaurant will offer fried or grilled local shrimp and other seafood as well as salads, burger and fries.
Weitz hopes to revitalize the space to a semblance of its former glory.
The hospitality company worked with local architect, The Middleton Group, and Charleston-based graphic designer Gil Shuler to incorporate several elements to pay homage to the original Folly Beach pier, which was built in 1931. That open-air structure, which was destroyed by fire in 1977, served food and was the site of many dances. Recreations of the signage and lettering from old photographs will be used in the new design as well.
Avocet plans to incorporate a garage-door opening to bring the ocean atmosphere into the restaurant when the weather permits. Part of the outside deck will be dedicated to live music to inspire memories of dancing on the pier on a summer evening. An outdoor bar with ocean views is being added as well.
Avocet also operates The Tides hotel near the pier as well as The Vendue hotel in downtown Charleston.
Night spots
The Charleston City Market will accept applications for the 2017 Night Market Tuesday through Feb. 1.
Applicants must live in Berkeley, Charleston or Dorchester counties.
Entering its fourth year, the Night Market operates 6:30 p.m. to 10:30 p.m. Friday and Saturday from March through December. The Night Market re-opens March 17.
To apply, go to thecharlestoncitymarket.com. 
Coming soon
Avondale will soon see a new restaurant.
Local restaurateur Danny Bailey said he plans to open DB's Cheesesteaks at 2 Avondale Ave. in the former Papa Murphy's Take 'N' Bake Pizza site early this year.
The restaurant will offer traditional Philadelphia-style cheesesteaks, sub sandwiches, burgers and other items.
Bailey's first foray into the local dining scene was with the former James Island restaurant DB's Famous Cheesesteaks.
Off the rack
Upscale women's clothing store The Resort Shop at Belmond Charleston Place closed at the end of the year after a 19-month run. Its original location at Freshfields Village Shopping Center near Kiawah Island remains open.
Dollar days
Charleston's growing suburban reach in Berkeley County is gaining a new discount merchant.
Dollar General will celebrate the opening of its new store at 1096 Clements Ferry Road with free prizes and special deals at 8 a.m. Saturday.
Also, the first 50 adult shoppers at the store will receive a $10 Dollar General gift card, and the first 200 shoppers will receive a Dollar General tote bag, among other giveaways.
Keeping fit
A new fitness center is now open on the Charleston peninsula. Koko FitClub can be found at 701 East Bay St., Suite 103, in the Cigar Factory. Owned and operated by Mark and Jennifer McMahon, it's the company's first location in South Carolina. A second site is planned for Mount Pleasant's Sweetgrass Corner Shopping Center near U.S. Highway 17 and the Isle of Palms connector. Memberships will be honored at both gyms.
Established in 2007, Koko FitClub is a non-traditional gym experience that uses digital technology and the latest research in exercise science to develop workout routines personalized to each member.
Dancing in
The addition of Arthur Murray Dance Studio has brought Midway Plaza at 1300 Savannah Highway to 100 percent occupancy, according to commercial real estate firm NAI Avant. The 3,500-square-foot space will see South Carolina's first Arthur Murray franchised studio.
Also, the Dance Conservatory of Charleston recently leased 2,850 square feet at 1632 Ashley Hall Road in Ashley Hall Center, according to Tom McGee of commercial real estate firm CBRE. Owned by Lindy Fabyanic, who previously danced with the New York City Ballet, the studio teaches professional ballet from toddlers to adults. A May 1 opening is planned.
Piece of pie
Pizza Hut recently leased 1,500 square feet in the Shops at Wescott at 9770 Dorchester Road, Unit 105, in North Charleston, according to commercial real estate firm Coldwell Banker Commercial Atlantic.
Old to new
A new craft supply shop recently opened in Summerville. The Bead Hunters ReStore can be found at 306 N. Gum St. The shop sells vintage and salvaged beads and craft supplies. It also restores vintage and antique jewelry.
Owned by Angela Forbush, the store is open 10 a.m. to 6 p.m. Wednesday through Friday with abbreviated hours on Saturday and Sunday.