Two new upscale apartment developments in Cainhoy and North Charleston are opening their doors for nearly 400 new residents.
Cainhoy Pointe, a gated community off Clements Ferry Road next to the 9,100-acre, master-planned Cainhoy Plantation, offers 110 units, while The Factory at Garco Park near Park Circle in North Charleston is open with 271 rental residences.
Cainhoy Pointe is the product of The Berry Companies of Charlotte and New York-based Big Cypress Capital while The Factory at Garco Park comes through The Beach Co. of Charleston.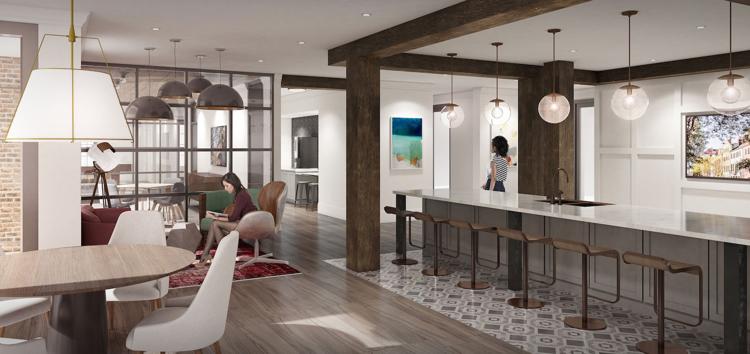 Cainhoy Pointe includes five buildings overlooking a private lagoon and wooded preserve. The amenity center, expected to be completed in August, features a resident lounge, game room, cyber cafe, demonstration kitchen, fitness center, yoga studio and business center, along with a pool, fire pit, walking paths and dog park.
The one- and two-bedroom units range from 817 square feet to 1,057 square feet with features such as open kitchens and dual marble vanities. Each three-story building comes with video access control systems and high-speed, gigabit fiber Internet service, a first for Charleston-area apartments. Construction on the final building is expected by August.
The new apartments at 1030 Jack Primus Road are adjacent to the existing 72-unit condominium project developed in 2008. Developers have renovated and converted 27 of the units into apartments.
RAM Partners is the property manager and Sales Inc! is handling leases.
"The Cainhoy Pointe project is yet another great example of how an asset that temporarily fell victim to the 2008 market correction ... has been transformed through a well-coordinated 'build-to-core' investment strategy," said Max Mazzone, principal of Big Cypress Capital.
In North Charleston, the 12.5-acre Factory at Garco Park sits just off the retail district on East Montague Avenue in Olde North Charleston and is in the heart of Charleston metro area.
With 10 floor plans, The Factory offers studio, one- to three-bedroom units along with a saltwater pool with cabanas and water lounge, a fitness facility, a private boat storage area, a dog park and spa, outdoor kitchen and bocce court.
Unit features include granite countertops, 9-foot ceilings, washers and dryers, large closets and bathrooms and fiber optic data/telecommunication connections with up to one gigabit of bandwidth.
The Factory sits on a 40-acre, mixed-use development called Garco Park, also developed by The Beach Co., along O'Hear Avenue. Commercial tenants include Palmetto Brewery, Urban Electric, Adams Outdoor and others.