A water heater invented by a Mount Pleasant engineer made Time magazine's list of best inventions this year. 
Time writers called the device, made by Mount Pleasant-based Heatworks, "a more efficient water heater." They pointed toward its ability to use electrical current to quickly heat water. The device is also connected to a mobile app, which consumers can use to keep tabs on how much water they're using and control their usage.
The water heater costs $799. Company founder and CEO Jerry Callahan says it will save customers $245 every year in energy costs. 
By comparison, a water heater that runs on a tank will likely cost more than $1,000. Other tankless water heaters can run for thousands of dollars. 
It can also be installed in addition to a traditional water heater. Some people might need two of the devices, depending on where they live and how much water they use.
The water heater uses Heatworks' patented technology that does away with the coils typically used to heat household water. Instead, the heater delivers an electric current to the water. It comes with an app that lets homeowners control the exact temperature at any time — part of the "smart home" trend that allows people to control their houses from applications on their phones.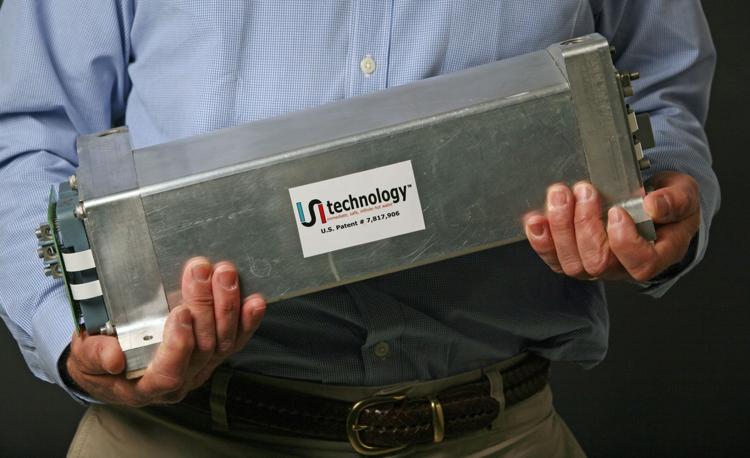 The smart water heater was the company's inaugural product, entering the market in 2015. Callahan envisions the company going beyond water heaters. 
Callahan conceived the heating technology in 2006, when he was searching for a tankless option to warm his outdoor shower. He had recently left Blue Rhino, the propane tank exchange giant he helped co-found. None of the tankless options were right, so Callahan built an early iteration of his technology with materials he picked up at Royall Ace Hardware in Mount Pleasant. 
Now, Callahan says his technology is being sought by other industries, from milk manufacturers who want to use the temperature control in their pasteurization process to coffee roasters who want to optimize the flavor of their coffees. His team took apart a Keurig and installed a makeshift prototype of the technology into the automatic coffee maker, proving the idea is sound, Callahan said. 
That's the area where he thinks the business could grow the most — in partnering with existing companies. But for the time being, the Heatworks water heaters are still where all of the company's revenue comes from.
Heatworks will soon introduce a second product of its own, which Callahan said was also a contender for the Time list. It's a dishwasher that can sit on a countertop. It requires just half of a gallon of water, but it's smaller and holds only about two place settings of dishes.
Called Tetra, the dishwasher will be priced at about $300 and is expected to hit the market next year. 
The device requires no plumbing, only a standard electric plug. Heatworks is hoping the product catches on with young people living in compact apartments.
Another product with a Charleston tie-in also made the Time list. Nanobébé, a Tel Aviv-based company that makes baby bottles, announced it was expanding to the region earlier this fall. The move stemmed from of the South Carolina-Israel Collaboration, which was begun in 2011 to foster business ties between the two.
Nanobébé's baby bottle, listed for $10.99, made Time's best inventions list, with the publication citing its ability to allow milk to heat and cool twice as fast as its cylindrical peers. Monitoring the heating and cooling of breast milk are important to preserving the nutrients inside.