One of the biggest names in the online travel industry is getting dragged back into court in South Carolina, if in name only. 
Expedia Group pleaded unsuccessfully to keep its well-known corporate brand out of the growing thicket of litigation that the city of Charleston and other local governments embarked on last year to collect accommodations taxes and business license fees from short-term rental businesses and websites.
It's the latest legal and accounting headache for the Seattle-based online reservation giant, which has estimated that more than 100 similar cases have been filed across the country since 2004, when Los Angeles opened the floodgates.
Nine lawsuits involving Expedia are unresolved, according to a recent quarterly financial report.
The company's earliest tax tussle in South Carolina eventually reached the pinnacle of the state legal system more than a decade ago — and laid the groundwork for the latest complaint.
In that instance, the S.C. Department of Revenue demanded that Expedia-owned Travelscape cough up about $6.4 million after an audit of hotel room bookings between 2002 and 2006. The agency determined that the website operator wasn't paying state sales taxes on some of the fees it charged.
Travelscape pushed back. It argued that the revenue in question wasn't taxable because it was tied to services it provided. The company also said it was merely an "intermediary" that provided an online reservation platform to consumers and didn't own or furnish the actual hotel rooms.
The dispute made its way up to the S.C. Supreme Court, which sent shivers across the then-mostly tax-free e-commerce landscape with two words in its January 2011 ruling. 
"We disagree," the justices wrote.
Revenue-hungry local governments from Aiken to Charleston to North Myrtle Beach spotted the legal opening and ran to it. They sued Expedia and other well-known travel websites to claw back hospitality taxes and business license fees from years past. Three of the cases yielded a combined $7.3 million in settlements.
The action has now shifted from conventional daily-rate hotels to the fast-growing short-term rental industry.
The 2021 lawsuit filed in Charleston County is a next-generation version of Travelscape, which local governments said is basically indistinguishable from the case they're pursuing. 
The towns and cities that brought the complaint make up some of the Palmetto State's most popular overnight tourism destinations: Charleston, Columbia, North Charleston, Myrtle Beach, Folly Beach, Isle of Palms, North Myrtle Beach and Hilton Head Island.
And they're chasing after some of the biggest names in the short-term rental game led by Airbnb and Vrbo, as well as some smaller operators.
Short of a settlement, financial audits will determine how much money is up for grabs.
For now, the litigation has been bogged down, partly because the number of public agencies that want a piece of the action keeps growing. The roster has doubled to 16 over the past 13 months. Just last week, the lawsuit was revised for the second time to add several newcomers, including Horry County and Surfside Beach, buying the defense lawyers more time to respond.
The most intriguing wrinkle to date has been a corporate identity squabble over the former Vacation Rental By Owner, now Vrbo, which Expedia acquired when it bought HomeAway.com in 2015.
The debate broke out when the local governments asked for permission last year to add "VRBO, an Expedia Group Company" to the list of businesses they're suing.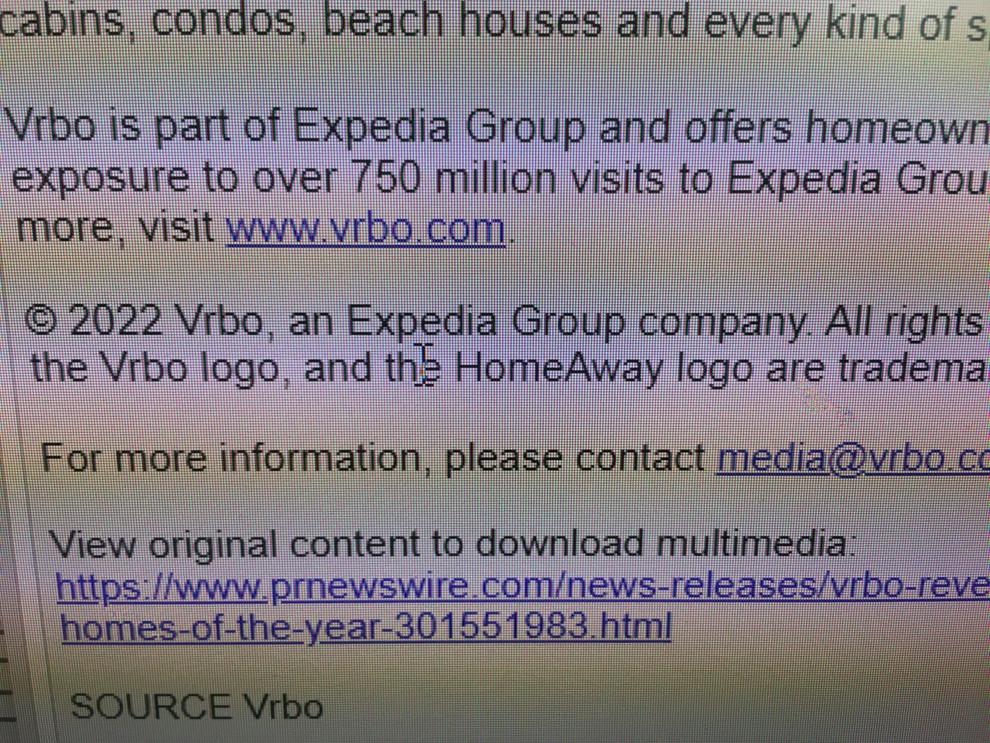 It was unexpected, according to court documents, and it apparently struck a nerve at Expedia. Michael Marron, a Seattle-based senior vice president, said in a sworn affidavit in January that HomeAway.com Inc. is "the only legal entity ... that operates the business of Vrbo." He also pointed out that an all-capitalized version of the rental platform isn't affiliated with or owned by Expedia.
HomeAway's lawyers further argued that Vrbo is already a defendant in the case, adding that the "Expedia Group Company" tagline is a phrase that appears online for copyright reasons. They warned that if the name was added to the complaint, delays and red tape would follow. They also pointed out that "a non-existent entity" cannot be served with a lawsuit "and nor can counsel for HomeAway represent one."
"There is no such company," they wrote in boldface type for emphasis.
Jesse Kirchner, who represents the local governments, didn't respond to a request for comment.
HomeAway, and by extension Expedia Group, wasn't able to sway the court. Regardless of whether it exists, "VRBO, an Expedia Group Company," was listed as a defendant when the updated lawsuit was filed Tuesday. The name was highlighted in boldface type.