In a part of South Carolina that once relied on video poker as a major economic draw, fortunes are starting to change.
The State Ports Authority on Monday will officially open its inland port in Dillon, linking the state's Pee Dee region with the Port of Charleston via a CSX Corp. rail line that will operate six days a week.
The $50.5 million cargo-transfer hub will let trucks and trains exchange thousands of containers filled with consumer goods destined for points north along Interstate 95 or — if headed in the other direction — to any number of markets overseas.
And it's sparking an industrial revolution in an area that's historically had some of South Carolina's highest unemployment and poverty rates.
"Inland Port Dillon will be a vital addition to South Carolina's growing logistics sector, supporting the port's overall volume growth and serving as a major economic driver for many facets of the industry," said Micah Mallace, the SPA's director of strategic projects.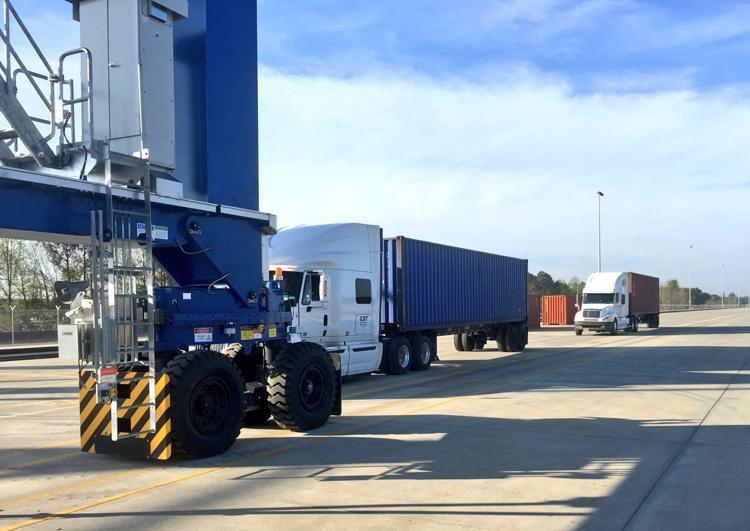 Looking up
Dillon County is perhaps best known as home to roadside attraction South of the Border, once one of the state's largest video poker operators before the games were banned in 1999. In the years since, the attraction and the region just south of the North Carolina state line have struggled.
Lately, though, things are looking up for the rural county and the broader Pee Dee area, with unemployment on the decline.
Dillon County hosted a half-dozen groundbreaking ceremonies in 2017 for businesses creating more than 1,000 jobs. Among the highlights was a $200 million expansion at the Harbor Freight Tools distribution center located near the inland port.
More is on the way.
KB Biotech Solutions, a pharmaceuticals supplier, is opening a manufacturing center in a cold-storage warehouse in downtown Dillon. DMA Holdings, an automotive parts supplier, is investing $4.7 million in new operations in nearby Marion County. And groups from Dillon and Marlboro counties are teaming up with developer Agracel Inc. to build a 110,000-square-foot speculative warehouse without a tenant in hand. Local officials say there are plans for two more "spec" buildings.
"With the Dillon inland port ... we desperately need finished product to provide industries looking to locate in the area," said William Fleming Jr., president and CEO of Marlboro Development Team Inc., one of the project's partners.
A recent study shows Dillon is one of the most cost-effective locations for a warehouse or distribution center, based on annual labor, utility, property, tax and logistics costs.
And there's plenty of room for growth, with hundreds of acres available in area industrial parks that have been underutilized due to their lack of an easy connection to the Port of Charleston.
"This study demonstrates to businesses that as the logistics industry continues to grow across the state, there will be an increased need for supplemental infrastructure such as distribution warehousing, and that these operations can be executed at a competitive cost," said Susie Shanon, president and CEO of the South Carolina Council on Competitiveness. The council conducted the study with New Jersey site selection firm The Boyd Co.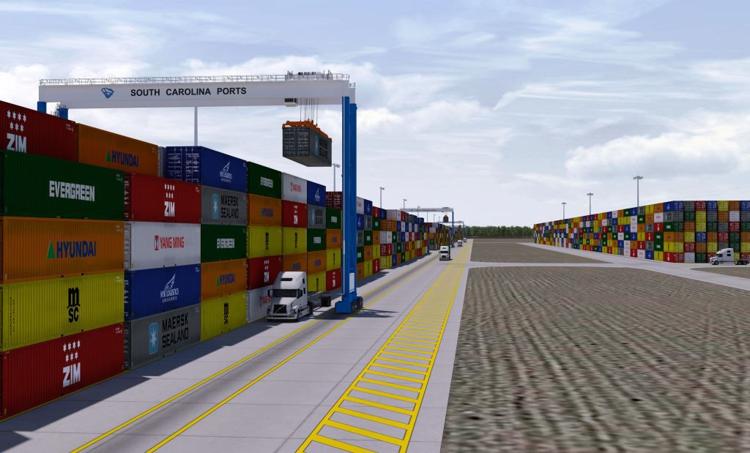 'Project Pedro'
The inland port, located about 130 miles from the Port of Charleston, took a year to build. It joins the SPA's inland port in Greer, which handles cargo bound to and from the Upstate on a rail line operated by Norfolk Southern.
Harbour Freight Tools is the Dillon facility's launch customer, with International Paper and KB Biotech also announcing plans to use the site. More announcements are expected in the next few weeks.
"There's been strong interest in the facility by our customers, but we let them take the lead on announcing they will use it," said Erin Dhand, the SPA's spokeswoman.
When the SPA first started talking about the possibility of a Dillon port more than a year ago, it was referred to by its code name — "Project Pedro," a reference to the South of the Border mascot featured on ubiquitous billboards along I-95. Now, officials are hoping the inland port gives Dillon an entirely new identity.
Tom Rice, the U.S. Congressman who represents the area, said he's excited about the opportunities the inland port represents. Rice said the facility will build on other economic development initiatives in an area that's been "previously overlooked," adding it will help "incentivize job creation for people who have been searching for opportunity for far too long."