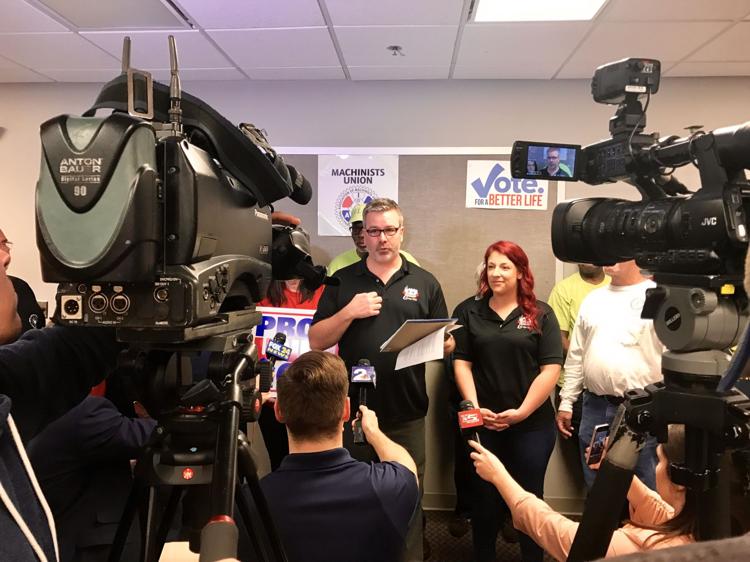 The first time the International Association of Machinists tried to organize workers at Boeing Co.'s facilities in North Charleston, including the company's 787 Dreamliner campus, the labor union says it was blindsided by a barrage of alleged misinformation and pressure from politicians, including former Gov. Nikki Haley.
"It was impossible to hold a free and fair election in an environment so ripe with mistruths and outright lies," Mike Evans, the IAM's lead local organizer, said of the union's 2015 attempt, which ended with the IAM withdrawing its election petition and retreating for the next 20 months.
This time, Evans said, there will be no backing down.
The IAM filed a petition this month to hold an election in which roughly 2,850 Boeing workers will decide whether they want to be represented by organized labor. A vote has been scheduled for Feb. 15. Boeing has maintained that it sees no need for a union and has launched a media campaign to get its point across.
If workers vote in favor of the IAM, the union will almost immediately start working with Boeing management to draw up a contract that addresses issues such as wages, benefits, overtime and other work rules.
A Hartford, Conn., native with more than two decades of experience in the aerospace industry - including a shop steward for an IAM local in his home state - Evans said the union is confident it will be successful this time around. The IAM currently represents about 600,000 workers, including 35,000 Boeing workers at 24 locations nationwide.
"I can unequivocally say there will be a vote this time around," he said.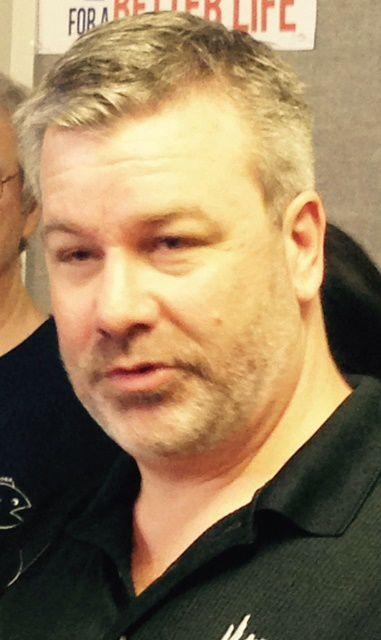 Evans recently took time to answer questions about the IAM's efforts to organize Boeing workers.
Q: Were there any specific instances at Boeing that prompted the IAM to file its petition at this time?
A: The filing actually represents reaching a threshold of interest with the National Labor Relations Board. The process mandates that we get authorization cards signed by the workers and once you reach a certain threshold (30 percent) you are allowed to file for a secret-ballot election. The NLRB will send out agents, and they will conduct the secret-ballot election in the workplace.
Q: The IAM filed a petition in 2015 and then withdrew it before the election took place. What is different now?
A: In 2015, we were up against Boeing having hired an anti-union law firm that was very aggressive and they put out misinformation and what I consider flat out lies at times during a very sensitive part of the campaign when we didn't have time to answer the lies and get the information out that was necessary for them to go to the ballot box and make a choice about which way they want to go. It's important that they have the information they need to make an educated decision. We felt it wasn't there last time.
Q: What kind of misinformation was being distributed?
A: There were concerns that the company put out there that there would be a closure for three months during the negotiation process, which is against the law. There were concerns that Boeing threatened to remove health insurance during a negotiation process that might take a year. That was the feedback we were hearing from the workers. I consider them whisper campaigns - stuff that kind of gets dropped on the shop floor and catches fire. Those are the things we had to address.
Q: What would prevent that kind of thing from happening again this time around?
A: What's unique about the second time around is that we have a lot more access to the employees. We have a very robust email list and so forth. They know where we are on Dorchester Road and they know how to get in contact with us. I feel we can address those issues much better than we were able to last time.
Q: What is the general mood of those employees you are now in contact with?
A: The mood is that they're ready for something like this. It's an opportunity to have a voice in the workplace, to demonstrate what your concerns are and have them addressed fairly in a process that has some binding arbitration attached to it. It puts the company on an even playing field with the worker.
Q: What are some of the conversations you've been having with workers about the changes they want to see?
A: A lot of it is inconsistent work rules that actually affects their quality of life outside of work. They (Boeing management) make a lot of quick, arbitrary decisions. For example, you come to work at 6 o'clock one day and then all of the sudden your start time is 5 o'clock. One week you're one an eight-hour schedule, the next week you're on a 10-hour schedule. I think fairness ties right up against that, too. There is what we believe to be a lot of nepotism and favoritism and there isn't anything in place to ensure that everybody has a fair chance for advancement. And, of course, wages.
Q: How does the current environment at Boeing with voluntary layoffs and cost-cutting in the commercial planes division impact your efforts this time?
A: I would imagine people now feel a little more insecure about what it means if they were to get laid off. Right now there are no guidelines in place that some of the IAM members enjoy at Boeing in Washington state. They won't have recall rights, there will be no concern about seniority or tenure. There won't be any benefits with separation. The workers enjoy all of those benefits at the Washington plant. I think they are starting to realize that having a contract and having things explained and negotiated before something like a layoff happens would be more fair and equitable.
Q: Wages have been a big discussion, particularly the difference in what Boeing workers in Washington state are paid versus their counterparts in North Charleston. Is there a set wage that you would like to see?
A: I don't want to put a cap on anything, I want them to go as high as we possibly can. But there is a big difference between what the workers in Washington get and what they receive here. After doing some research and having Boeing workers bring me information, if you have an employee here that has seven years of tenure, they are about 36 percent in wages behind their counterpart that has the same responsibility in Washington state. But it's not just the wage difference. There's also the fact that they pay more for health care out here than they do in Washington state. So I would like, at a minimum, to work on a trend line that is much better than what they are experiencing today and try to get them in line with what the aerospace industry can provide. And it's a wealthy industry.
I give Boeing workers here a lot of credit for what they've been able to accomplish here in North Charleston under their current conditions. They put out a quality product and they deliver great customer service. But the industry's wealth is just not reaching Boeing South Carolina workers that are blue collar. The hourly people are much farther behind their counterparts.
Q: What kind of timeline do you have in mind for the election?
A: The NLRB is averaging about 23 days for campaigns to get to an election from the time we file. After we win this, we're available that afternoon to start negotiating on behalf of the workers.
Q: Changes in NLRB rules have streamlined the election process and shortened the time frame between petition and election. How do you think that impacts your chances this time?
A: If you ask Boeing employees, they'll tell you that when it's a long campaign like this they bombard the workers with a lot of material that's anti-union, misleading and confusing. Then the threats start toward the end, and the time frame just wears on people. With a shorter time frame, you get to really capture what this process is all about. Workers don't want to put up with a lot of misinformation. They've done their research and signed their authorization cards, it's time to have the vote.
Q: You've said that the petition will not be withdrawn this time, that there will be an opportunity for Boeing workers to vote. Why are you taking that position?
A: A lot of times on big campaigns, we know what we're up against, especially when we discover a company has hired an anti-union law firm and we know their aggressive playbook against the workers. When you're on your first election, there's always that evaluation of where you're at, is your information getting to the workers, do people understand what's going on. We've reached that plateau in my mind, so that's why the call can be made that we're going to a vote.
Q: Boeing put out a statement on its Facebook page stating that union membership would cost each employee about $800 per year in dues. Is that an accurate statement?
A: Boeing is really putting some weight on these dues, saying we're going to collect $2 million and asking what are we going to do with that $2 million. Obviously, it goes toward resources for the workers.
What Boeing's workers are doing right now, in my mind, is paying dues by not having a union. The comparison for wages is evidence of that. The fact that they're paying more for their health care is a form of them paying dues back to the company for not having a collective bargaining agreement. So they are paying dues right now, it's just a different style of dues.
I think the benefit of paying into something that's in your best interests and that will stand by you when it's needed, $68 per month or roughly $800 per year is a better way to go. We're a nonprofit, and we base our dues on what we think we need to provide the best resources and the best protection and best representation for our members. Boeing is trying to pitch it like it's some kind of profit-making opportunity, and that's just their methodology of doing business.