The redesigned Sprinter that Mercedes-Benz Vans will build at its North Charleston campus starting this year made its debut in Germany on Tuesday, with an electric version also headed to the United States.
The third-generation Sprinter to be made at the manufacturer's new $500 million North Charleston plant will be sold at the company's commercial van centers by the end of this year. An electric version called the e-Sprinter will be sold in Germany beginning in 2019, with U.S. availability to follow. 
"The Sprinter continues to embody the traditional attributes that have made it so successful worldwide since its market launch — flexibility, robustness and economy," Volker Mornhinweg, head of Mercedes-Benz Vans, said during an event at the company's logistics center in Duisburg, Germany.
The new van's Internet connectivity, fleet management software and other modern features make the vehicle "the first end-to-end system solution for commercial fleets," Mornhinweg said.
The redesigned Sprinter will have a base price of about $25,000 and will be available in more than 1,700 configurations that can be customized for specific commercial uses.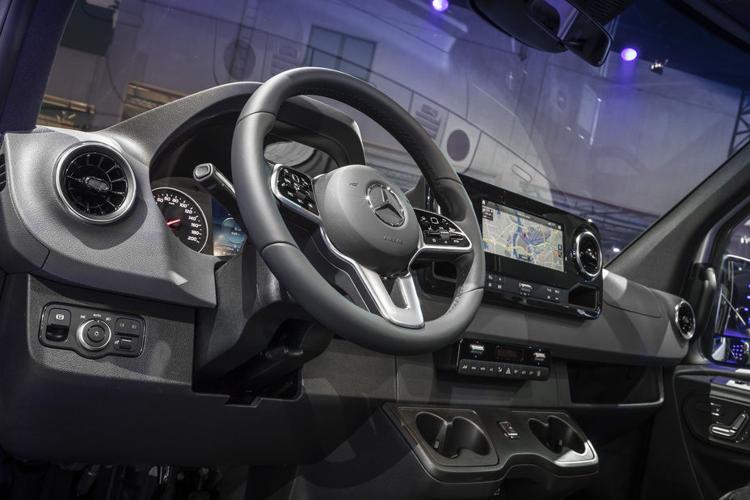 The vehicle also includes new safety features such as a self-cleaning rear-view camera located in the rear-view mirror, a 360-degree view parking camera system and a rain sensor with integrated windshield wipers for better visibility in bad weather.
Mercedes-Benz Vans, part of the Daimler group, also will assemble Metris van at the North Charleston campus that will employ about 1,300 people by 2020.
The North Charleston site has for years re-assembled Sprinter vans imported from Germany as kit vehicles. Strong U.S. sales convinced Mercedes-Benz Vans in 2015 to announce plans to upgrade the facility to a full production site.
Sprinter sales in the U.S. totaled 27,608 last year — a 2.5 percent drop from 2016 but more than three times the number sold at the beginning of this decade.
Mercedes-Benz Vans is part of South Carolina's growing automotive sector that also includes a BMW plant in Spartanburg County, a Volvo Cars manufacturing site under construction in Berkeley County and dozens of suppliers. All told, the state's automotive industry accounts for 158,000 jobs and $27 billion in annual economic impact.