While the debate continues over whether stricter trade rules are needed to boost U.S. jobs, the head of the Mercedes-Benz Vans plant in North Charleston says his company is already helping to fulfill President Donald Trump's campaign promise to put more Americans to work.
"I think having this facility here and the fact that we've made the decision to expand in North Charleston is something that is already very good in alignment with what your president wants — to have more things done locally and not in Mexico or some other region," said Michael Balke, president and CEO of the $500 million Sprinter van plant under construction in Palmetto Commerce Park.
Balke said he hasn't kept up with every twist and turn in recent negotiations over a revised North American Free Trade Agreement, but the 1,300 workers Mercedes-Benz Vans will employ when its new factory is completed is "just a starting point," with hundreds more jobs likely as suppliers begin to migrate closer to the manufacturer.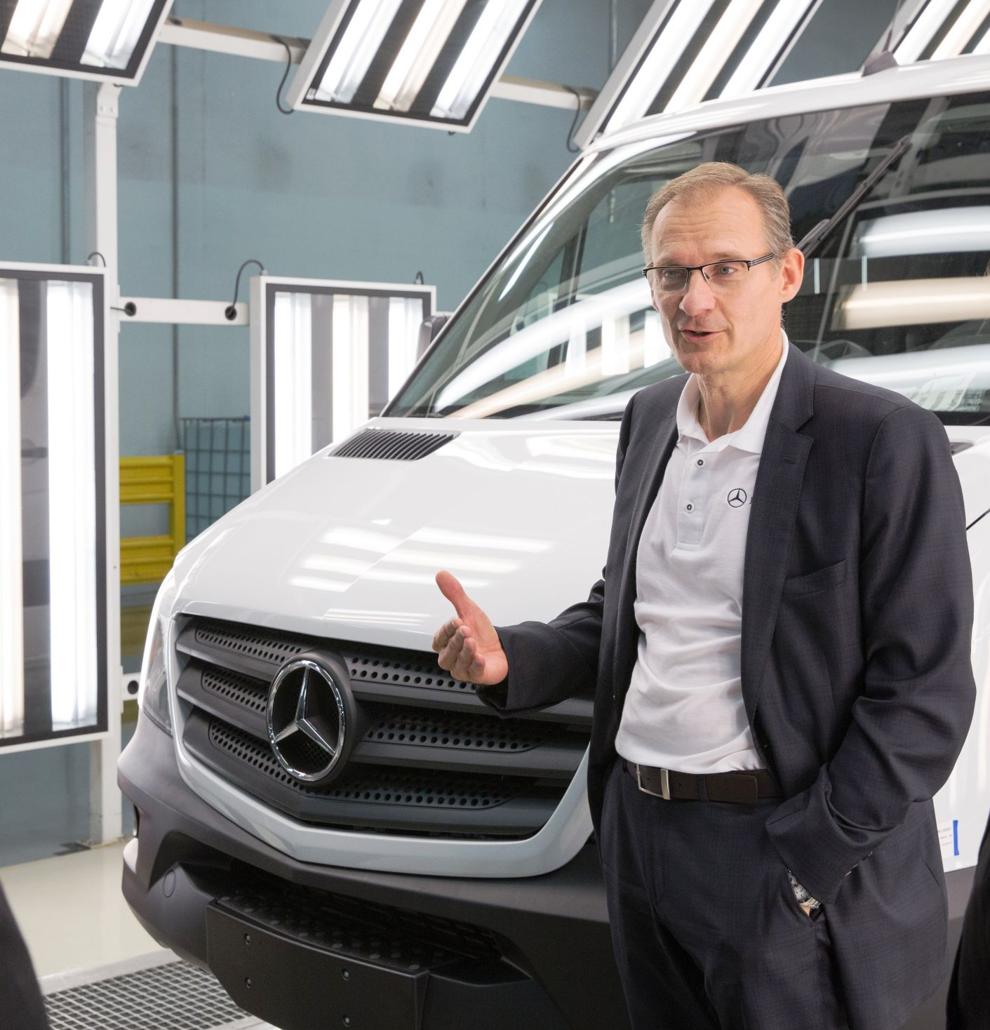 "I'm sure that in the future, more and more suppliers will come and produce locally and supply us locally," he said last week.
Many vehicle manufacturers say they would be hurt by a Trump administration proposal that would require at least half of the value of all parts in North American-made vehicles to come from U.S. factories. The proposal, part of a NAFTA overhaul under negotiation, also would boost the percentage of parts required to come from Mexico, Canada or the U.S. — to 85 percent from 62.5 percent.
Trump has repeatedly criticized NAFTA, a treaty allowing free trade among the three North American countries, as "the worst deal ever" and campaigned on promises to end the treaty. Negotiators went back to the table Friday with hopes of hammering out a deal by spring.
But companies like Volvo Cars, which is building a $1 billion manufacturing campus in Berkeley County, say a global supply chain is essential for efficient production at U.S. plants.
"And it is creating jobs," said Katherine Yehl, Volvo's vice president of government affairs. Volvo's plant off Interstate 26 near Ridgeville, which will get about three-fourths of its parts from foreign countries, will employ nearly 4,000 people.
Volvo and other manufacturers say the proposed high percentage of parts required from the U.S. and neighboring countries is unrealistic.
Balke said he doesn't know the percentage of parts that Mercedes-Benz Vans will get from overseas suppliers, but it will be a majority. With bigger Sprinter facilities already operating in foreign countries, including the company's largest in Germany, Balke said it doesn't make sense to duplicate many of the existing supply operations near those sites if they can efficiently export to the U.S.
Initially, the suppliers that will locate near the North Charleston facility will be those that make parts that are difficult to transport, like the seats that German firm Isringhausen produces, or that are unique to U.S. vehicles, like gas tanks.
Trump's tough trade talk is opposed by federal legislators in states that rely heavily on trade with Mexico and Canada. South Carolina's automotive industry — a $27 billion per year powerhouse that also includes BMW in the Upstate — gets $1.5 billion worth of parts each year from Canadian and Mexican suppliers.
"If the goal of renegotiating NAFTA is to do no harm, then tightening the current rule of origin standard, which is already the highest of any trade agreement worldwide, seems like a recipe for disaster," said Rep. Mark Sanford, a Republican from Charleston.
"South Carolina has certainly benefited from a more competitive auto industry, courtesy of NAFTA's encouragement of open trade and investment," Sanford said.
Balke sees the Mercedes-Benz Vans plant helping to fulfill another Trump initiative — reducing the trade deficit with foreign countries.
Through the first nine months of this year, the U.S. had imported $150.5 million more in automobiles and parts than it exported. All of the vans produced at the North Charleston plant will be sold in North America, putting an end to Sprinter vans that are currently imported in pieces from Germany and then put back together at the Palmetto Commerce Park site.
"Our strategy is that we are producing vans in the market where they will be sold," Balke said.