A major mixed-use development planned for state-owned land in Mount Pleasant took another step forward last week, and a request to exceed the height limits there eked out an initial approval. 
In a tight 5-4 vote, Mount Pleasant Town Council gave first reading to developer Michael Bennett's request, which would allow an about 30-acre portion of a more than 160-acre tract at Patriots Point Naval & Maritime Museum to have buildings of up to 80 feet. 
Mayor Will Haynie and council members Joe Bustos, Guang Ming Whitley and Jim Owens all voted against the proposal. 
Though it wasn't included in the official request before council, town staff said that Bennett's firm, Charleston-based Bennett Hospitality, had proposed a two-tiered height layout for the development, which is called Patriots Annex. The section closest to the waterfront would adhere to the current 50-foot limit, and buildings of up to 80 feet could be built in the back half of the property. 
After conversations with staff, a three-tiered system was proposed, with height limits of 50 feet on the waterfront, 65 feet in the middle of the parcel and 80 feet in a smaller section farthest from the harbor. 
Since the request has only received first reading, changes can be made before it comes to council for final approval. 
Council also unanimously gave final approval to a request to rezone the property to a district specifically designed for developments that give public access to the town's waterfront areas. 
The development agreement for Patriots Annex was also up for a final approval, but Bennett requested the town postpone that request. 
In all, the development is to include about 500 hotel rooms, 130 residences and retail, restaurant and office space. The plans also include a new building for the Patriots Point Development Authority, which is leasing land to Bennett Hospitality, with upstairs office space and a new ticketing area.
Next stop: Asheville
A Charleston-based travel app that matches users with recommendations from locals is expanding to a second city, several months after it debuted in the Lowcountry.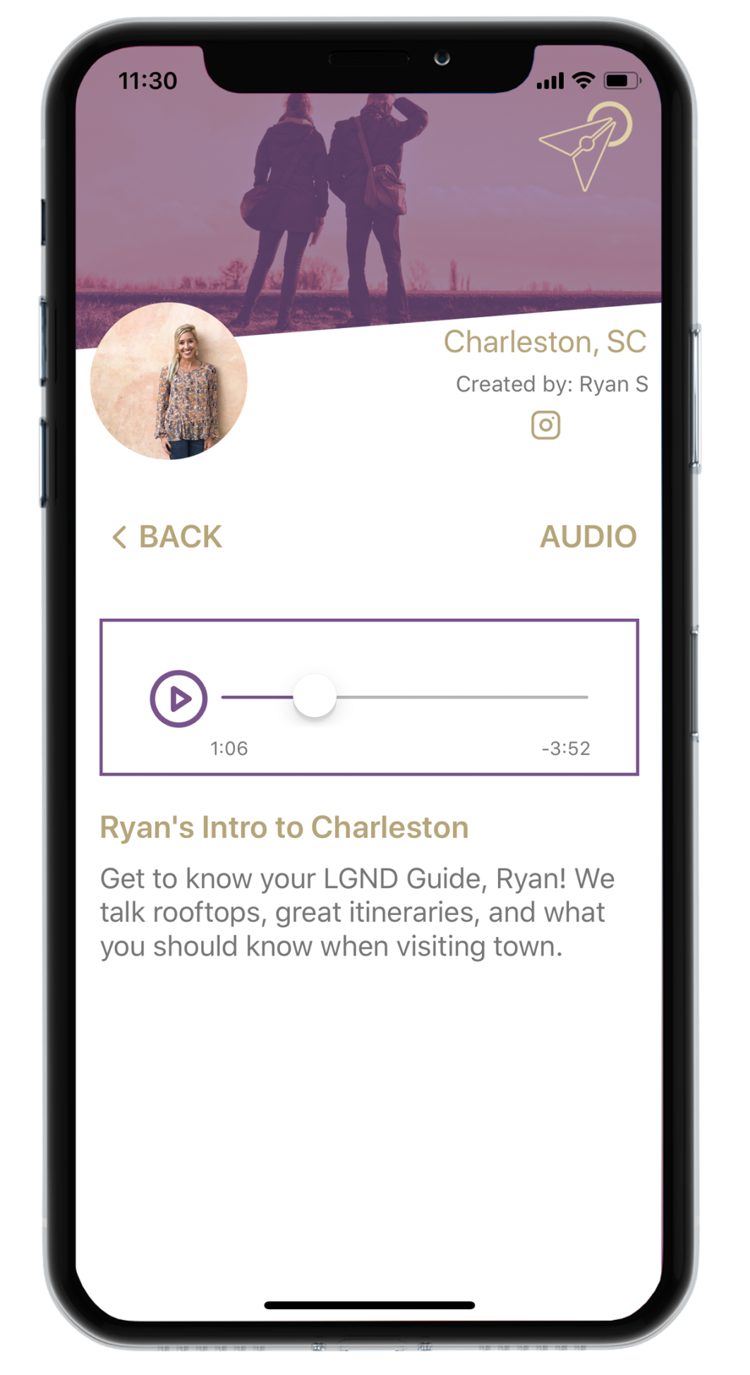 LGND — pronounced "legend," like the key on a map — will be available soon in Asheville. The app has also announced plans to expand to Chicago, Nashville and Savannah. 
Since the app's launch in the spring, about 40 Charleston-area residents have signed on to be registered guides. That means they've each created personalized "packs" with a short introductory podcast and "cheat sheets" of their top picks for restaurants, nightlife and activities. 
Founder Patrick Gallagher left his job at the school bus-tracking app SafeStop in January to pursue his travel app idea full-time. Gallagher said he wanted to create a tool that presented users with concise, personalized travel content rather than an "endless feed of information." 
The company will be hosting an official launch party at Bhramari Brewing Co. in downtown Asheville on Thursday. 
Day at the museum
For one day this month, admission to more than 1,500 museums in the U.S., including 14 in South Carolina, will be free, thanks to Smithsonian Magazine's annual Museum Day. This year's event will be Sept. 21.
Three Charleston museums are eligible for next weekend's promotion. The South Carolina Historical Society Museum, which opened about a year ago in Charleston's Fireproof Building, is participating. Guests typically pay $12 to tour the museum. 
Free tickets to the Powder Magazine, a colonial military museum housed in an 18th century arsenal at 79 Cumberland St., will also be available. Regular admission is $6 for adults. 
The Halsey Institute of Contemporary Art is also listed as a participant, but it's always free for visitors. 
The freebies can be claimed ahead of time on the Smithsonian's website. Only one ticket per email address is allowed, and it will admit two visitors.