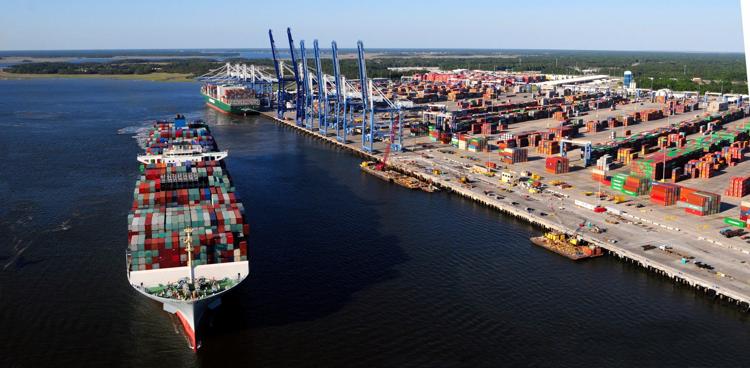 The State Ports Authority hopes to put the finishing touches on preparations to deepen Charleston Harbor by buying 46 acres on Daniel Island from the city of Charleston where dredge material from the $529 million project can be placed.
The maritime agency's board of directors will discuss the purchase Wednesday during a special meeting via teleconference. City Council is expected to give initial approval to the deal Tuesday.
If approved, the SPA would pay $1.5 million for a site on Daniel Island across the Wando River from its Wando Welch Terminal. The transaction would close no later than Sept. 30, according to a proposed contract. The authority would be allowed to place dredge materials on the site under an interim agreement prior to the closing.
"This is the last step in completing our dredge disposal requirements on Daniel Island," SPA spokeswoman Erin Dhand said Tuesday. The property to be purchased is adjacent to another site the SPA already owns where dredge materials are stored.
The deepening project will take Charleston Harbor to 52 feet from its current 45-foot level, giving the Port of Charleston the deepest navigation channel on the East Coast. The project is designed to accommodate large cargo ships carrying 13,000 or more containers, which have been visiting East Coast ports with greater frequency since the Panama Canal was expanded last year.
The Army Corps of Engineers will announce a winning bid for the first phase of entrance channel dredging in October, with bids for other phases to follow. The entire project from Charleston Harbor's entrance to the SPA's North Charleston Terminal should take between 40 to 76 months, depending on funding, dredge availability, weather and other factors.
The Army Corps, which is overseeing the dredging, signed an agreement with the SPA last month that lets the project proceed even though the federal government hasn't fully funded its $229 million share. South Carolina legislators previously put aside $300 million for the project, and that money will pay for the biggest initial expenses with more federal funds coming available in future years.
"This allows us to move forward without all of the federal funding in place," said Jim Newsome, the SPA's president and CEO.
The SPA and state and federal governments will spend about $2 billion over the next few years on improvements for the big container ships that are calling on the Port of Charleston more often. The Wando Welch Terminal now gets a weekly visit from ships carrying 13,000 or more cargo boxes, with a second weekly call expected to begin later this year.
In addition to harbor deepening, the projects include: a new container terminal at the former Navy base in North Charleston; inland ports in Greer and Dillon; an access road connecting the new terminal with Interstate 26; and a rail yard where shipping containers will be transferred between trucks and rail cars.