By this time last year, trouble was at SCANA Corp.'s door. 
The Cayce-based parent of South Carolina Electric & Gas was deep into an evaluation of its troubled nuclear project, which would ultimately find that it was billions over budget and years behind schedule. Its partner, the state-owned utility Santee Cooper, was backing its way toward a decision to pull the plug.
It was a year ago this week that SCANA's stock reached its last high point before a long slide downward. Behind the scenes, the first dominoes were falling that would make a short funk on Wall Street the beginning of a painful period of bloodletting.
It also was a year ago that Santee Cooper's top ranks began to firm up their plans to walk away from the nuclear project. Their finance chief sent an email to upper management suggesting they tell SCANA that they were "unwilling to proceed in any way" if SCANA was in charge.
The nuclear project was marching through its last days, and turmoil was on the horizon.
In the year that has followed, South Carolina has seen one of the most dramatic business implosions in its history. SCANA — long the state's largest company — has burned a century of goodwill and shed billions of dollars of value. Its stature has suffered cut after cut from lawmakers, investigators and investors.
But in June 2017, on Wall Street, those problems were still unknown. Santee Cooper hadn't broken the news yet that it was ready to back out, and thousands of construction workers were still showing up each day to build a pair of reactors north of Columbia.
$5 billion haircut
SCANA was a $10 billion company 12 months ago, a relatively small utility that had massive ambitions. It was still promising a transformative project, one that for decades to come would reap a steady flow of electricity for South Carolina — and income for its investors.
Instead, it has gotten a constant stream of uncertainty and controversy, a cloud that hangs over it still today. The company's value has been halved to $5 billion, and the bumpy ride isn't over: Lawmakers still need to decide whether to temporarily cut SCE&G's power rates. And regulators must decide if SCANA can be acquired by Dominion Energy, a Virginia-based utility giant that swooped in to resolve the situation.
At first, it seemed like SCANA — and its stock — might survive the demise of the V.C. Summer expansion. Its shares fell the week before the project was called off as doubts mounted about its future, but they rose on July 31, the day work was abandoned.
Even through August, the stock managed to hang on — despite a wave of angry legislators admonishing the company, and the first of several lawsuits, and a promise by its chief executive that it wasn't restarting construction.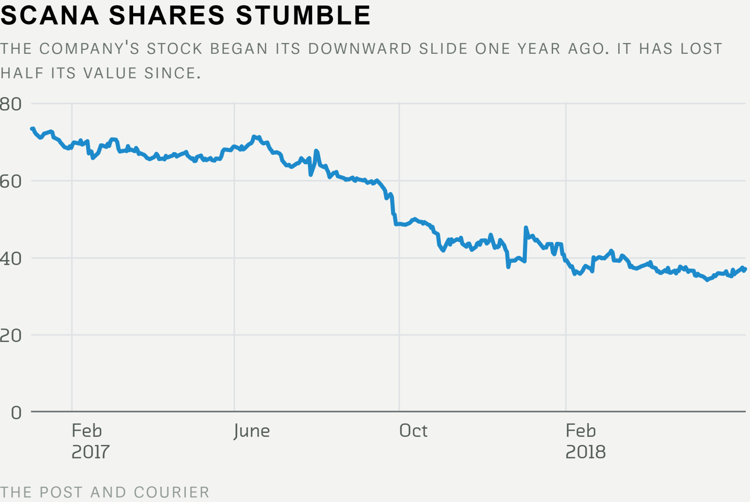 But storm clouds were gathering. Paul Patterson, a New York-based utility analyst, remembers watching the General Assembly's first hearings on the issue and seeing that lawmakers seemed blindsided. The state had passed a law — the Base Load Review Act — that all but guaranteed SCE&G revenue to pay for the project before it was completed, but most legislators didn't seem to understand its terms.
"There was this incredible disconnect regarding the economics of the plant, the BLRA, which they had passed, and sort of what they had signed up for," Patterson said. "I remember that being a real eye-opener to me that the political situation was going to be a lot more complicated."
More questions
The bottom fell out that fall. The U.S. Attorney's Office opened an investigation, as did the Securities and Exchange Commission. The consequential Bechtel report — a long-secret audit that had identified a litany of problems on the project — was released over SCANA's resistance. More questions bubbled up about what the company knew, and when.
All the while, SCANA's stock skidded day after day. In September and October alone, it lost a third of its value.
Little so far has managed to arrest the fall. SCANA agreed in January to be bought out by Dominion, giving its stock a brief boost. But the Legislature returned to Columbia, and the deal didn't look like a lock.
Even now, the Dominion deal is iffy. SCANA's stock is trading about 20 percent below its suitor's offer of $44.33, suggesting Wall Street thinks there's a toss-up chance it will go through.
What becomes of those odds is the key to ending the company's roller coaster ride. The Legislature is expected to consider a temporary rate reduction for SCE&G users later this month, which could scuttle the Dominion deal.
If the transaction survives the Statehouse, regulators will still have to decide if SCE&G can collect $3.8 billion over the next 20 years under Dominion's plan. A decision is expected in December.