At least one Piggly Wiggly Carolina stockholder is steamed about a proposed legal settlement stemming from the 2013 collapse of the employee-owned grocery store chain.
Enough so, she put her thoughts in writing. 
Several thousand former workers of the Charleston-based supermarket operator would split up to $8.7 million to end a bitter class-action lawsuit that alleged senior Pig executives carted away millions as the company teetered on the brink of failure.
In a letter filed with U.S District Court last week, Jennifer Goswick blistered the legal team who are representing the employees, saying they settled for "peanuts."
She said she was hopeful when the case was filed two years ago, thinking "someone was going to fight for us." 
"It never occurred to me that wasn't the case; that the first peanuts tossed our way would be accepted. It is an absolute insult for the many people who worked for decades for this company," wrote Goswick, whose comments reflect broader dissatisfaction with the deal.
Founded in 1947, Piggly Wiggly Carolina became the largest franchise operator of Piggly Wiggly stores in the nation, with more than 100 across the Carolinas and Georgia. Over time, the founding Newton family sold off shares to employees.
About a decade ago, the company's fortunes went south, and employees watched their stock-ownership accounts shrivel. The chain began to liquidate its assets about five years ago.
The lawsuit was filed in 2016. 
Under the settlement terms, CEO David Schools and two other senior executives would pay $3.45 million and admit no wrongdoing. They also would sell land they own in Savannah valued between $975,000 and $1.95 million and put the proceeds toward the settlement. Company insurance funds and other sources would bring the total to between $7.65 million and $8.65 million.
The settlement didn't say how many former workers who might be eligible for a cut of the money, but the Pig's employee stock ownership plan has had more than 4,000 participants, documents show.
A hearing to determine the fairness of the deal is scheduled for late August. It  could be quite a lively proceeding based on the way Goswick, who listed a California address but did not say what her job was at Piggly Wiggly, closed her letter.
"We want what is ours and we're in this for the long haul," she wrote. "Peanuts will not be acceptable, as I no longer work for the circus."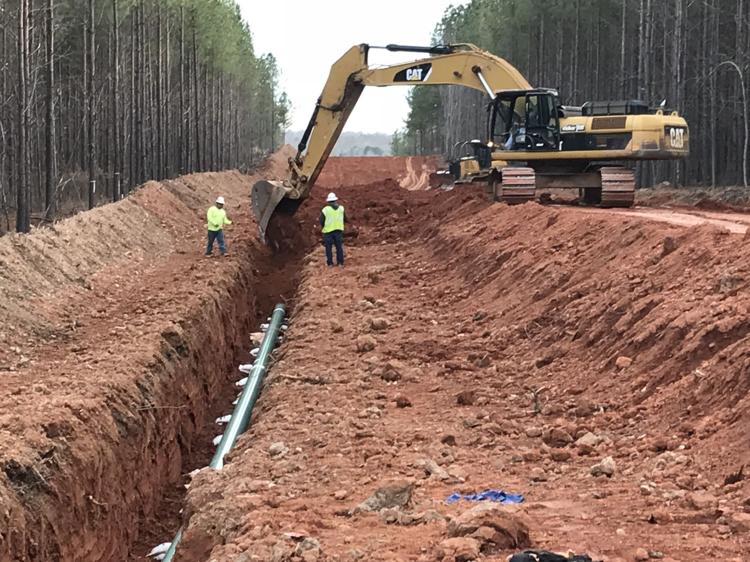 Piping up
The money behind one of America's natural gas arteries really doesn't want SCANA Corp. to be sold to Dominion Energy.
The owners of the Transcontinental Gas Pipeline, which runs from Texas to New York, say Dominion's interest in SCANA is all about building more pipelines. And the last thing South Carolina needs is more of them, according to Transco.
Its reasoning: Transco already has a pipeline that runs through the Upstate and is viewed as one of the most important in the country.
"It is obvious Dominion intends to install duplicative infrastructure and pipeline to serve the ratepayers of South Carolina at great monetary expense," the company said in a petition to the S.C. Public Service Commission, which regulates utilities.
Transco made its case to the commission in a bid to have a seat at the table as regulators decide whether Dominion can buy SCANA. It says it has standing to be involved in the case because it has contracts worth millions with SCANA-owned South Carolina Electric & Gas.
Virginia-based Dominion already is a big pipeline player in South Carolina. It bought SCANA's gas network a few years ago. And its biggest project, the Atlantic Coast Pipeline, is currently slated to run from West Virginia to Lumberton, N.C., just across the state line.
That expansion has inspired plenty of speculation about Dominion's intentions for its natural gas business in South Carolina. The company says it has no immediate plans to extend  the line across the border. It would need federal approval to do so.
Transco says Dominion might steer SCE&G's business toward Dominion pipelines.
Transco, which is owned by Oklahoma-based Williams, has tried making that case before. The Public Service Commission already said once that the company couldn't participate in the case.
Dominion, meantime, has acknowledged that it's coming to South Carolina to turn a profit, but it says the utility it's looking to buy is valuable enough.
"We have been pretty straightforward on the reasons for the merger," spokesman Chet Wade said in an email. "Any pipeline or other projects in the future would have to stand on their own merits and proceed through all the required regulatory approvals."