WINNSBORO — South Carolina's textile industry was already in decline when Tim Jones started working in the Uniroyal mill south of town.
It was 1991, and the onetime bedrock of the state's manufacturing economy had been crumbling for more than a decade. The textile business was being drawn overseas by workers who would spin yarn, knit fabric and sew garments for far less money than him.
And yet he took a job in the factory all the same, figuring his job was uniquely safe.
Winnsboro's historic mill had hung on for more than a century by transforming in ways that others hadn't. Workers were knitting synthetic fibers, not cotton, and they were producing a special kind of fabric used to make tires.
As long as Americans kept buying cars and tires, Jones figured, he'd be safe. And around the same time, South Carolina started to make a similar bet: It lured the German automaker BMW to the Upstate and hoped a new age of manufacturing would follow, fueled by foreign investment and specialized products.
It did, and, in a way, the Winnsboro mill would become a symbol of the Palmetto State's economic evolution.
In the waning years of the 19th century, the factory pushed rural Fairfield County from its agrarian roots toward a manufacturing economy. And as the textile industry marched overseas in the 20th century, it was a forebearer to South Carolina's industrial revival — to the constellation of factories that now make cars, tires and the parts that go in them.
But today, the mill is emblematic of another trend emerging in South Carolina's manufacturing sector — that while global trade has boosted fortunes in some areas of the state, the spoils aren't always spread evenly.
The disruption brought by foreign competition isn't either.
The Winnsboro mill's owner, DuraFiber Technologies, has said it is struggling under the weight of "continued market pressure." Local officials say they've heard overseas competitors were overwhelming the market for tire fabric, driving prices lower.
Unless someone steps up to buy the factory, DuraFiber says, it will close next month, shutting down for the first time in nearly 120 years.
'Never been closed'
The history of the Winnsboro mill dates to a time long before South Carolina revived its manufacturing sector with cars and tires. It goes back to when the Midlands town's businessmen pooled their money and placed a bet on the promise of industry.
For 50 cents a week, they sold shares in the county's first factory, about 30 miles north of Columbia. They pitched a future built on manufacturing, not farming, and they raised tens of thousands of dollars to open the Fairfield Cotton Mills in 1898.
They weren't alone: Winnsboro joined a wave of towns in the Upstate and Midlands jumping into textiles. Like mills elsewhere in the state, the Fairfield County factory would shape its local economy for decades.
More than a century later, the plant would put Winnsboro in rare company. Its mill had ramped up during the turn of one century and managed to hang on for the next, surviving the industry's brutal decline by moving past the business of knitting cotton fabric it had been founded on.
It started making fabric for tires a century ago this year, long before the tire industry of the state — now the nation's top manufacturer of the product — would help offset the demise of textile jobs. The mill is still known around town as Uniroyal for the tire maker that bought it in 1917.
For a century, the fabric made in Winnsboro formed the base layer of car tires that rolled Americans across the country. Even today, the products that workers are making here wind up in tires stamped with names like Continental, Cooper and Michelin, which now owns the Uniroyal brand.
"I thought this plant here would survive another 50 years," said Jones, who is president of the United Food and Commercial Workers union, Local 1800. "This business is the money maker and demand for tires is going up."
Jones had reason to expect longevity. His predecessor at the union had worked more than 46 years in the mill without missing a day.
And since Jones' first day on the job 26 years ago, the factory had made its way though plenty of trials.
His job survived the free-trade agreements that would hasten the textile industry's decline.
In 2003, Jones made it through the mill's first ownership change in more than 70 years, when Michelin bought Uniroyal.
He was still employed five years later when Invista, a subsidiary of Koch Industries, bought the factory, and again in 2011 when DuraFiber stepped in with the backing of private-equity investors.
Now, DuraFiber itself is looking for a buyer, though the prospects are dimming. The North Carolina-based company says it'll wait until Sept. 11 for a deal before closing the factory and laying off its 240 workers.
The shutdown would come at a time when that area of the state can hardly afford it. Nearly 6,000 jobs vanished on the other side of Fairfield County, which has fewer than 23,000 residents, when the V.C. Summer Nuclear Station expansion was abandoned three weeks ago.
If the DuraFiber plant is closed, the area will bear the brunt of the state's second-largest manufacturing layoff this year. And it faces a psychic blow as a piece of its history winds down.
"It's never been closed," said Roger Gaddy, Winnsboro's mayor. "We've lost the industrial anchor of Winnsboro that's been there for 120 years."
'Cotton Mill Blues'
The factory peaked in the middle of the century after another challenge seemed to threaten its existence: Tire fabric made from cotton was in decline.
Around World War II, rayon began replacing cotton on the production line, and Uniroyal's cotton machinery appeared obsolete. The town's agricultural roots, which had helped establish the mill, no longer seemed to matter much.
But the company, which went by U.S. Rubber Co. then, kept its looms and spinning equipment, and it jumped into the textile business, churning out denim and gingham fabric alongside tire cord.
Rather than leave town, U.S. Rubber poured resources into Winnsboro.
It made Winnsboro the headquarters of its textile business, and its executives lived in town, helping keep downtown clothiers and restaurants afloat. It built a research laboratory just uphill from the imposing mill building, and it tasked its staff with designing the products that would keep their coworkers next door busy.
"Replacement of cotton by rayon presented first a problem and then an opportunity," H. Gordon Smith, the head of the textile business, said when the lab opened in 1950.
Over time, U.S. Rubber would firmly establish itself as a textile company, and like so many textile manufacturers, it built a mill village, creating a company town just south of downtown Winnsboro.
The company built hundreds of houses and rented them to workers. It paid for company stores, a hospital and a recreation center, where kids came after school to bowl, swim and play badminton. It organized semi-professional teams known as the Royal Cords and sent workers to compete across the state in baseball games and boxing matches.
But life in the mill wasn't easy.
In its early days, the factory had many of the hazards and hallmarks of working in Southern mills — teenage workers, long hours and brown lung disease caused by cotton dust. It was even the focus of a folk song performed by Pete Seeger, "Winnsboro Cotton Mill Blues."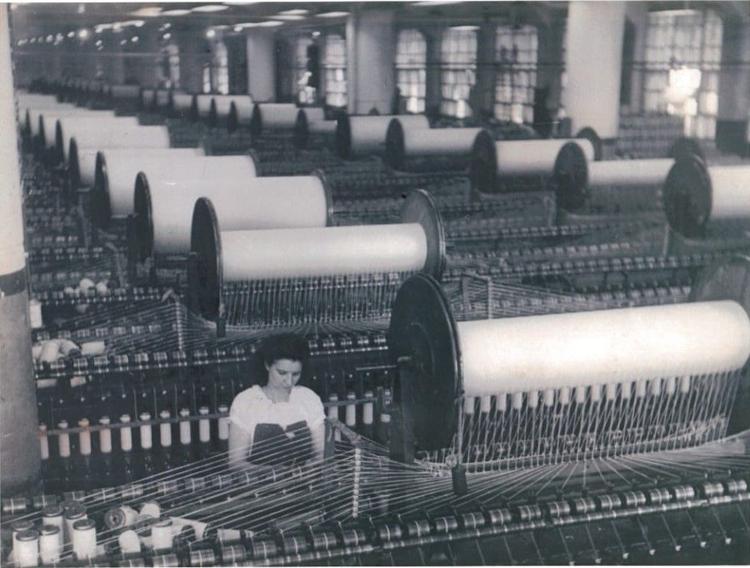 Loretta Smith remembers sharing a room with her siblings because there wasn't much space in their company-owned house. She remembers wearing shoes until they were worn out, though Uniroyal sold its own brand, Keds, at the company store. She remembers not having much, even if her family didn't need much to get by.
Still, the factory is remembered fondly here. The company's recreation center now houses the county's offices. Churches in the mill village still carry the name of former executives. For many families, it's how they wound up in Winnsboro to begin with.
Smith's parents came here from Georgia to work in the mill. Her husband's family came from Bennettsville early in the 20th century to work in one of the state's only factories, leaving behind a life in farming in their old home. Herb Smith, 88, followed their path: He started with a broom on the production floor and eventually moved from the grueling work in the mill to a plum job in quality control.
"I'll tell you, Uniroyal — it really held Winnsboro together," he said. "If it wasn't for them, this town wouldn't have grown like it has. Over the years, it really was behind Winnsboro."
Market pressures
DuraFiber declined to discuss its decision to close the mill, saying in an email that executives were "focused on the sale process" and unable to comment further.
The company says it will keep operating mills in Europe and Mexico, but it's closing two factories in North Carolina along with Winnsboro's, costing more than 800 jobs in all.
Local officials say foreign competition was a factor in the plant's demise. Gaddy says DuraFiber told him Asian imports were outgunning the company's American operations, and union officials say they expect workers to be eligible for trade-adjustment assistance, which will pay them to be retrained.
"Increased labor, energy, transportation and raw material costs — in addition to continued market pressures — have strained DuraFiber's finances to a point that is no longer sustainable," chief executive Frank Papa said in a statement.
But the decision comes with a tinge of irony: Tire manufacturing is soaring in South Carolina, and its growth has been fueled by foreign investment. South Carolina produces more than 100,000 tires a day, more than any other state.
France's Michelin is expanding its presence in the Upstate, and Japan's Bridgestone is growing in Aiken. Sweden's Trelleborg Wheel Systems opened last year in Spartanburg, and Germany's Continental now operates in Sumter. Singapore's Giti Tire is building a facility in Chester County, and in June, China's Wanli Tire said it would open a factory in Orangeburg County.
The divide highlights a phenomenon that's gained attention across the country in recent years: A connected global economy can bring enormous benefits alongside painful disruption, even if they're not spread evenly.
More than one in 13 jobs in the state can be traced to foreign investment — one of the highest rates in the country, according to the Organization for International Investment, a trade group. Relatively few have landed in Fairfield County.
More business
The process of making tires doesn't invite smaller, third-party suppliers like airplanes and autos do, and Fairfield County has struggled to attract the bigger manufacturers that have fueled growth elsewhere, said Ty Davenport, its director of economic development.
That's partly because it's a small county, and it's partly because it doesn't have the infrastructure to handle them. The county's sewer system doesn't have the capacity to handle water-intensive industries, Davenport says, a setback that has cost it a second look from countless manufacturers.
It had hoped to build up capacity, he says, when the county received a property tax windfall from the new V.C. Summer nuclear reactors. But the power plant was scuttled, and now no one's certain what will come of the infrastructure plans.
"We get that, and we open ourselves up for bigger business, more business," Davenport says.
Before the nuclear project's demise, the county took steps to lure a bigger company, encouraged by successes across the county line. Major manufacturers had moved in nearby — Giti in Chester County and Samsung in Newberry — and Davenport thought Fairfield County had a shot at one, too.
So earlier this year, the county bought 1,200 acres of land along Interstate 77 in hopes of attracting what Davenport called a "big fish." It was an acknowledgement that the county would have to compete across the globe for its next manufacturer.
Governments across the state, the country and the globe might be vying for the next opportunity, so the county would have to be ready.
Like they had more than a century earlier, Fairfield County saw the promise of a big factory and placed a bet, hoping that industry might change its fortunes again.