At about 5:30 a.m., six days a week, Lola Salas pulls out of the truck yard for her first trip of the day. 
With her dashboard decorated by a string of orange flowers, Salas keeps her space clean, "more clean than you'll find any other truck," she said, and greets every clerk and vehicle operator at the Port of Charleston with more enthusiasm than most can muster by mid-day. 
Lola Salas loves her job.
Though she's been in the Charleston area for about four years, as a driver with Charleston company Hunter Transportation, Salas has been a truck driver 23 years. She's known she wanted to do it for even longer — since age 8.
South Carolina's trucking industry is in search of that kind of enthusiasm as it navigates an accelerating economy and a tight labor market. The Palmetto State needs more commercial truck drivers. And it needs them soon. 
Near 'crisis stage'
The driver shortage is nearing a "crisis stage" said Rick Todd, CEO of the S.C. Trucking Association. The Columbia-based organization estimates the state needs about 2,000 to 3,000 additional drivers to address its current needs.
But that could be low, Todd said. The association's member businesses generally say they would like to hire about 20 percent more drivers than they have now, he said. 
For the last several years, the American Trucking Association has reported an upward trend in the need for drivers nationally. Bob Costello, the organization's chief economist, projected the industry could be short up to 175,000 drivers by 2026. 
That number was reached by taking current shortages, projected demand and estimates of retirements in the next decade. 
No studies have been done locally, but nationally, the Bureau of Labor Statistics found that the average age of commercial truck drivers in the U.S. is 55. 
The shortage doesn't necessarily mean drivers are spending more time on the road. Commercial truck drivers' work hours are strictly regulated. Plus, in an average week, drivers like Salas are already putting in 70-plus hours.

When enough drivers aren't available, trucking companies are forced to turn down business, slowing down supply chains. 
We live in a "truck-dependent economy" Todd said. Any disruption in the trucking industry is felt throughout the entire supply chain. Trucks still deliver more than 60 percent of all freight in North America and, last year, moved $721 billion worth of goods in freight flows with Canada and Mexico, according to the U.S. Bureau of Transportation Statistics. 
From the driver's seat, the shortage isn't necessarily clear. From Salas's perspective, she gets in her truck, drives her hours, goes home, gets up at 3 a.m. and does it all over again.
"I'm in a bubble," she said.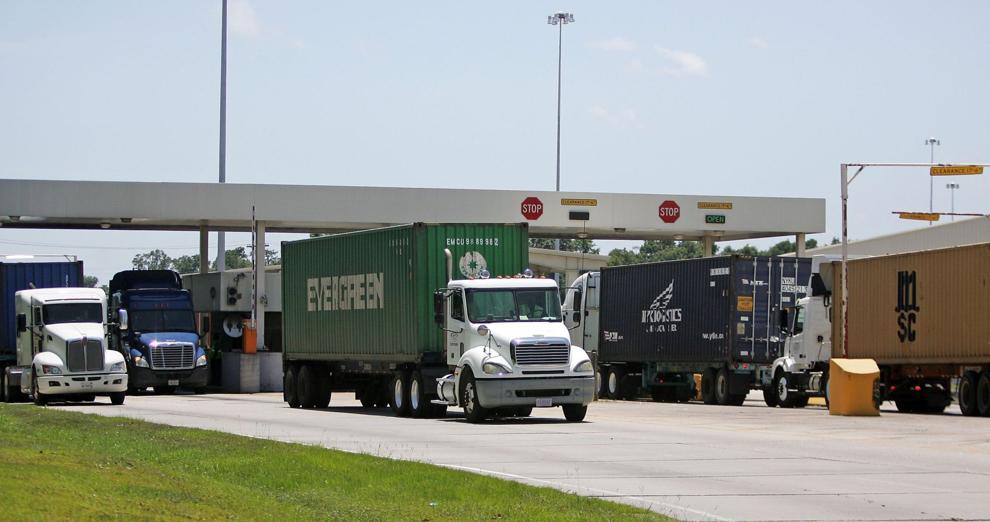 In many ways, Salas said, it sounds crazy that the state needs more drivers. In the time she has been driving in Charleston, she's seen the trucks on the roads multiply.
As business at the Port of Charleston continues to boom, the need for local drivers to move goods to and from the waterfront has increased. An all-time record amount of cargo passed through the local shipping terminals last month. The previous all-time record was also this year, in August.
But there is one indicator that Salas and many other drivers can see: the pay.
A driver's market
John Ross, a driver based in Timmonsville, started driving commercial trucks about 12 years ago. Right now, he's making about 30 percent more than he ever has in his life, he said.
A survey, released earlier this year from the American Trucking Association, showed increases of up to 18 percent in drivers' compensation over the last five years.
"This latest survey, which includes data from more than 100,000 drivers, shows that fleets are reacting to an increasingly tight market for drivers by boosting pay, improving benefit packages and offering other enticements to recruit and retain safe and experienced drivers," Costello said in a statement about the survey.
With those pay increases come more competition between trucking companies. 
Ross said he often doesn't return calls on his mobile phone because it's difficult for him to tell if the call is something he wants to answer. About 20 times a week, he said, his phone lights up with calls from trucking companies trying to hire him.
"The poaching is awful," said Todd of the S.C. Trucking Association. "Companies are taking drivers from each other, and they're not growing the driver pool." 
It's a "driver's market," right now, he said. Glenn Kinlaw, a commercial driver's license instructor at Palmetto Training, said it's easier for his students to find jobs now than it ever has been. 
The school, which has locations in North Charleston, Walterboro and Sumter, trains students to earn their CDLs over 4 1/2 to 6 weeks. The course includes classroom training, skills like completing pre-trip inspections, observation hours and over-the-road training.
Even in the state's tight labor market, obtaining a CDL license is one of the fastest ways to find gainful employment. A brochure for the training program spells it out plainly: "1st year truck drivers can expect to earn between $40,000 and $60,000 per year!"
That puts CDL holders on par with the average pay for college graduates, but for a much lower cost. At Palmetto Training, the course is $4,750, but many students receive full or at least partial tuition reimbursement through local incentive programs, the G.I. Bill or future employers.
But for Salas, she doesn't see the salary potential working as a primary motivator, at least not in the long term. 
"We dedicate our lives to these jobs," she said. "You can't do it for the money."
As a single mother, Salas had to sacrifice the most precious thing to her for the job, she said: time with her son. But she did the work not just to support them financially but also because it truly was her dream career. 
Finding future drivers
On Oct. 17, the state's House Education and Public Works Transportation Subcommittee heard statements from more than a dozen people from across the state, including Todd and Ross as well as owners of trucking companies and individuals who run CDL training programs.
The hearing was held to present ideas for how the state can address the shortage of CDL operators. After the hearing, committee members pledged to follow up on the issue, and another meeting is scheduled for Tuesday. 
At the hearing, people also made pleas to the legislature to support more training programs for skilled trades, like driving trucks, and to start those training opportunities sooner, particularly in high school. 
The driver pool is already changing. Ross said he meets more and more drivers who are college-educated, and though the industry is still largely male — the American Trucking Association estimates just 6 percent of commercial truck drivers are female — Kinlaw said about a third of his students in Charleston are women. 
Salas said she isn't sure how to get more young people motivated to be truck drivers. For all the passion she has for the job, she told her own son not to become a truck driver. 
"It's back-breaking work," she said. "I love my job, but I didn't want that for him. I think maybe other drivers feel the same way about their kids." 
Ross also spoke about a perception of truck drivers that he said he feels has become more negative over the years. 
"People have this perception that truck drivers are dirty, greasy and uneducated," Ross said. "But that's just not true."