A pair of side-by-side hotels on Upper King Street changed hands this week for what is likely to be a record sale price for the Charleston peninsula. 
A German firm paid $121 million for the dual-branded Hyatt Place and Hyatt House at the so-called Midtown site, according to developers Robert Clement and Stuart Coleman, who were minority investors in the company that built and sold the 304-room downtown property.
The new owner is an affiliate of Frankfurt-based Union Investment.
The sale, which was recorded Friday with Charleston County, worked out to about $398,000 per guest room. 
"It's a first-class property," Clement said. "It also speaks to the Charleston market." 
As a minority partner, he said he was not part of the decision to sell, but he noted that it was likely "good timing."
The Hyatt properties opened to guests in 2015, but they had been years in the making. The Midtown project was conceived in 2003 but encountered several delays, including the last recession.
The first phase included the completion of Elan Midtown, the first apartment complex to be built in more than 20 years on the lower peninsula.
Regent/BN Charleston Holdings, which is led by Atlanta-based Regent Partners and GEM of Chicago, started building the hotels and restoring three nearby historic structures in 2013 in a deal valued at $80 million. The 433,000-square-foot, mixed-used development included the Hyatt properties, a parking deck, office space and businesses such as Café Felix, Pour Taproom and Dry Bar. 
The sale sets a new high water mark for a piece of commercial real estate on the Charleston peninsula. One of the only other comparable transactions in the region was the $134 million sale of Mount Pleasant Towne Centre in 2006.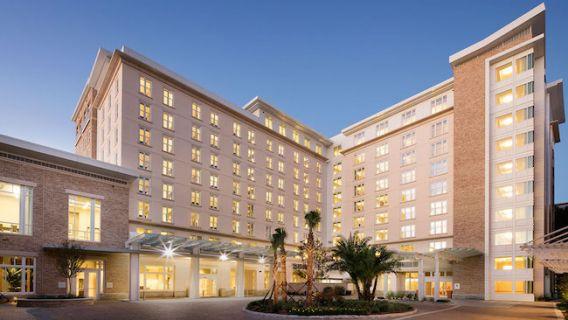 Clement said he credits much of the Midtown project's success to the support of former Mayor Joe Riley, who was in office during the planning and construction phases. 
"I'm just thankful that we, as local developers, were able to have a real role in this project," Clement said. 
The nine-story property was the city's first dual-flagged hotel. Hyatt House, which caters to extended-stay travelers, has 113 suites. Hyatt Place has 191 rooms. They share a lobby and are leased for 30 years to Pyramid Hotel Group. 
The King Street acquisition is the sixth U.S. hotel purchase for Union Investment. Other recent additions to its portfolio include luxury lodgings in Portland, Ore., and Washington, D.C.
"The combination of the two hotel formats and the location in Charleston meets our high standards," said Andreas Locher of Union Investment's real estate division. "The new acquisition is thus a perfect fit with our high-quality hotel portfolio."
Regent/BN Charleston Holdings still retains ownership of much of the Midtown retail and office space fronting King Street, including three restaurant concepts being developed by Lamar Bonaparte.