How to fly from Charleston SC to London for less
With great excitement, Charleston International Airport announced in October that it will soon offer two nonstop weekly flights to an international, trans-Atlanic destination — London.
I had hoped the new British Airways service that begins April 4 would usher in some of the great overseas airfare deals that are regularly offered at larger airports, but my hopes were quickly dashed.
Luckily, there are plenty of ways to get from Charleston to London for far less than the new British Airways flights that are regularly more than $1,300, round-trip. Even the "introductory" off-season fare, closer to $1,100, is a whopper when you consider that nonstop flights from major East Coast airports can be found for less than $420.
It's great to have the option of flying nonstop to London/Heathrow from a convenience standpoint. Point-to-point service mean less travel time and no risk of missing a connection, but there's a huge premium for those advantages. For budget-conscious leisure travelers such as myself, price is very important — a potential deal-breaker, even.
The best price I could find for British Airways' Charleston-to-London flights at the end of April, before prices rise for  peak-season travel, was $1,176. That didn't include checking a bag.
Let me put that in context. From Charleston, you could fly to Paris the first week of December, with one stop in New York, for $572 round-trip on Lufthansa, a United Airlines partner. So, two people could fly to the City of Lights in December with one stop, for the price of flying one to London in April with no layover.
Want to fly to France, Italy, Spain or Portugal in the spring for less than $600 round-trip? Just make the drive to Charlotte and go from there.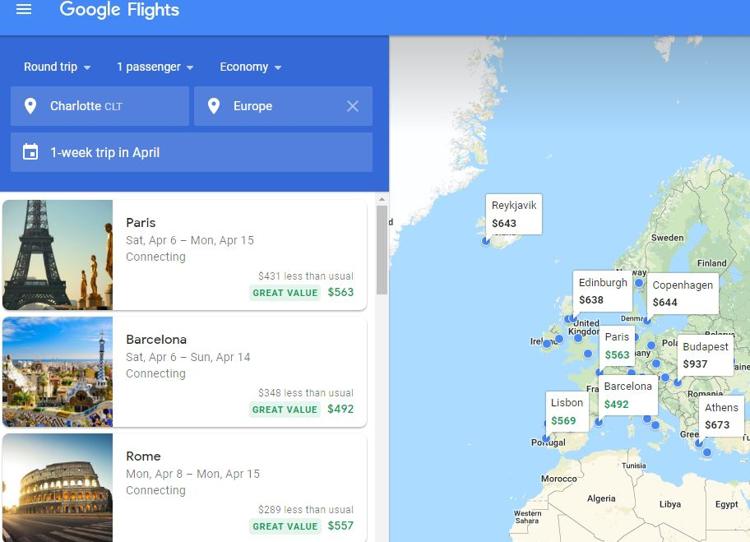 Paying $1,100, or $1,300, to fly to London is not in my plans.
If I were traveling to the U.K. from Charleston in April or May, here are some less-expensive options I would consider:
This article has been updated to clarify information about booking with AAdvantage miles.
Booking a direct American Airlines flight from Charleston to London, with a stop in Charlotte, for 60,000 American Airlines AAdvantage miles, round-trip, plus $168 in fees. Note that you can also book those nonstop British Airways flights through American for 60,000 AAdvantage miles, but BA will add more than $600 in fuel surcharges and fees. 
Setting up a price alert on Google Flights or a different travel-search website. Great deals do pop up from time to time, like the $66 round-trip nonstop from Charleston to Philadelphia on American Airlines that I booked in June. In April, 2017 Delta offered flights from Charleston to Barcelona, Spain, for $401, with a stop in Atlanta — those sold out in less than a day. 
Flying out of a less expensive airport. That's what my wife and I did last year. We missed out on those $401 tickets to Spain that Delta offered, but then learned we could fly nonstop from Philadelphia to Barcelona for $450. So, we did.
Even with the added cost of flying to Washington, Philadelphia, New York or a different major airport, the prices are so much lower there that the savings can be considerable.
Here's a sample of round-trip nonstop flights to London in late April and early May: from New York's JFK for as little as $418; from Philadelphia, $539; from Baltimore/Washington International, $600; and from Miami, $481.
So, add in the cost of flying nonstop to New York — one flight I looked at was $179 — and you can get from Charleston to London for about $600. It will take longer than a nonstop flight, and you'll have to change planes (and possibly airlines), but if you're talking about a vacation, saving $600 per person on airfare is a very big deal.
I'll re-up some advice I've given before: With airfares to Europe so unusually low from major gateway cities, consider visiting a place with a big airport where you might enjoy spending a couple of days — such as New York, Boston, Philadelphia, Washington or Miami — and fly on from there.
Reach David Slade at 843-937-5552. Follow him on Twitter @DSladeNews.