Honda South Carolina is jumping into the growing side-by-side off-road vehicle market with its new Talon all-terrain vehicle built exclusively at the company's Timmonsville campus.
Honda debuted the two-seater on Wednesday, culminating a $45 million expansion that added 250 jobs and 115,000 square feet of space for the new Pee Dee manufacturing line.
"The Talon is truly a standout side-by-side vehicle, and I'm proud that associates at Honda of South Carolina are part of its development as well as its future," Chuck Boderman, vice president of American Honda's powersports division, said in a statement.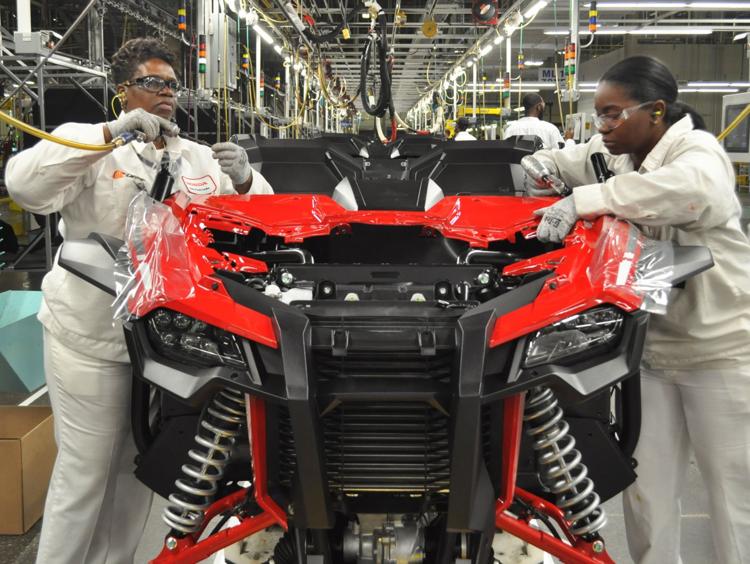 Honda developed two versions of the Talon — the 1000R and the 1000X — to focus on different areas of off-road travel. The four-wheel-drive vehicles share a common frame and engine and can perform in a variety of terrain types.
But the models have different wheelbase and suspension configurations, with the 1000R better at traversing big bumps at high speeds and the 1000X more maneuverable.
Each model has a 104-horsepower motor and a base list price of between $20,000 and $21,000.
"The all-new Talon is about serious off-road performance with a hot engine, long-travel suspension and a menacing aesthetic," thedrive.com said in a review, calling the Talon "a big move for Honda."
Side-by-side vehicles remain the most popular for off-road use, according to the Fact.MR research firm. The group expects the off-road market to increase at a rate of 4.8 percent annually through 2027, fueled by growing interest in motorsports and outdoor activities such as hunting and trail riding in the U.S., Canada and Europe.
The expansion of the Florence County plant, completed last year, included a new welding area and a new paint line to enhance quality and color variations. The factory also added automated guided carriers and lift-assist devices to support quality, logistics, safety and ergonomic improvements for employees.
"Over the last 20 years, Honda in South Carolina has evolved from a small ATV manufacturing plant to a world-class team that can produce a complex model like the Honda Talon," Gary Mabrey, president of the South Carolina plant, said in a statement.
The Timmonsville campus opened in July 1998 with an initial investment of $30 million and about 200 employees. Today, it employs nearly 1,000 workers in a 947,000-square-foot facility off Interstate 95 that represents $400 million in investment.
In addition to the new side-by-side vehicles, the South Carolina site builds ATVs for global distribution. The plant has the capacity to build 100,000 ATVs and 100,000 side-by-sides annually.