COLUMBIA — The former heavy duty maritime terminal in Port Royal will become a development with 400 residences, dozens of stores and restaurants, a hotel and a marina capable of docking some of the world's biggest yachts at the historic waterfront Beaufort County town.
"It has a chance to transform this town," state Sen. Tom Davis, R-Beaufort, said.
Developers unveiled their plans to The Post and Courier two weeks before closing on the $9 million sale from the state.
The deal, slated to close Sept. 19, ends 13 years of wrangling over the future of the property since the little-used port was closed under Gov. Mark Sanford's administration.
"This is the most highly anticipated project on the South Carolina coast in the past decade," said Columbia real estate broker Whit Suber, one of the project's developers. "This is not Disney. It's something not you have to make up. You have a real village here."
Grey Ghost Properties — led by Suber, Beaufort boat dealer Chris Butler and four other investors — won a state auction for the port earlier this year. They expect about $200 million in development on the 317-acre site, which developers likely will not name. Investors include actor Matt Battaglia, who appeared in "Friends," "Thor" and "True Detective."
They bought the port for far less than previous contracts of $26 million in 2006, $17 million in 2012 and $15.4 million in 2015. But the sale price was higher than the state appraisal of $6.95 million. Just 52 acres of the Battery Creek site can be developed.
First steps
Grey Ghost's first steps in the first 18 months are reopening the boat storage building, constructing a waterfront walkway, and restarting the seafood market and Dockside restaurant, both of which were closed after a 2015 fire.
Developers also want to reopen a shrimp processing plant, also closed in the fire, and bring shrimp boats back to town. That kind of activity is the character Suber says developers want to create on the old port site on the southern tip of town. 
"We want to have a working man's feel to it," he said. "Our design concept is not Boca Raton. It's Port Royal. We want to have an authentic Lowcountry feel to it."
Design work is based on St. Augustine, Fla., another waterfront town like Port Royal, first visited by European explorers in the late 1500s. Borrowing an idea from the famed Florida city, developers want some areas to be open to only pedestrians. There's talk of extending the 10-mile Spanish Moss Trail that starts near the Marine Corps Air Station Beaufort and winds through Beaufort into Port Royal.
Grey Ghost has two miles of waterfront to work with. In addition to the restaurants, shops and a five-story hotel at the former break-bulk marine terminal site along Battery Creek, Grey Ghost plans on building up to 120 homes on a bluff and creating a walkway to generate more foot traffic.
"You have a waterfront village with no access to the waterfront," Suber said.
A planned marina will be a large draw for the project with up to 225 slips and space for up to a dozen "mega-yachts" that have a minimum length of 125 feet. Suber hopes the old port can attract well-heeled yachters cruising between New York and Miami.
As for places to eat, Suber said he has another restaurant interested in joining Dockside, and he's working with the Technical College of the Lowcountry in Beaufort about opening an eatery with its culinary program. Suber said he also is speaking to Scott Burgess, who runs the Bierkeller in Columbia, about opening a microbrewery.
"We could have the most convenient place to boat and dine in all of South Carolina," Suber said.
There could be around 1,000 people living on the old port with plans calling for multifamily housing that would bring the total number of housing units, residences and apartments to 400.
The town is already growing before the latest development with its population expanding by one-third to 12,800 since the port went on sale.
But before all that work can happen, developers need some income. That's why Grey Ghost fought to keep the boat storage building that was slated to be torn down. They hope to reopen what's known as the dry stack within 60 days to help pay some bills.
"It will take years to develop all of this," Suber said.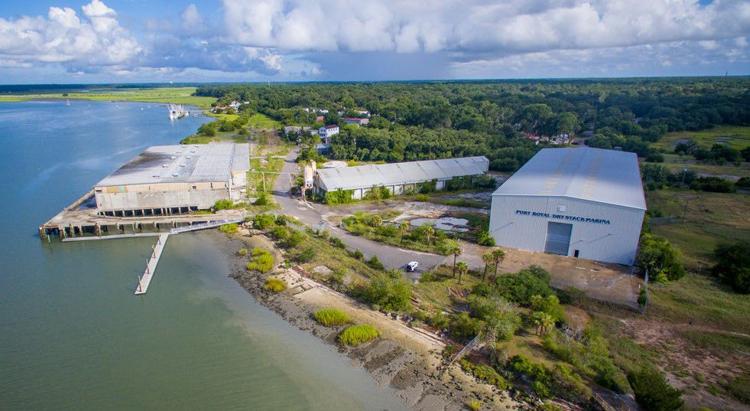 Making a connection
Port Royal town manager Van Willis, who wrote a letter to then-Gov. Sanford asking for help in redeveloping the port site in 2003, said he's happy with the development plans.
"Reknitting the waterfront with the rest of town was most important to us," Willis said. "We want to connect with the nicest piece of property in town."
The makeover is expected to give Port Royal a tourist boost. The town, which has two hotels, does not draw as many visitors as Beaufort to the north and Hilton Head Island to the south. The new hotel, restaurants and stores could give visitors to Marine Corps Recruit Depot on Parris Island a reason to stay in the town where the base is located.
"We host them, but we don't always capture them," Willis said.
The hotel planned at the port terminal would have about 150 rooms, doubling the number of rooms in town.
The port sale is a real relief for a community weary after years of unfulfilled promises.
Davis, who was Sanford's chief of staff when the port first went on the market, said watching several sales contracts fall apart made him feel like Charlie Brown constantly getting tricked by Lucy when trying to kick a football.
The prospect of a port sale sent nearby real estate prices rising in the first years. But there was no sale and the recession slammed the speculators. Davis blamed the State Ports Authority for asking too much for the site.
A state law that Davis sponsored put the port property in the hands of the S.C Department of Administration last year and led to the auction this year. State officials would not say how many bidders submitted offers.
Grey Ghost and town officials are on the same page in part because of a development plan the town put in place for anyone taking over the port site. 
"I know Whit has an appreciation for what the town is," Davis said. "They have an understanding of what works and what doesn't work. We don't have a group out of Atlanta or Charlotte who want a quick profit."