A rising stock market and overall better economy pumped new life into the luxury home market across South Carolina, especially during the past six months.
The well-heeled are snapping up million-dollar-plus homes at a faster clip, notably along the coast as the second-home vacation market benefits from a boost in demand.
In Charleston, the highest-priced sale over the past 18 months came last year when the James Simmons House at 37 Meeting St. sold for $7.51 million, the second-highest price paid for a peninsular Charleston home. Another house at 2 Water St. along East Battery sold in December for $6.2 million while one at 69 Meeting St. sold in January for $5.35 million. Earlier this month, a 15,322-square-foot mansion on Kiawah Island sold for $15.25 million.
In Charleston, Zillow lists 172 houses on the market above $1 million. The most expensive is the nine-bedroom, 17,142-square-foot house at 32 Legare St. for $19.5 million.
In Myrtle Beach, the most expensive sale during the past 18 months came in at $2.89 million at 6502 N. Ocean Blvd., according to Margaret Singleton of Re/Max Southern Shores Real Estate on the Grand Strand. The 5,000-square-foot home sold in March.
Zillow shows 32 houses for sale above $1 million in Myrtle Beach with the most expensive on the Intracoastal Waterway in the Grand Dunes community. The asking price for the six-bedroom, 6,800-square-foot house is $3.5 million.
In the Columbia area, the highest-priced sale over the past 18 months fetched $2.315 million for a house at 1807 Salem Church Road on Lake Murray, according to Michel Moore, an agent with real estate firm The Moore Co. of Columbia.
Zillow lists 13 homes for sale in the Columbia area above $1 million, with the most expensive at $1.89 million for a 10-bedroom, 8,913-square-foot house in the gated Kings Grant subdivision near Fort Jackson.
The 6,932-square-foot home of former University of South Carolina football coach Steve Spurrier in the Woodcreek Farms neighborhood of northeast Columbia listed earlier this year for $1.35 million. The price was reduced to $1 million in early July for the house in Richland County.
Bull market
Real estate representatives across the state agreed the improving economy and rising stock prices have helped the luxury market tremendously.
Dave Sansom, president of the Charleston Trident Association of Realtors and the chief financial officer of Carolina One Real Estate, said high-end sales have been stronger recently than in the preceding five to seven years.
"A lot of those folks have non-income wealth like stocks," he said. "That is how they make their decision. When the stock market does well, they feel good; and when they do, they buy things like luxury homes."
Singleton of Re/Max Southern Shores Real Estate of Myrtle Beach agreed.
"We have seen a great jump in activity in the past six months," she said. "Prior to the election, people were uncertain about what was going to happen. That unknown is not there anymore."
Singleton, a member of the Texas-based Institute of Luxury Home Marketing, said times were tough during the recession and immediately afterward for the high-end real estate market but she said the turnaround is evident.
"It's definitely going up because of supply and demand," she said. "We have a limited amount of oceanfront. They aren't making any more of that."
She also noted older homes are being sold, torn down and replaced with newer, more expensive houses along the Grand Strand.
Because the high-end market has a limited pool of buyers, homes naturally stay on the market longer than less expensive models but that window is shrinking as sales heat up.
"A $250,000 home might stay on the market two months where a $2 million house might stay on the market a year or two," Singleton said. "Three or four years ago, I would have said three or four years. You can definitely see the tide change in the high-end market."
Driving the market are retirees and people buying second homes in the Grand Strand community, she said.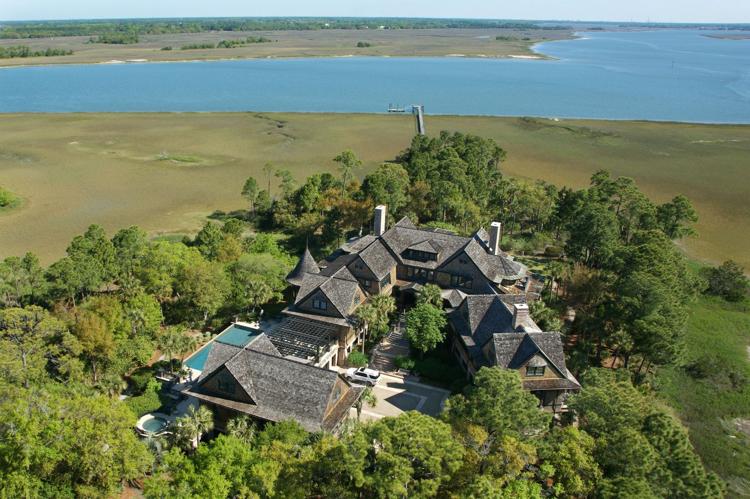 Midlands market
In Richland and Lexington counties, 46 properties have sold above $1 million since Jan. 1, 2016, Moore said. That's 26 percent of all homes sold over $1 million in the Columbia area since 2001. By comparison, between 2009 and 2012 — the recession and post-recession years — just 23 houses in the Columbia area sold for more than $1 million.
Sales from the past 18 months are a sign that luxury buyers have returned to the Midlands "boutique market," she said.
Moore called Columbia real estate sales "great" for all price ranges, but she said a house's condition now trumps location. Houses that need work are not the first snapped up, even if they are situated well, Moore said.
She also said the luxury real estate market in the Midlands is different from that in Charleston.
"Columbia's market is appealing to Columbia," she said. "Charleston's market is appealing to the state and the world. You can market the coast all over the U.S. You have a town (Charleston) that has name recognition outside of the state."
Also, she noted the Midlands doesn't have the big industry or tourism draw of Charleston. People in Columbia also might pay less for a home so they can spread money into a beach or mountain house, since Columbia lies midway between the coast and the foothills of the Appalachians, Moore said.
Nevertheless, she said the luxury real estate market around the state's capital city is solid.
"The million-dollar-plus market has been stronger since 2016 than it's ever been because people have confidence in real estate again," Moore said. "It took a long time for people to become confident. When someone is buying a million-dollar-plus house, it's not a need but a want."
She predicted continued interest in the high-end market.
"I see more of the same for the foreseeable future," Moore said.
But not all parts of Columbia are seeing activity in the luxury market.
Steven Applewhite of Coldwell Banker Residential Brokerage said northeast Columbia, the area he represents and where Spurrier's house is on the market, is seeing little movement. 
"The higher-end stuff isn't really moving there," Applewhite said. "Anything really above $500,000, it's kind of slow. The million-dollar buyers haven't been out for a while now. They go to Lake Murray, Shandon, Forest Acres and old Columbia."
Lowcountry, high sales
The Lowcountry market is a different story.
In Berkeley County, 65 homes changed hands last year above $1 million with the highest at $3.2 million, while in Charleston County, 424 home sales came in higher than $1 million, according to the Charleston Trident Association of Realtors. There were no $1-million-plus sales in Dorchester County last year.
The number of million-dollar-plus sales in the Charleston region is 14.5 percent higher than in 2015.
The high-end market has been strong for the past 18 months and especially since the election, according to Chuck Sullivan of Carriage Properties in Charleston.
"The million-plus market usually starts March 1, but it started about 45 days early this year," he said. "The strength of the stock market really helped propel our industry."
He also said buyers might find less to choose from since fresh inventory hasn't come on the market to replace recent transactions, but he expects sales to remain brisk.
His firm recently represented the seller in the $5.35 million transaction of The George Keenan House at 38 Church St.
Helen Geer, president and broker-in-charge of William Means Real Estate in Charleston, agreed with Sullivan that Charleston's luxury real estate market is on solid ground.
"If a house is redone and priced properly, it will sell very quickly," she said. "A house that needs renovation or an addition or an overhaul will take longer to sell. People don't mind painting, but other than that, they want a turnkey job. If it's in the right location, it definitely will sell. Buyers are coming from everywhere right now, from all over the U.S."
Her firm represented the sellers in the highest-priced transaction of a home in the Charleston area last year, the $7.5 million sale of the pre-Revolutionary War-era James Simmons House at 37 Meeting St.
Geer doesn't see a downturn to the market any time soon and pointed out interest rates are still favorably low. The summer is generally a slower period for sales than the spring and fall, but Geer expects September to usher in another favorable buying season.
"It's been very strong this year, and it was extraordinarily strong last year," she said. "It's an exciting time. Charleston is certainly on the map."