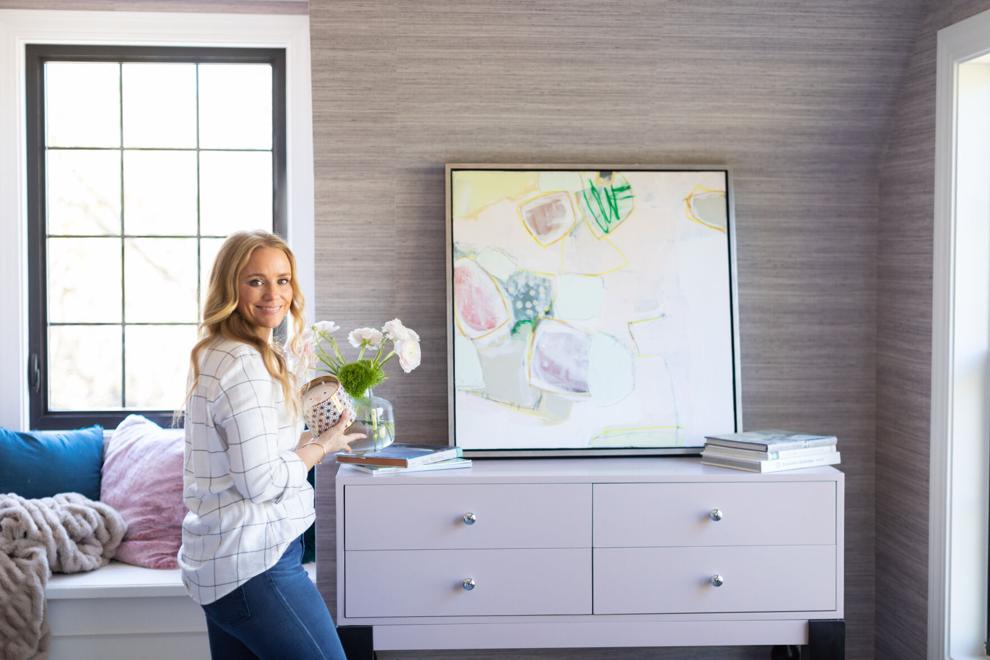 If you'd told Tamara Day a decade ago she would become one of HGTV's most popular celebrity designers, she probably would have laughed. Her down-to-earth personality, expertise and eclectic "laid back luxe" style has resulted in HGTV and DIY networks recruiting her to be the star of "Bargain Mansions," now in its third season and expanded to a full hour program.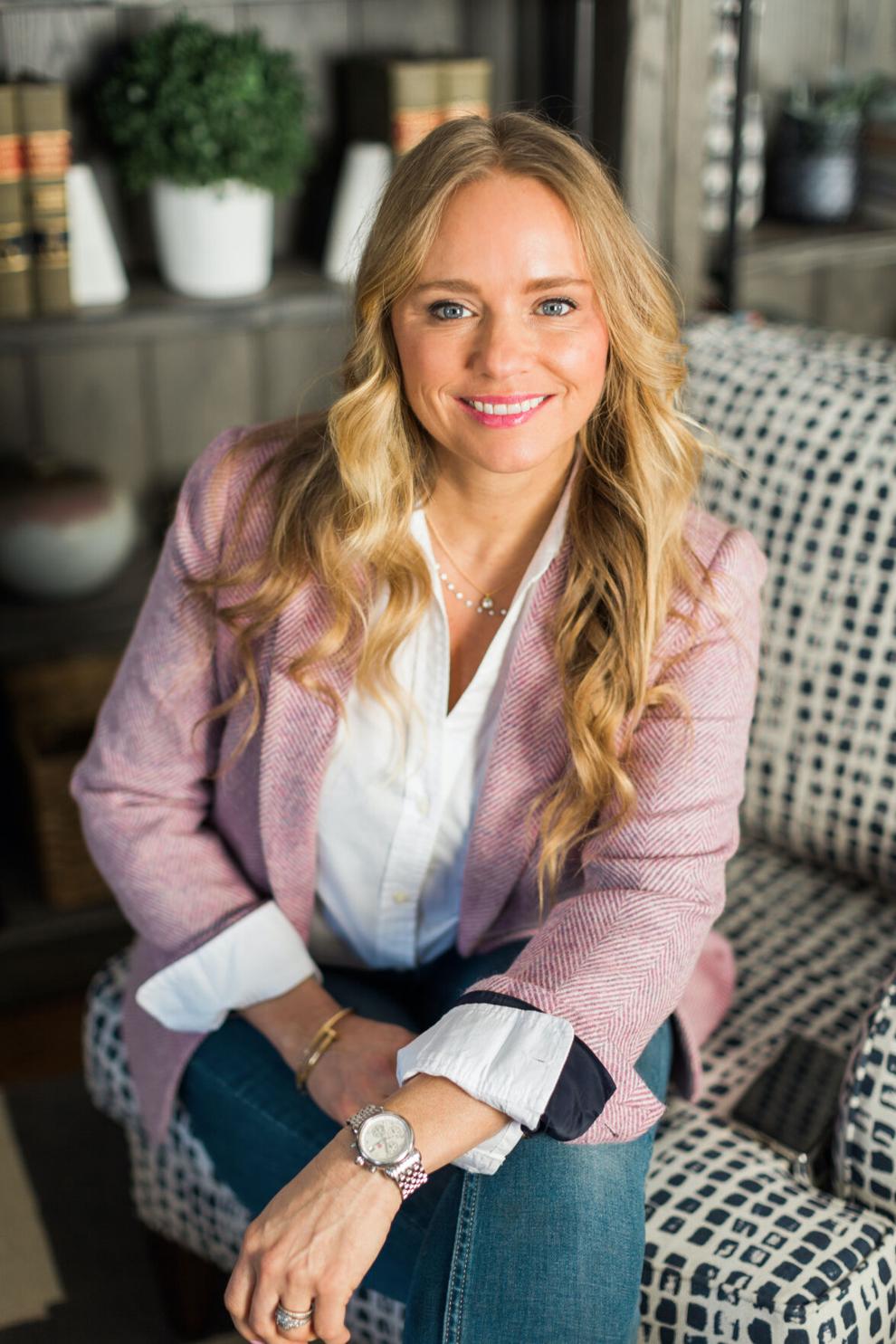 Day grew up in Kansas on a farm where she inherited a do it yourself attitude from her father, Ward Schrader. Schrader who makes regular appearances on the show taught her how to hang sheetrock (punishment for her missing curfew when she was a teenager), as well as how to refurbish the homes they lived in. Day and her grandmother had a knack for decorating, spending hours making those renewed spaces perfect – from rearranging furniture to hanging just the right photo or artwork where it needed to be.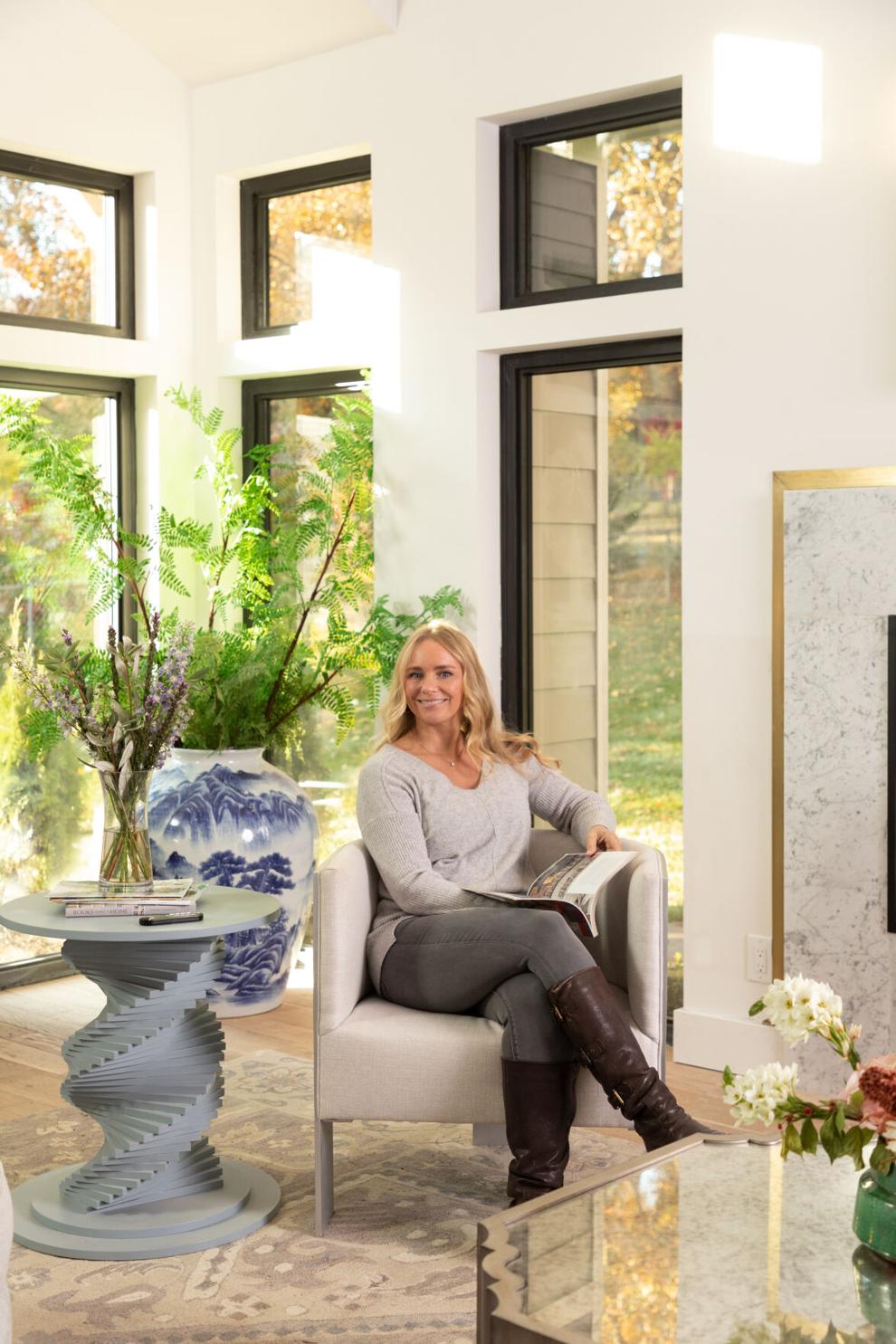 Day graduated with a degree in communications, but the rehab and design bug stuck. She married her husband whose background was in, you guessed it, buying dilapidated homes to restore and sell. The two transformed neglected homes – from massive mansions to smaller village homes – and became the go-to experts for their vision and ability to blend original architecture with modern amenities. They bought their own bargain mansion, a 5,000 square foot 1980's home that they planned to renovate into their forever home. Then, the economic crash of 2008 hit, and they, like so many, had to pivot.
With four small children, Day rolled up her sleeves and tackled the project herself, sticking to a budget, learning the trade and decorating their home with local estate and garage sales. Over time, her brand, "Growing Days" was born from the business she began at a local market to a 2,500 square foot retail showroom. Her designs have appeared in Forbes, People Magazine, House Beautiful and more.
She took time out of her busy schedule to answer a few questions.
Designing spaces for home offices – how did you approach creating a private space in your own home?
The pandemic has made the home office so much more of a priority than it's ever been and has made designing an office space so much more important. You don't want the home office to be just functional, you also want the space that you're spending so much time in to be beautiful. I've seen a sharp increase in clients asking for home office design services. A home office should represent who you are. It should have charm and character and really show off your personality since you're inviting the world to watch you via Zoom in your space.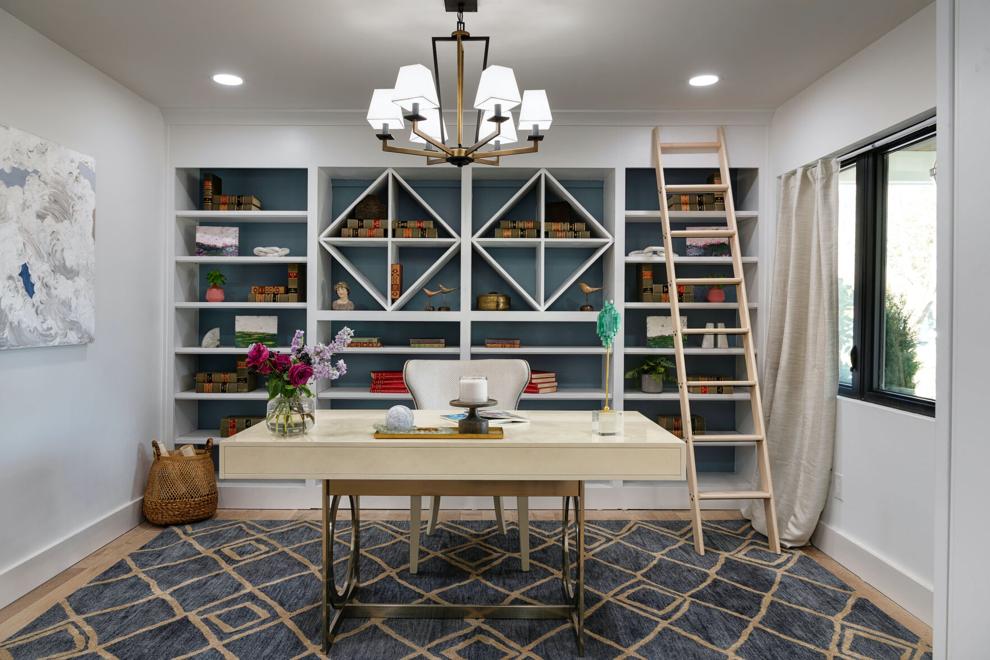 In my own home we always had a home office, but it was more of a drop spot where I had my computer and would spend an hour or two, a catchall space for the house. Now, with four kids at home doing remote schooling and my husband and I both working from home, our home office has become a huge part of our everyday lives. Redesigning the space into a dedicated homework room and home office, I created an oversized, main floating desk to spread out and really get design work going. It's also perfect for a craft project for elementary school. We also have two side-by-side workspaces that house our computers so my husband and I can both be working side-by-side with the printer and all of the actual work stuff that has to happen.
What are the top five requests your clients want for home offices?
Lighting, wallpaper, rugs, scent and organization. Overhead lighting plus lighting sconces and as much natural light as possible is very important. Wallpaper makes the space feel a little bit more interesting than the rest of your home. Why not have a bold wallpaper that brightens and cheers up the space and also acts as a really great backdrop to Zoom meetings?
Many home offices are on the first floor and have hardwood floors, which can create a huge echo in the space. Adding in a nice plush rug absorbs some sound.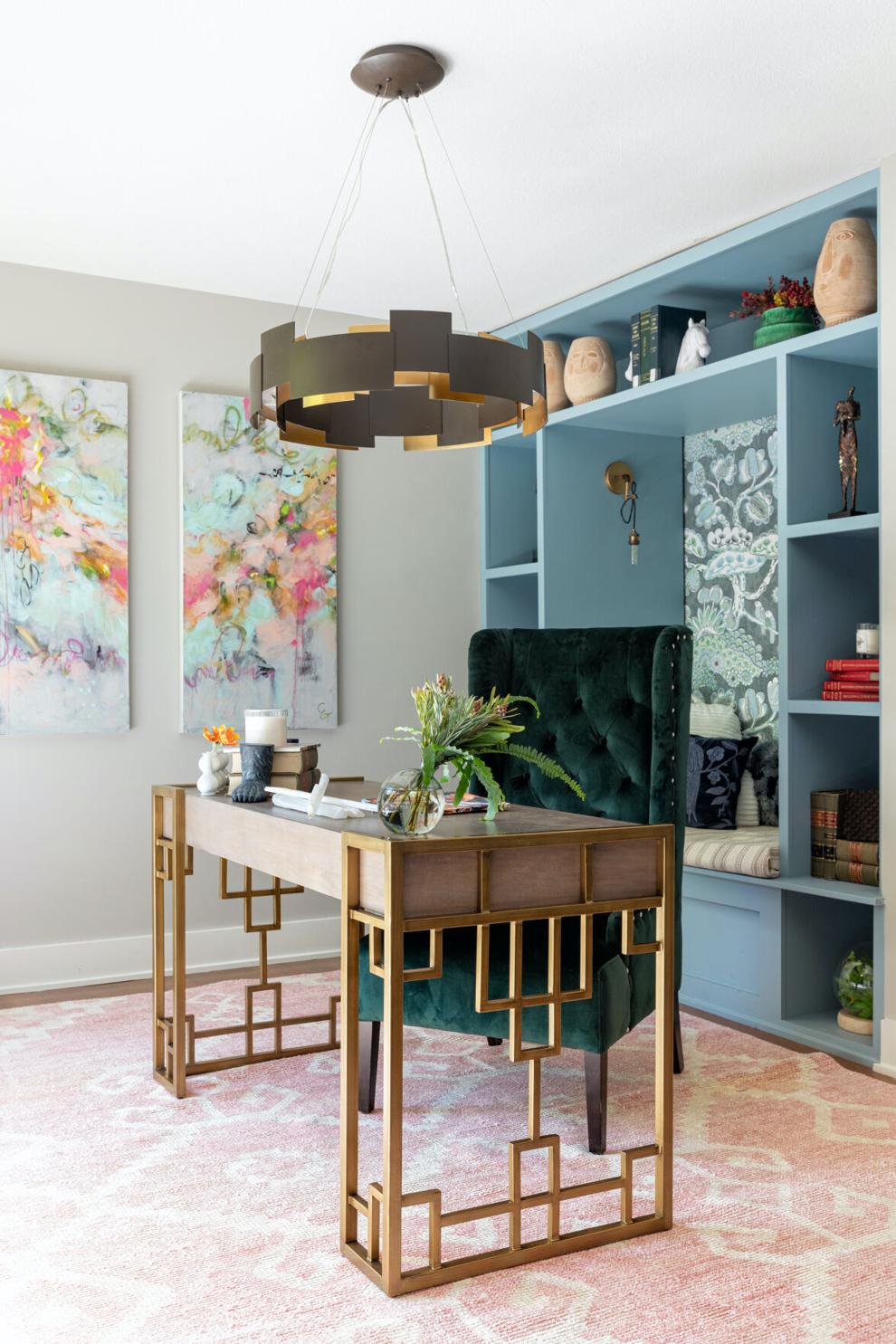 I have a candle in every room of my house and when I sit down to work, the first thing that gets me started is lighting my candle. It's part of the styling with my design books topped with a candle and some cute matches, it just makes me feel a little bit happier while I'm sitting there digging through my emails.
Finding a stylish way to create organization is a must. Desktop and hidden organization are huge elements of my design and it needs to be both stylish and functional.
How about design choices in décor – what designs would you say are "universal?"
Every project we work on is different, depending on the client's needs, use of the space and where the house is located in the country. Working on a lake house or a beach house, it's definitely going to have a different vibe than a house that's out in the country but some tried and true elements of design always work no matter what project you're working on.
A mixture of styles is my go-to look where you've got a little bit of vintage, a little bit glam, and a lot of cozy which can translate into a lot of different design aesthetics. Whether you're going for a modern look, a mid-century vibe, transitional or traditional, I suggest really leaning into the main elements but bringing in accents to create your desired look. I want everyone to feel comfortable and cozy in their space.
What colors are we going to see in 2021 for these types of spaces?
I think that you're going to see a lot of people leaning into a more comfortable relaxed style. Grays and cool colors will disappear as we are all looking for comfort and calm within our spaces, and color a makes a huge impact. Soft blues and greens with undertones of brown create a cozy and calm environment versus the great grays and cool colors that can be a little bit more energizing but cold feeling. With the world upside down, we all need a little bit more anxiety reducing opportunities and color is a big factor.
What's the most unusual or unique request you have from a client for a home office space?
One of my favorite office spaces that we've done was a space right off of the entryway in one of our Bargain Mansions. It was a small entryway but a large office space with great natural light. It would've been easy to just put in a regular old bookcase, a light fixture and a desk, but I wanted to go a little bit over the top in the space. I made the light fixture to be the centerpiece and the backdrop be the bookcases to make a statement in the room. Instead of straight shelves on the bookcase, the center set that had an X detail that made it a little bit more interesting to look at. The entire cabinet was painted a bright white and the back a nice soft blue that felt calming and interesting. Fun accessories and a rolling library ladder added a bit of old-world charm.
How have you designed spaces to house virtual learning?
I do a lot of spaces in homes that traditionally would've been more fun hang out areas but now with the world working from home, we've started to create more intentional homework spaces in houses. We've done a loft area that incorporated a laid-back book reading and TV watching space, and then off to the side created a built-in desk with seating for up to three with task lighting and a cute backdrop to make the space feel intentional and really give kids a sense of their own space of which they can work in.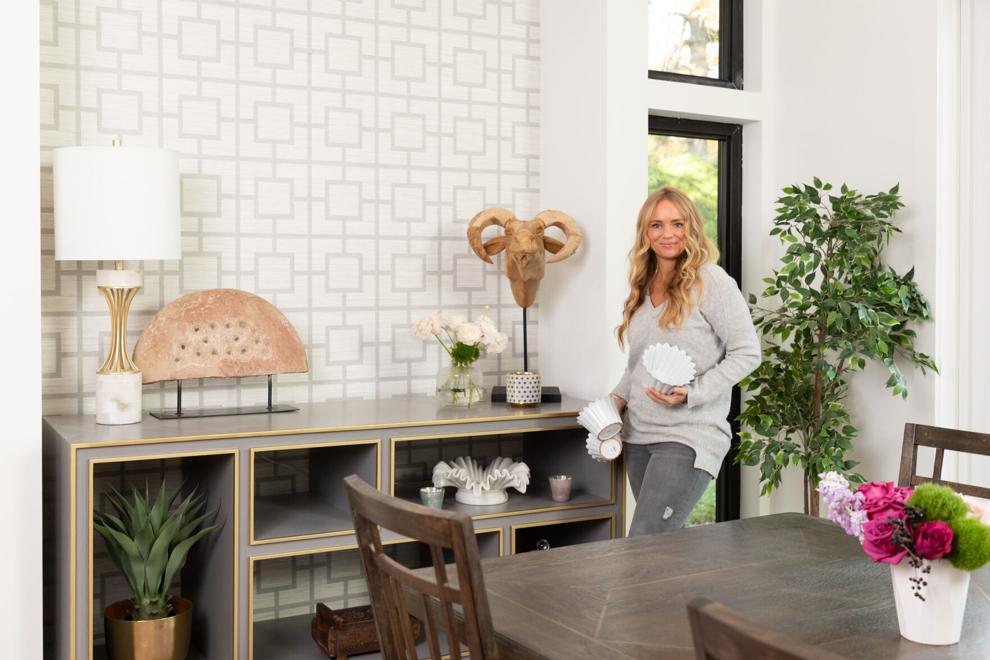 Are most parents desiring that their work space be close to their children's virtual learning space?
I'm seeing a 50-50 mix. We want to be close to our kids so we can help them but we want to be far removed when we turn the Zoom on. None of us wants to be the cat lawyer or the mom in the middle of a meeting doing algebra. Finding that happy balance of being accessible but having a quiet space is a huge part of what I work towards in all of our office space designs.
Speak to the design spaces you've constructed for "safe" kids play areas – what are must-haves in these spaces?
Kids need more activities than ever before in the home that are safe but helps to get the wiggles out. For my family, I had an inground trampoline put in. Putting it inground is key - no big messy piece filling up our backyard design and since it is ground level, no net is required. We also added to our deck is a 7-foot tube slide that we found on Amazon. It makes for a great circle to run up the stairs, slide down, jump on the trampoline and run back up. An inexpensive wooden swing set to the underside of the deck and a climbing net right beside the slide turned what is typically an ugly under deck space into a really great play space.
What tips do you give anyone who wishes to renovate or redesign a space or home?
Don't spend a fortune on trendy items. Keep those to a minimum and use them sparingly in ways that can be replaced easily. You definitely want to splurge on the pieces that are timeless and difficult to change like appliances, tile, and countertops. Have fun with the lighting because it's easy to swap out a new fixture. I always encourage my clients to get something fun and bold. Same with cabinetry hardware - it's easy to swap out and you get a lot of bang for your buck as far as style.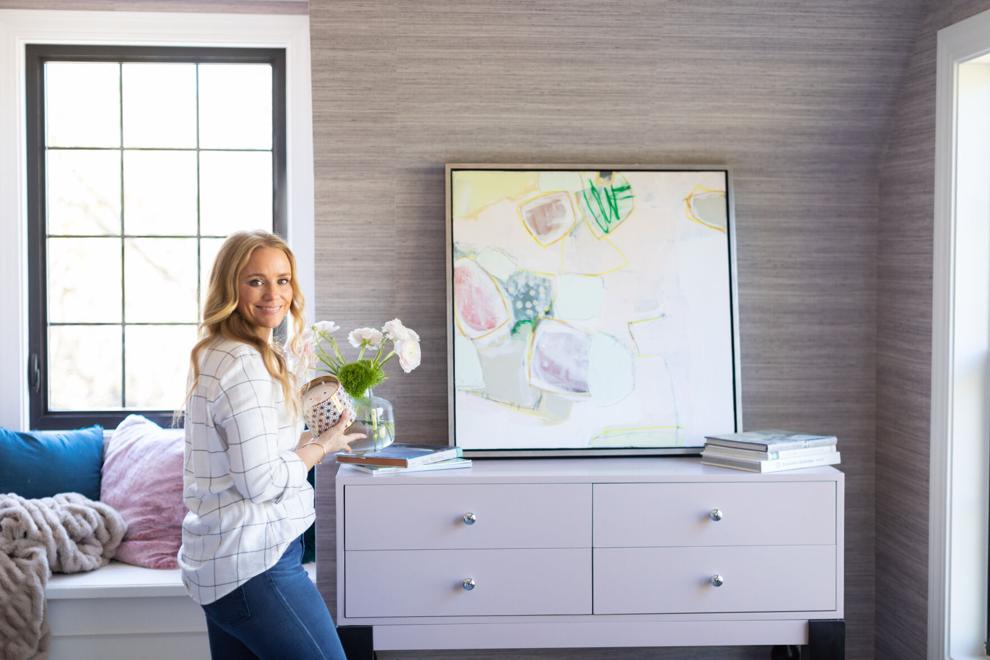 ***
ONLINE:
Find Tamara online at tamaraday.com. Watch Bargain Mansions on HGTV and the DIY Network and/or follow her on Instagram @tamaraday.
***
Contact Brigitte Surette at bsurette@postandcourier.com.