A Hawaii-based restaurant chain that says customers claim its "salsas do a hula on your tongue" plans to bring that sensation to the Lowcountry.
Maui Tacos said in the press release its subtitled Mexican Surf Grill will make its debut in South Carolina this year with a restaurant in the Charleston/Mount Pleasant area. The 25-year-old company did not immediately respond Wednesday to a request for further information about a specific location.
The chain with eight locations — all in the Aloha State — plans to open six new restaurants this year and 12 more next year, mainly on the West Coast and in the Southeast.
Also in the taco realm, Edisto Beach residents now have a new dining spot. The team at Ella & Ollie's restaurant on Wednesday opened E&O Taco next door at 21 Fairway Drive. It's a product of executive chef and owner Brandon Rushing.
With indoor seating for 16 and outdoor space for 30, E&O Taco is open for lunch from 11 a.m. to 3 p.m. Monday through Saturday.
Here's the scoop
Ice cream shop Ben & Jerry's is offering Free Cone Day again. Look for a free scoop noon to 8 p.m. Tuesday at 96 N. Market St. in Charleston and 1109 Ocean Blvd. on the Isle of Palms.
Sweet treat
A new rolled ice cream shop is coming to the Isle of Palms. Chills 360 recently leased 1,200 square feet at 1515 Palm Blvd., according to the real estate firm Beach Commercial.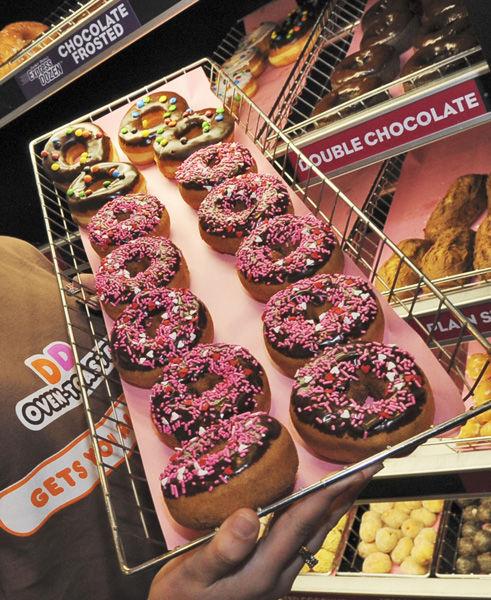 Dunk and run
For runners who want a few carbs before Saturday's big race, Dunkin' Donuts is offering a freebie Thursday and Friday.
The chain, which has several locations in the Charleston area, will give a free beverage of any size and type to Cooper River Bridge Run participants who show their 2018 race bibs when ordering. No purchase is required.
The closest location to the race packet pickup site is at 4930 Centre Pointe Drive near Tanger Outlets, across from the Charleston Area Convention Center. The others are in North Charleston, Mount Pleasant, West Ashley and beyond. Dunkin' Donuts no longer has a presence in downtown Charleston, where the annual run and walk ends.
After the run
If you've done the run and want a leisurely stroll the next day, downtown Charleston offers an ideal outing. Second Sunday on King Street is all about giving pedestrians a chance to browse, shop and dine on a car-free stretch between Calhoun and Queen streets during the afternoon.
The full event schedule is published Friday at 2ndsundayonkingstreet.com.
All in the family
A father and son are opening a pair of restaurants for different clientele in the same Summerville complex.
Tim Blackman plans to open Andolini's Pizza at 1201 Trolley Road in May while his son, Charles Blackman, will launch a menu centered on fried fish at House of Cod, about two doors down, on April 18.
Raw move
Downtown Charleston's lower King Street will gain a new restaurant after a peninsular raw bar ran into an easement issue with its patio dining space.
167 Raw at 289 East Bay St. is moving to 193 King St. next to Birlant & Co. Antiques, according to Jennifer Davis of Domicile Real Estate Brokerage, which handled the recent $1.76 million sale of the building to New York investors.
The restaurant, now across from a Harris Teeter supermarket, learned after the city had approved a permit that its patio is in an area where it shouldn't be.
A 19th-century clause in deeds to houses along Wentworth Street guarantees an eight-foot easement behind their lots, meant to grant unimpeded access to East Bay. 167 Raw's patio sat squat in the middle of that strip.
Act fast
If you are holding onto a Toys R Us or Babies R Us gift card, another retailer will take them, but time is running short.
Bed Bath & Beyond will accept the bankrupt toy store's unexpired cards with at least a $20 balance through 11:59 p.m. Thursday. In exchange, the housewares retailer will offer a store credit to be used in its stores. The redeemed value might not be the same since Bed Bath & Beyond said retail prices can vary.
Toys R Us and Babies R Us recently announced they are going out of business.
Beauty spot
A new non-toxic cosmetics shop debuts in downtown Charleston this weekend.
Denver-based beauty boutique Aillea opens at 10 a.m. Saturday at 344 King St. It's taking over the space formerly occupied by antique shop Parham & Co. It moved to the Navy Yard in North Charleston after 10 years in Charleston.
Aillea also is expanding to Raleigh. Its other locations are in Denver and Atlanta.
Company founder and owner Kathryn Murray Dickinson is familiar with Charleston since she spent holidays in the city while growing up.
The upscale shop will offer make-up artistry, clean beauty and skincare expertise, along with advice to shoppers.
Shades of success
Nectar Sunglasses recently snipped the ribbon on its new office and distribution center on James Island.
The sun-shielding eyeglass product provider is at 461 Fleming Road, off Maybank Highway. It previously operated from a shared space on James Island and was once headquartered in Richmond, Va.
Nectar's products can be found in Charleston at Southern Shades, McKevlin's, The OOPs! Co., Channels, Up the Creek, Bashful Boutique, Sapphire Boutique, Palmetto Moon, StyleDwell, Charleston County Park, Sk8 Charleston, Bits of Lace, and other stores as well as online.
Building blocks
Charleston's growth spurt hasn't gone unnoticed by those in the building supplies industry.
A Los Angeles-based tile company recently opened its first showroom and service center in South Carolina.
Emser Tile offers tile and stone to retailers, architects, designers, builders and contractors at 8351 Palmetto Commerce Parkway in North Charleston.
It's the company 74th location. Last year, it opened a 400,000-square-foot distribution center in Virginia to serve the growing East Coast and Midwest markets.
Getting fit
A new fitness offering is coming to the Charleston market.
Body 20 recently leased 725 square feet at 712 S. Shelmore Blvd. in Mount Pleasant. It plans to open in about 60 days, according to the commercial real estate firm Lee & Associates.
The personal training service hopes to open two other locations in the region, with the second on peninsular Charleston by the end of the year.