Another large retailer of food products is trimming back around-the-clock service by eliminating the graveyard shift at all stores.
Harris Teeter, the only major grocer in the Charleston area besides Walmart that offers overnight shopping, will halt 24-hour service starting March 4 at all remaining locations currently open all the time, according to spokeswoman Danna Robinson.
The Matthews, N.C.-based grocer, which is owned by the Kroger Co., will be closed from midnight until 6 a.m.
The transition will affect 24 Harris Teeter supermarkets in the 230-store chain that have not already cut back their hours, including three in the Charleston area: at 290 East Bay St. on the peninsula, at 975 Savannah Highway in West Ashley and at 675 Folly Road on James Island.
Shoppers are being alerted of the change through in-store signs at affected locations. The abbreviated hours will not result in any job losses, Robinson said.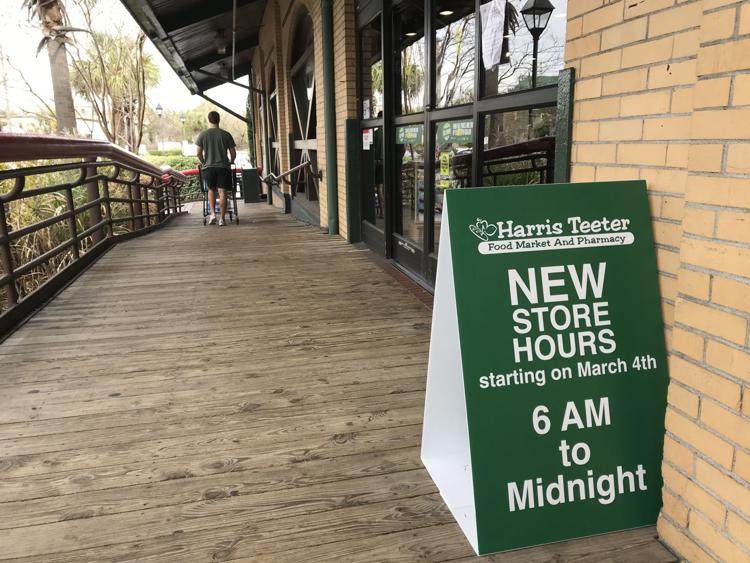 Robinson pointed out the company has transitioned its operating hours away from 24 hours over the past few years.
"A variety of factors play into these decisions, such as customer shopping trends, community landscape, lease requirements, as well as other economic considerations," she said. "We see this shift as an alignment with many other retailers in the grocery industry."
Walmart recently shortened its hours at two of its 10 local supercenters in Mount Pleasant and North Charleston. Like Harris Teeter's new policy, those stores are no longer open between midnight and 6 a.m.
Previously, Walmart curtailed 24-hour service at three of its five smaller Neighborhood Market stores in the Charleston area over the past couple of years.
The shift has more to do with the bottom line than anything else by saving on overhead and labor costs, according to David Livingston, a semi-retired retail analyst for DJL Research in Hawaii.
Also, technology allows shoppers to click a button on their phones rather than go to the store during the overnight hours. 
"It's tough for everybody in brick-and-mortar stores," he said. "Supermarkets are taking it hard like everybody else."
The other major grocery retailers in the Charleston area aren't open around the clock. Most shut down for the night as early as 9 p.m. and as late as midnight.