BARNWELL — She passed it long after the industrial fringe of Columbia, driving on a route that slices through cotton fields and timber stands on its way toward the Savannah River.
She was in one of the poorest corners of the state, and as she zipped through one of the only towns on Highway 3, she found a massive challenge that's weighing on this region's efforts to lift itself up: A dead zone.
Her email went dark, and for just a moment, one of the most powerful decisionmakers in the telecommunications industry was face-to-face with a reality that marks daily life in the southern tip of South Carolina.
The dead zone encountered by Mignon Clyburn — one of five Federal Communications Commission members — isn't all that unusual in rural counties like Barnwell. But spotty cellphone coverage is only the beginning of the telecom problems in the Lowcountry Promise Zone, a six-county region that reaches from Barnwell to Walterboro.
Two in five residents can't buy broadband Internet because the infrastructure doesn't exist. Even more say they can't afford the service available to them because it costs too much, in a region with higher-than-average poverty and unemployment.
That adds up to a stark picture of Internet access in rural South Carolina, according to a report released Monday: A majority of homes don't have broadband connections. Tens of thousands of people are cut off from the infrastructure of the modern economy.
Leaders fear the disconnect will have lasting effects that could leave the region behind. They see a problem with implications for their residents' health, education and economic opportunity. Their concerns echo through rural corners of the country from coast to coast.
But unlike most places, they have a plan. Clyburn was on her way to hear about it.
It was Cyber Monday, a day that represents how deep the Internet has burrowed its way into American life. Yet all around the room, documentation highlighted just how deep the digital divide had grown.
Maps showing where broadband providers face no competition. Maps showing where Internet access is slow or nonexistent. Maps showing where the federal government is shoveling money to provide it.
They pointed out large swaths of the region with limited access, population centers that were cut off and huge areas governed by virtual monopolies. To Jim Stritzinger, the man who drew up the maps, they showed something else.
"We've got a lot of work to do in South Carolina," Stritzinger told a room of a few dozen politicians, telecom executives and community activists. "We're here to get after it."
Stritzinger is the director of Connect South Carolina, an organization that documents Internet gaps and comes up with ideas to patch them. He was speaking to a room with interests far bigger than broadband access.
The group meets each month in Barnwell to talk through the big-picture problems facing the region — poor health, high poverty, struggling schools. They were assembled three years ago when the Obama administration designated this corner of South Carolina as a "promise zone," with an offer of extra federal assistance.
Their goals are far-reaching: They want more emergency rooms, more teachers and more affordable housing. They want better infrastructure to increase their chances at luring big employers. They want to reduce poverty and lift the region's economy.
In broadband access, they see an opportunity to catch up — a chance to "leapfrog" years of limited investment, says Clyburn, who grew up in Charleston. It could connect patients with specialists across the state, give students another way to learn after school and help residents find new jobs. It would be one less stumbling block when a company looks at moving in.
But it's an opportunity that won't come easy. It's hard to make the economics of broadband expansion work when miles of fiber only connect a few customers.
"We knew at this juncture it would be most difficult," Clyburn said in an interview with The Post and Courier. "The business case is more difficult to be made in areas where there are more cotton plants or corn stalks than people. The investment's not going to organically flow."
The FCC is spending tens of millions of dollars to subsidize Internet access in rural parts of the Palmetto State, but federal money alone won't close the gaps, says Clyburn, a Democratic appointee who's now the agency's longest-serving commissioner.
Telecom companies like AT&T and CenturyLink are getting $16 million a year to connect South Carolina's countryside. They have another three years to reach nearly 50,000 homes and businesses here.
"What we are enabling is a very necessary epicenter of opportunities," Clyburn said. "It is very much that seed that must be in place for the rest of these opportunities to grow."
But, she warns, it isn't everything.
And anyway, Stritzinger says, the region doesn't have time to wait for slow work of infrastructure development — for towers to rise and cables to be buried.
Not with children coming home from school without Internet access. Not with patients who already need better access to medical care.
That's why Stritzinger says he's focused on short-term fixes — building a "bridge to the future," he calls it.
He wants to use existing afterschool programs to set up "homework hotspots" for students to study with Internet access. He wants to focus hard on connecting doctors' offices and setting up telehealth centers. He wants to promote underused programs that subsidize broadband connections for poor families.
They also strike at a key goal of his broadband plan — to demonstrate the value of a good Internet connection and drum up more interest in buying one. Without community buy-in, he says, it won't do any good to advocate for more infrastructure.
"Beating the drum on that and getting people to sign up — I mean, the best way to encourage the installation of more stuff is to get the stuff that has been installed used," Stritzinger says. "That's the thing that's most likely to inspire the providers to build more."
And local governments want providers to build more. They can't do it on their own — state law blocks towns from developing their own broadband networks — but they can dangle a low-cost incentive in front of telecom companies: Water towers.
Stritzinger's idea is to map every tall structure in the Promise Zone — water tanks, radio transmitters, phone towers. He thinks they hold the key to connecting rural South Carolina.
From the right vantage point, telecom companies could beam Internet service to homes miles away, rather than lay fiber. The idea is to take a page from satellite Internet, but with broadband beamed from water towers instead of space.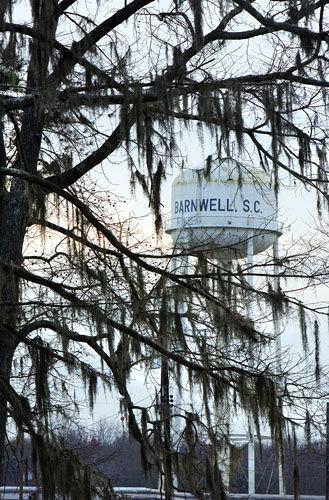 The technology, known as fixed wireless, is becoming increasingly common in South Carolina. Dallas-based AT&T is using FCC subsidies to install new transmitters on its towers. It fired up Internet service last week in parts of Bamberg and Barnwell counties.
The possibility has picked up momentum in towns like Estill, where about 2,000 residents have no access to high-speed Internet. It's one of the largest communities in the Promise Zone that lacks broadband.
Mayor Corrin Bowers says the slow service in his town means he spends extra time waiting to download data from his farm equipment. It means his wife, a teacher, sometimes stays up late because it takes so long to research her lesson plans. It means her students have to give up play time to finish their homework.
So Estill officials have started thinking about leasing space atop their water towers to Internet providers, hoping they might unlock better service. Bowers says he wants to get a project in motion next year.
He's not alone. Half an hour away, the lack of a broadband connection at Hampton County's industrial park has made it awkward to pitch businesses on moving in, county administrator Rose Dobson-Elliott says. The "absolutely horrible" cell service gives it away every time, she says.
Dobson-Elliott was sitting in Barnwell when the Promise Zone's Internet plan was laid out — water towers and all. She had a similar project in mind: The county is looking at building an above-ground tank for its industrial park, and she says she'd like to fit it with transmitters.
"That would help that area — not just for the businesses, but for our citizens out there as well," Dobson-Elliott says. "That's an area of our county where we definitely need it."
And if they get it, one more dead zone would be wiped from the map.