Bankrupt children's clothing chain Gymboree Corp. is closing three South Carolina stores under a plan to restructure its finances.
They are among 350 locations the San Francisco-based retailer is shuttering under its court-supervised reorganization.
The South Carolina closings include the company's Mount Pleasant Towne Centre store. The two others that are being shut down are in the Village at Sandhill and Midtown at Forest Acres, both in Columbia.
Gymboree filed for bankruptcy protection in June. It is among many traditional brick-and-mortar retailers that have been struggling to deal with strong competition from online merchants and slowing mall traffic.
The liquidation sales at the stores are set to begin Tuesday.
After the closings, Gymboree will have more than 900 locations, including six in South Carolina. One is at Tanger Outlets in North Charleston. The others are in Columbia, Bluffton and Myrtle Beach.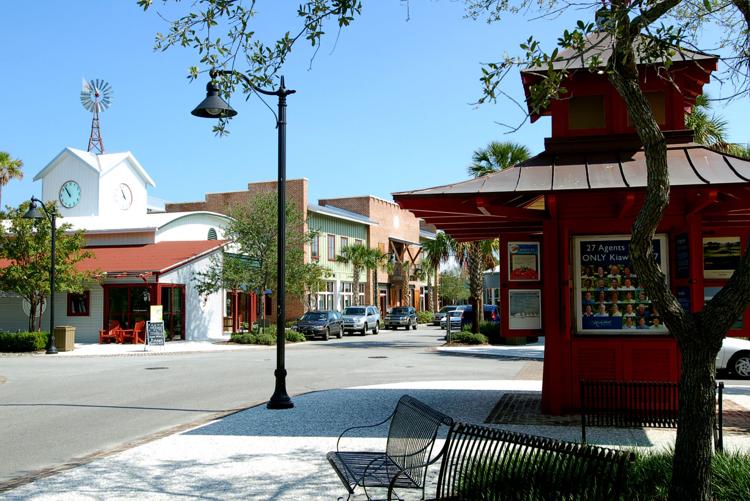 Fresh starts
Freshfields Village Shopping Center is welcoming three new merchants this summer.
Upscale cosmetics purveyor Bluemercury will open a second Charleston-area shop Friday.
The new 2,156-square-foot store will be at 600 Freshfields Drive in the shopping center between Kiawah and Seabrook islands. It has another shop on King Street.
Also, Freshfields is welcoming its first fitness center. Studio 33 offers a range of exercise classes including yoga, pilates, barre and other private and group fitness activities. The studio also includes a retail space, offering "athleisure" wear.
In addition, Elizabeth Stuart Design now offers a second home decor location in the Charleston region. The Mount Pleasant-based shop recently opened a retail and design center at 465 Freshfields Drive. Its other store is at 214 Coleman Blvd.
Comings, goings
Several new businesses are on the way or have recently opened in West Ashley, while two others have closed in the area.
Tijuana Flats Tex-Mex plans to open by the end of the year in a 2,400-square-foot space in St. Andrews Center at 975 Savannah Highway, according to the commercial real estate firm Colliers International. The restaurant also has a Summerville location.
Also on the way by year's end is Los Reyes Mexican Restaurant. It recently leased 3,850 square feet in Ashley Oaks Plaza at 1119 Wappoo Road, according to the commercial real estate firm Belk|Lucy.
The firm also reports that Carolina Millinery hat shop recently leased 800 square feet at 1642 Ashley River Road. The store is slated to open by late summer.
At 1200 Sam Rittenberg Blvd., a nail salon is replacing one of the vanishing RadioShack stores in the region. Luxia Nail Spa recently leased 3,383 square feet in the now fully occupied Bi-Lo Shopping Center, according to the commercial real estate firm NAI Avant. The salon has another location nearby at 543 Wappoo Road.
Also, a new grooming salon that recently opened will host an official ribbon-cutting ceremony this week. Karla Jean Studio will cut a ribbon 2-4 p.m. Friday at 1311 Ashley River Road. The salon offers styling for women and men. The owner, Karla Miranov, has another shop in New York City.
Meanwhile, Applebee's has closed another restaurant, this one at 1859 Sam Rittenberg Blvd. The chain previously shuttered its Mount Pleasant location, in March 2016. The West Ashley closing leaves Applebee's with local restaurants in Moncks Corner, North Charleston and Summerville.
Also closed in West Ashley is Your Pie, a pizzeria that was in St. Andrews Center.  
What's cooking?
Construction is underway on a new restaurant in North Charleston.
Boone, N.C.-based Come Back Shack plans to open at 8915 University Blvd. near Nevonna Drive across from Wannamaker County Park, according to plans presented to the city.
The 2,800-square-foot burger shop is the product of brothers Scott Prewitt and Steven Prewitt, who first opened in the North Carolina mountains in 2011. The North Charleston site will be the company's second location, according to its website.
Stepping in
A new footwear store is now open in downtown Charleston, but it's not a shoe shop.
For Bare Feet Shops sells socks in a 1,400-square-foot space at 85 S. Market St. It offers professional and college team designs along with others such as wildlife, occupations and fun fashions as well as accessories.
The Indiana-based company offers 10 other locations across the nation.
Hammer time
A new hardware store is being proposed for Charleston's upper peninsula. A city zoning board will consider a request Tuesday for a variance to allow a garden, nursery and retail use in a single-family residential district on adjacent parcels at 1406 Holt St. and 1409 King Street Extension.
New do
A salon is now open in a Summerville retirement community. Classic Hair Salon will celebrate its grand opening Saturday in Summerville Estates Gracious Retirement Living with a luau from 11 a.m. to 2 p.m. Hawaiian fare and a variety of music will be offered. Salon proprietor Sherri Lawson offers a variety of hair and nail services to residents of the community and the general public.