The nation's top farm official is coming to South Carolina to talk business just in time for Monday's solar eclipse. And he happens to have a fitting first name for such an astronomical event.
U.S. Agriculture Secretary Sonny Perdue, is scheduled to travel to Bowman for a morning "listening forum" to discuss issues with farmers and agribusiness leaders, including state agriculture chief Hugh Weathers. The get-together wraps up about 9:45 a.m., several hours before the path of totality crosses over South Carolina.
Perdue plans to stick around in the Palmetto State, his office said Friday. The former Georgia governor plans to tour the U.S. Vegetable Lab on Savannah Highway in Charleston and he'll witness the afternoon eclipse from the Buck Hall Recreation Area in McClellanville with students from Cape Romain Environmental Charter School and professors from the College of Charleston.
Word is
Aeterna Zentaris and two of its ousted former leaders have been locked in escalating drama over the past few weeks, tussling over the future of the troubled pharmaceutical developer.
The Summerville-based company accused David Dodd and Philip Theodore of a secret plot to siphon off its intellectual property, prompting them to shoot back that they were fired unjustly. Dodd, who had been CEO, filed a lawsuit for his severance pay, and he and Theodore and the firm have issued competing news releases tossing allegations back and forth.
Against that backdrop, the company put out a note outlining its plans to move forward. Its new chief executive was looking to right ship, the company wrote, and the board would consider selling the company and its only drug candidate.
But even as the company looked to move past a war of words, it was called out for its words again. Actually, it was one word in particular: Macrilien.
The reason: Macrilien doesn't exist.
Instead, it's Macrilen that inspired Aeterna's fight with its former executives, and it's the only pharmaceutical prospect the company has left in its portfolio. The product, which is being reviewed by the U.S. Food and Drug Administration, tests for adult growth-hormone disorder.
"Perhaps disheartening to investors who have stuck with the Charleston, S.C.-based company through thick and thin, the release out (on Aug. 8) misspelled Macrilen, their only asset of any value," the biotech analyst John D. Carroll wrote on his website, Endpoints News.
Space program
A new project in North Charleston hopes to instill interest among business owners to compete for retail space and reinvigorate part of the city's southern end.
The "Community Storefront Project" on Reynolds Avenue in the Chicora-Cherokee neighborhood is a venture by Lowcountry Local First, building on the work started by Metanoia.
"We are committed to diverse business development in the North Charleston area, where Reynolds Avenue is a hub of economic and social activities," said Lowcountry Local First executive director Jamee Haley.
"This project offers residents and stakeholders the opportunity to invest in careers, company and community through a competition for storefront space," she said. "Our goal is to provide support that will produce long-term entrepreneurial success for motivated business owners."
To enter the competition, aspiring entrepreneurs must submit an application and a business plan by Oct. 31, reflecting the well-thought out idea for their ventures.
Representatives from both Metanoia and Lowcountry Local First will review the applications. Selected businesses will receive membership with LLF, mentorship, marketing and accounting support, as well as subsidized rent for up to three years.
"We are particularly excited that we will be looking to locate businesses in the neighborhood that complement the existing community," said Metanoia CEO Bill Stanfield.
The two organizations will host an information session at The Macon Cafe on Reynolds Avenue from 5:30-6:30 p.m. Wednesday.
Applications are available online at LowcountryLocalFirst.org/Reynolds or can be picked up at Metanoia at 2005 Reynolds Ave. or Lowcountry Local First at 1630 Meeting Street Road in Charleston.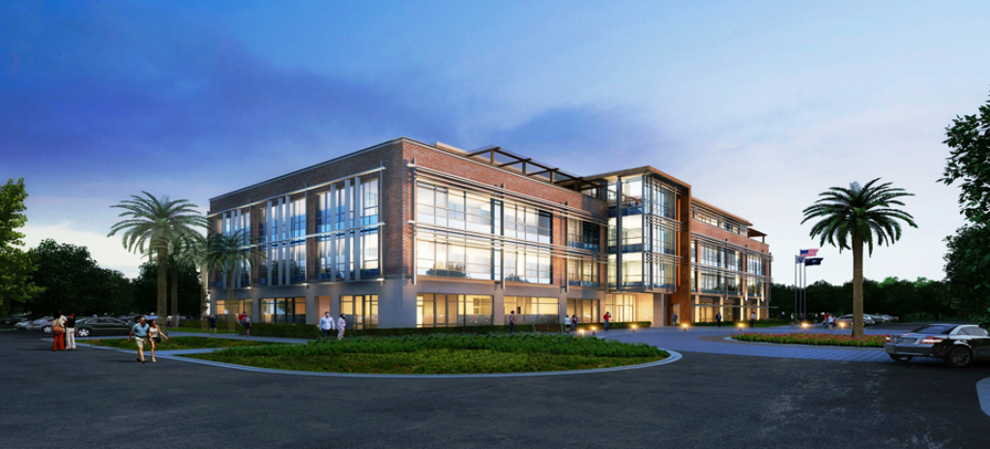 Breaking ground
Sept. 11 is shaping up as a busy day for the local maritime industry. 
For starters, the State Ports Authority will break ground on its new headquarters in Mount Pleasant that morning, just hours before CEO Jim Newsome is scheduled to give his annual "State of the Port" speech to the Charleston Propeller Club.
The $40 million office building, located at the SPA's Wando Welch Terminal, will replace the maritime agency's longtime headquarters at 176 Concord St. on the Charleston peninsula. Los Angeles developer Lowe Enterprises bought that site in January and will build a 225-room hotel overlooking Charleston Harbor once the SPA vacates the site.
Architect renderings of the new office site show a four-story building with a rooftop deck. The 63,474-square-foot structure will be able to house more employees than the SPA's current 36,000-square-foot headquarters.
Sept. 11 also marks the beginning of the S.C. International Trade Conference, which features speakers from the maritime and logistics industries. This year's conference will be held at the Gaillard Center in downtown Charleston.