Gov. Henry McMaster wants South Carolina Electric & Gas to stop charging its customers for the company's failed nuclear project — or at least reduce its rates while policymakers decide who pays what for the scuttled plant.
The governor wrote SCE&G's parent company, Cayce-based SCANA Corp., on Tuesday to say that a voluntarily rate reduction "would be much appreciated by the people of South Carolina — and certainly your customers."
SCANA couldn't immediately be reached Thursday to comment on the letter, but it has rebuffed similar requests in the past. SCE&G's more than 700,000 customers are paying about $37 million a month toward the nuclear project.
McMaster says that's "unreasonable and oppressive," repeating a sentiment he expressed in a similar letter three months ago.
The ground has shifted beneath the power company's feet since then. For one thing, SCANA has agreed to be purchased by the Virginia-based utility giant Dominion Energy in one of the largest transactions in the state's history.
For another, SCANA has since offered to trim about a fifth of the rates it's charging for the canceled expansion of the V.C. Summer Nuclear Station — if regulators let it keep charging the rest. Dominion reiterated that offer last week while also offering to refund most of the money customers have paid toward the project so far and end nuclear payments after 20 years.
SCE&G and its partner, the state-owned power provider Santee Cooper, spent $9 billion on the project before they walked away in July, citing spiraling costs and growing construction delays. McMaster has proposed to sell Santee Cooper in a bid to cover its share of the costs.
Under Dominion's plan, SCE&G customers would still be on the hook for $2.2 billion, according to a Post and Courier analysis of its offer.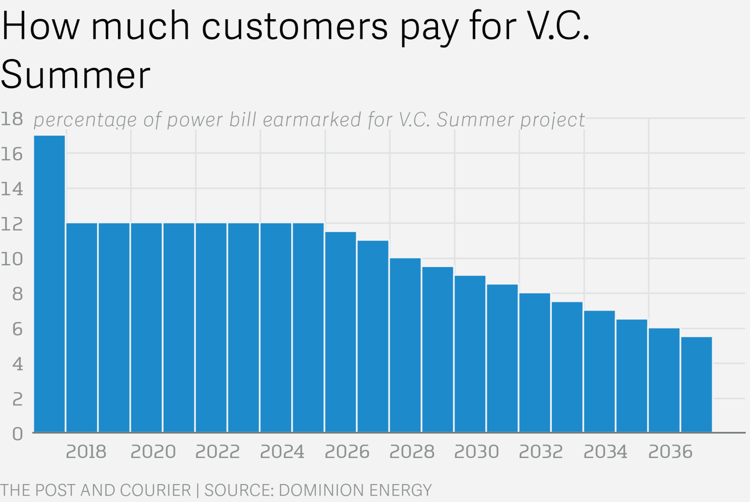 "At an absolute minimum, SCANA should voluntarily implement recently proposed rate reductions in an effort to demonstrate good faith to the people of South Carolina," McMaster wrote.
The letter was filed Thursday with regulators on the state Public Service Commission.
The commission is reviewing a request to cut nuclear rates altogether from SCE&G's bills, where they currently make up almost 20 percent of electric costs. State lawmakers are considering legislation that would do the same, and it could be put to a vote in the House next week.
Dominion says it will walk away from its SCANA acquisition if either measure is approved. SCANA, for its part, has said it could be forced into bankruptcy if its nuclear rates are cut off.
McMaster's request also comes at a moment when ratepayers are likely to start receiving especially high utility bills: The state opened the new year with a long stretch of bitter cold. SCE&G reported all-time records for electricity use and natural gas sales as its customers warmed their homes.