The question caught Marc Fetten a little off guard.
A foreign company looking for a U.S. location was questioning whether America has the political stability needed to support its operations.
"That's unheard of for a western European company coming into the region, because one of the things they bank on is a stable political system and a stable business environment" Fetten, former president and CEO of Cooper River Partners, said last week during the German-American Business Summit hosted by the College of Charleston at the Gaillard Center.
Such is the climate of international business partnerships these days.
With trade wars and protectionism dominating economic policy at the White House, foreign companies are somewhat wary to put new manufacturing plants in this country.
"I think it's leading to a little bit of pushing the brakes on making investment decisions," said Fetten, who helped oversee development of the Charleston International Manufacturing Center near Goose Creek where foreign firms such as Evonik Industries and Nexans have located.
Fabian Grimm, managing director of German-owned Mankiewicz Coatings in Charleston, said he's been forced to pay higher prices to import raw materials for the paint products the company makes and sells to the automotive and aerospace industries.
"We are facing a 25 percent increase on some products in the chemical sector, and that hurts," Grimm said during the conference, designed to foster better business relations between Germany and the United States.
Grimm said tariffs on those Chinese-made products are forcing Mankiewicz to move some production to the United States to save money. That's a positive result of the trade war, he said, and Grimm is hopeful President Donald Trump's pressure on China will lead to better agreements on such things as intellectual property rights.
"I have hope that the tariff discussion will help in other topics because both countries cannot afford a trade war," he said.
Germany is South Carolina's third-largest trading partner, behind China and Canada, with about $3.6 billion worth of Palmetto State goods exported to the country each year. Upstate automaker BMW is one of the state's largest employers and touts the German company's biggest manuacturing plant. This past year, Mercedes-Benz Vans opened a $500 million campus in North Charleston to build Sprinter commercial vehicles.
"We have the largest consumer market in the world, and German companies need to compete here to survive," said Fetten, a former executive with Germany's Bayer AG who has dual citizenship in both countries.
There's plenty of optimism for future German-U.S. relationships, with 91 percent of German firms surveyed saying they have a positive outlook, according to Nicole Heimann with the German American Chamber of Commerce of the South.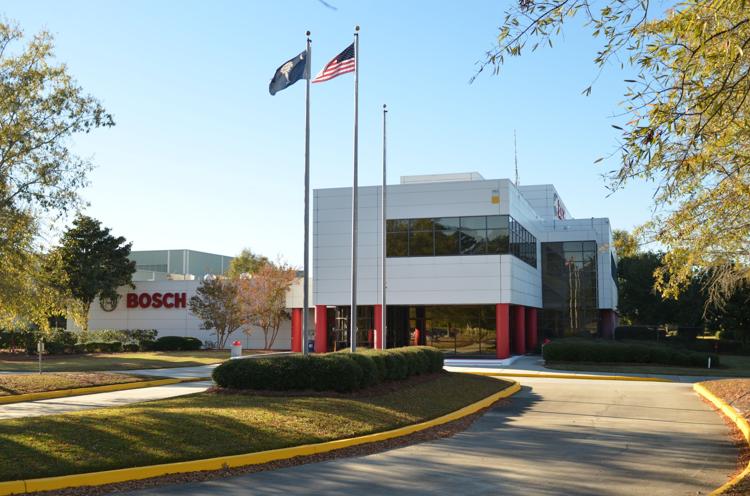 The survey also shows some concerns, such as finding a qualified workforce. Eighty-two percent of companies say talent is a critical need, "and most of them say it's even a threat to their development," Heimann said.
Part of the problem is a scarcity of work visas for German citizens, and other foreigners, to come to the United States and help set up new manufacturing plants.
"Where new plants are being built, basically a 'SWAT team' from the home country comes over and builds the plant," Fetten said. "It's very rare that they give that up to the locals without having experience and tenure with the company."
The visa issue is changing the way some companies train workers and set up shop. Now, instead of sending ex-pats to the United States, the companies are sending U.S. workers to Germany for training.
Fetten said he's also seeing more apprenticeships among foreign companies locating in the Charleston area. But more needs to be done to lure young people into manufacturing, something many parents don't consider when pushing their children toward college.
"There is significant earnings potential without accumulating all of that college debt," Fetten said. "And manufacturing is not the dirty environment that existed 20 or 30 years ago."
Any conversation these days about international business ultimately circles back to tariffs, and with Trump's trade team negotiating with China ahead of a March 1 deadline for new import taxes, there's apprehension.
"The reaction is more to uncertainty and risk rather than to a specific tariff," Fetten said, adding that long-established global supply chains make it impossible for businesses to react quickly.
"We work on 15- to 20-year business plans," he said. "The reality is these costs end up being passed on to the consumer. We need to be honest about that."
Ultimately, summit organizers agreed, Germany and the United States — just like China and the U.S. — need each other, and that will outlive any short-term policy decisions.
Fetten said he's "incredibly optimistic" about future relations with Germany.
"I think the strength of our partnership transcends any political administration," he said.
In addition to the College of Charleston, the summit's sponsors included: The Citadel; the German American Chamber of Commerce of the Southern United States; and Deutschlandjahr 2018-19. The summit's webpage is at go.cofc.edu/gabs.