The global petrochemical boom is starting to outgrow its Gulf Coast base, with more producers of the plastic pellets used to make hundreds of household items now looking to places like North Charleston for export sites.
"There are a lot of exports coming to market," said George Cook, CEO of La Porte, Texas-based Frontier Logistics. "The (petrochemical) reactors are being built by the day."
Frontier, which packages plastic pellets made by industry giant Chevron Phillips Chemical, broke ground this week on a 550,000-square-foot distribution center on 26 acres at the former Navy base in North Charleston. The site will consolidate several smaller facilities Frontier has operated in the region since 2011.
Construction of the $35.5 million center — designed and built by Charleston-based Berenyi Inc. — is scheduled to begin within a month, with completion targeted for mid-2020.
Frontier isn't the only company that sees potential for exporting plastics far from the Texas and Louisiana natural gas processing plants where the pellets are produced. A&R Bulk-Pak Inc. and Mid-States Packaging have also entered the Charleston market in recent years, and both are planning expansions.
Jim Newsome, president and CEO of the State Ports Authority, has long predicted a plastics export boom. He thinks more distributors will be moving to the area.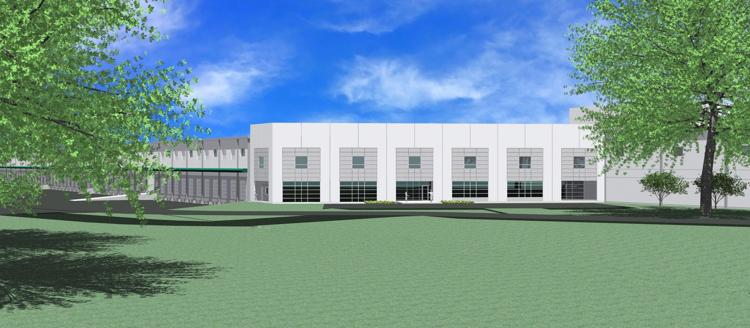 "A lot of the manufacturing capacity that was announced a few years ago is just coming online this year or next," Newsome said, "so there really is a very sincere effort by a lot of people to get packaging facilities in the Southeast now."
Some Texas-based producers are looking to avoid congestion at the Port of Houston, which limits visits from the biggest container ships to once per week. Joe Kelly, polyethylene manager at Shell, told a petrochemical conference this week that Houston has reached a saturation point, according to a report in ICIS Chemical News.
"Houston is always going to have a strong base because that's where the feedstock is," Frontier's Cook said, referring to the cheap natural gas that's converted into plastic pellets. "But more shippers are looking for a larger port that can handle bigger vessels. As time goes on, that will become more of a factor."
Cook said one of the biggest draws in Charleston was the availability of empty cargo containers — a result of the port's imbalance of imports over exports. Houston's more balanced trade, Cook said, often left his company scrambling to find containers to ship pellets overseas.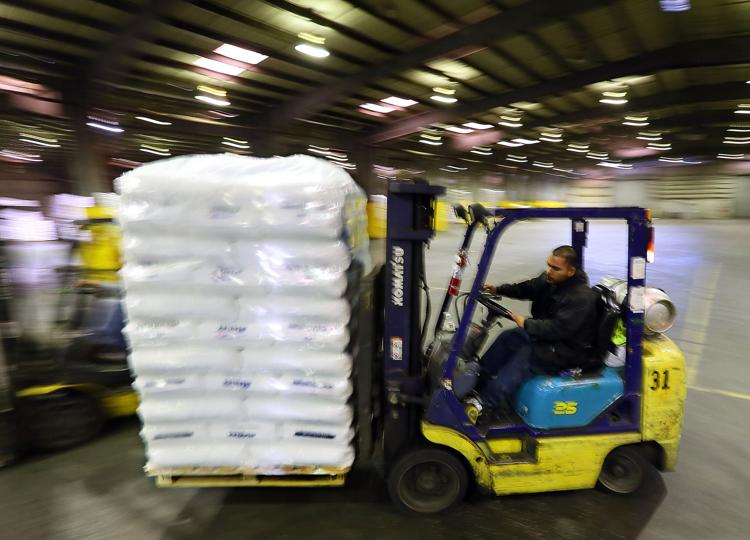 Houston remains the nation's largest plastic pellets exporter, accounting for 42 percent of the market, according to the transportation trade publication Journal of Commerce. But places like Charleston and Savannah are fast becoming key players.
The Port of Charleston last year exported more than 32,000 cargo containers of plastic pellets — a roughly 7% market share. Exports through the first four months of this year are up 30% over the same period in 2018.
"I figure there are probably 100,000 containers worth of (plastics) that are looking to exit the South Atlantic," Newsome said. "If we can get half of that I'd be happy."
Frontier's distribution site alone will be able to handle 20,000 containers worth of plastic pellets when it opens next year, Newsome said.
The new Frontier facility has had a few bumps on its way to this week's groundbreaking. The project faced opposition from groups representing four nearby neighborhoods with concerns about truck traffic. Frontier ultimately agreed to direct truckers not to use Reynolds Avenue to access the site and said it will buffer the facility from the rest of the area while guaranteeing job interviews for neighborhood residents who get forklift job training.
"It took the collective efforts of many to get this project to where it is today," Cook said at the groundbreaking, citing the help of Newsome, North Charleston Mayor Keith Summey and Palmetto Railways, the Charleston-based short-line railroad that's building an adjacent rail yard to serve a new container terminal at Port of Charleston.
Frontier bought the land for its project from Palmetto Railways, paying $6.4 million in early 2018. Cook said the future rail yard was another selling point because it will be served by Norfolk Southern and CSX Corp. trains transporting plastic pellets from the Gulf Coast.
"Having dual service is great because our customers won't get too leveraged by one railroad when it comes to pricing," Cook said. "Charleston has many of the dynamics that we need for success."