The state's busiest airport is going to get even busier next year.
Denver-based Frontier Airlines announced Tuesday it will launch service from Charleston International to three cities next winter and spring.
The low-cost carrier will offer nonstop service from Charleston to Denver and Philadelphia on Tuesday, Thursday and Sunday beginning Feb. 20. Monday and Friday flights to Chicago O'Hare start May 11.
An introductory rate of $39 is offered on the Denver and Philadelphia routes while the initial cost to Chicago is $34. The rates are good for 48 hours, but the seats are expected to sell quickly.
"We see a huge opportunity when their isn't low-cost fares in the marketplace," Tyri Squyres, Frontier's vice president of marketing, said Tuesday during a news conference at the airport. "Charleston has been on our map for a while. ... We really believe in Charleston and are excited to bring low-cost service to Charleston."
Frontier uses France-based Airbus jets. Those flying out of Charleston will be single-aisle A320 models that seat 186 passengers.
The low-cost carrier announced in July it planned to expand into 21 new cities, including Charleston, but released few details.
Squyres said support for the new South Carolina route was so strong, the airline decided to add Chicago and Philadelphia as legs from Charleston.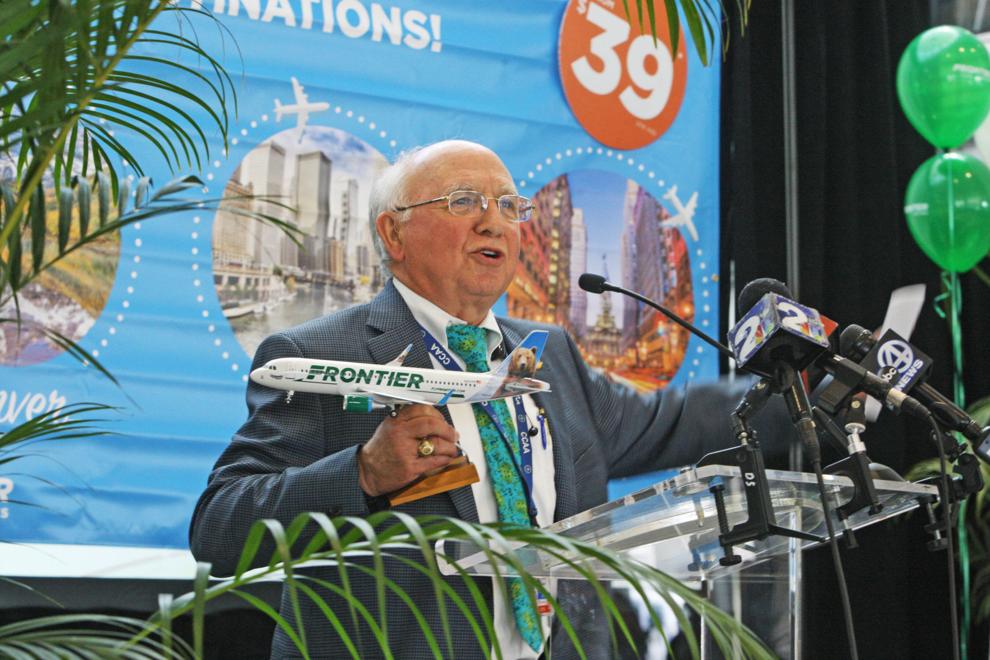 Airport officials lauded the airline's decision to add flights in the Lowcountry.
"We believe this announcement will help make air travel a new possibility for many people in our region," said Paul Campbell, CEO of the Charleston County Aviation Authority, which oversees the airport.
He called Charleston International the second fastest-growing airport in the U.S., behind Dallas Love Field.
"We can't grow without the airlines," Campbell said.
Tourism officials applauded Frontier's arrival in the region and expect it to do well.
"Additional access to our region from the important markets announced today gives our industry a great opportunity that we will seize," said Helen Hill, CEO of the Charleston Area Convention and Visitors Bureau and an airport board member. "We strongly believe that Frontier Airlines will enjoy early success in Charleston."
Frontier, which goes by the slogan "Low Fares Done Right," offers travelers the ability to customize needs to their budget with individual options or in a bundled package. The bundle includes refundability, carry-on bag, checked bag, best available seating, waived change fees and priority boarding. It starts at $59.
Frontier is the second airline to launch nonstop service between Charleston and Denver.
Southwest Airlines recently said it will resume seasonal flights between the Holy City and the Mile High City April 8.
American Airlines offers four daily trips between Charleston and Philadelphia, according to the Aviation Authority's website.
United Airlines has three daily flights between the Lowcountry and Chicago O'Hare while Southwest provides two daily flights between Charleston and Chicago Midway.