FLORENCE — The first customer pulled in the parking lot of the new Buc-ee's travel center in Florence at 3 a.m. in anticipation of the store's opening three hours later.
The Texas-based mega convenience store and gas station chain celebrated the official opening of its first 53,000-square-foot, 120-pump South Carolina location May 16 at the juncture of Interstate 95 and S.C. Highway 327. 
Excited shoppers buzzed through aisles of pickled items from eggs to okra and jam flavors ranging from muscadine grape to prickly pear.
They perused the snack wall full of sesame sticks, saltwater taffy and strawberry yogurt-covered pretzels and peered into a deli case full of beef jerky seasoned with everything from cherry maple to ghost pepper.
All were greeted by an army of eager employees: "Good Morning. Welcome to Buc-ee's."
Nicole Custer grew up in Houston with a Buc-ee's around nearly every corner but now lives in Sumter with her husband and two sons. She woke up the whole family at 5 a.m. to make the hourlong trek to Florence to stock up on her favorite snack of Beaver Nuggets.
The puffed wheat snacks are like Sugar Smacks cereal, she said, "but bigger and better."
Since learning about the Florence location, Custer said, "I've been waiting, counting down the moments."
Sherlene Fleming pushed a shopping cart — her 3-year-old grandson R.J. in the basket of the buggy — past a barbecue brisket counter manned by cooks in yellow cowboy hats.
Fleming grew up in Sumter but lives in Washington, D.C. She and her family left the nation's capital last night, driving 400 miles to arrive in Florence by 4:30 a.m.
"We came because we go to all of the Buc-ee's," she said.
While Buc-ee's was the primary destination, Fleming's grandson held a neon-colored volleyball from the store's wide selection of beach supplies in anticipation of the family's second stop of the day — an afternoon on the sands of Myrtle Beach.
In addition to beach wear, shoppers can pick up toys, camping and outdoor gear, clothing and a variety of home goods, including cowhide rugs that nod to the store's Texas roots.
"This is not a gas station; this is a destination," new South Carolina House Speaker Murrell Smith, R-Sumter, announced to the grand opening crowd.
And after joking about the small fortune his children spent at a Buc-ee's location in Florida, Smith guaranteed the business would pull in many of the thousands of drivers traversing Interstate 95 daily and generate tax revenue for the state.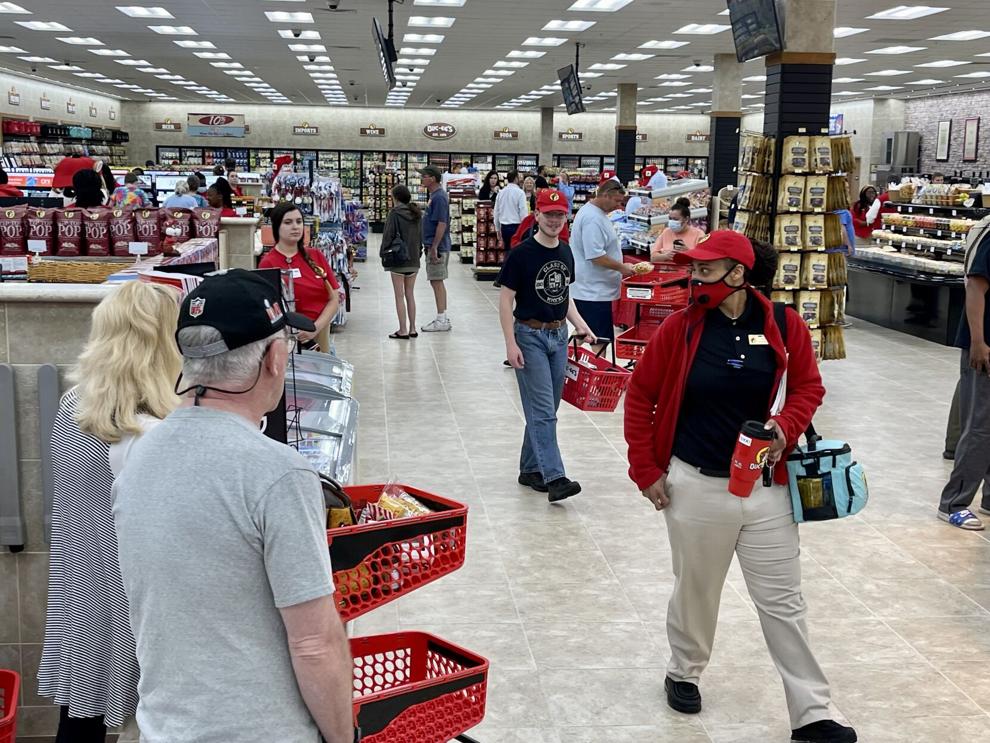 Billboards bearing Buc-ee's slogans like "I brake for brisket" now join those featuring Pedro, the sombrero-wearing mascot of another I-95 tourist staple — South of the Border.
Despite their proximity of 30 miles, Rep. Jackie "Coach" Hayes, D-Dillon, believes there is enough tourism to support both.
"You're just looking at two different types of businesses," he said.
Buc-ee's has built an empire by luring travelers into their convenience stores, where they spend money on private-label snacks and t-shirts, with the promise of clean bathrooms. Signs make it clear that it's not a truck stop: Tractor-trailers are not allowed to enter. 
At South of the Border, which employs some 300 workers, Hayes said fireworks draw a lot of business to the Mexican-themed complex, complete with gas stations — including Pedro's Truck Stop — souvenir shops, restaurants, an amusement park, reptile lagoon, campground and hotel.
Hayes said South of the Border ownership also has recently invested in updates to the more than 70-year-old roadside attraction and has added a Motocross training facility that hosts races, bringing people into the restaurants and hotel.
Where Buc-ee's does create steep competition is in the scramble to attract retail and hospitality employees. The store employs roughly 300 people, said co-owner Arch "Beaver" Aplin III, offering $18-22 starting hourly wages, health benefits and three weeks of vacation time.
Employers nationwide have struggled to find workers amid low unemployment.
"But it hasn't been for us," said General Manager John Graber, who also helped open the company's Calhoun, Ga., location. "When we come into a market we come in with a strong presence."
When hiring started, the company received some 6,000 applications. It continues to accept more, Aplin said.
The Florence metro area has a workforce of nearly 95,500 people, with a 3.4 percent unemployment rate that matches the statewide rate, according to data from the S.C. Department of Employment and Workforce.
The Florence store marks the 43rd Buc-ee's location to open across the country. Tennessee has its first two stores under construction. And this year, the company announced the development of its first stores in Colorado, Mississippi, and Missouri.
Graber said the Florence store is at a "good stopping point" about halfway between New York and Florida and for those turning east to coastal Grand Strand beaches.
The 24-hour travel center is expected to be the anchor tenant for a larger 500-acre multi-industry park, with 80 acres set aside for retail and hospitality development, 190 acres of industrial property and 225 acres dedicated to research, education and greenspace. That includes Francis Marion University's new Fresh Water Ecology Research and Conference Center located on a 20-acre, spring-fed lake.