Natasha Brehm looks out from the balcony of a corner penthouse in a soon-to-open Charleston apartment building and takes in the vista of Brittlebank Park, the Ashley River, Joe Riley Baseball Park and the Citadel Bulldogs' football stadium.
"You don't have this kind of panoramic view anywhere else in Charleston," said Brehm, portfolio manager of Atlanta-based Gateway Facility Services, a partner in the site's development.
She was talking about the scenery from Caroline, a 237-unit apartment building nearing completion behind the Charleston Police Department at Fishburne and WestEdge streets.
The seven-story structure is part of the developing WestEdge mixed-used community rising on the Charleston peninsula's west side. When completed over several years, it will include apartments, offices and commercial space in several multistory buildings where a landfill operated years ago.
"It looks like a big construction site now, but I can promise it won't be when it's done," said Mack Reese of Gateway Development, a partner in the 60-acre undertaking with Atlanta-based South City Partners. "It will be a city unto itself."
Caroline, previously called 99 WestEdge, is the first of three multistory buildings that make up an initial $280 million investment. It will welcome its first residents in January. Completion is expected in April.
On the opposite corner of the tract, a nine-story, mixed-use building called 10 WestEdge is under construction and will house 350 apartments, a Publix supermarket and other retailers. Beside it will rise a research and commercial structure called 22 WestEdge.
The buildings' numeric names — which tend to be confusing and run together to those unfamiliar with the project — will likely be changed to something more easily recognizable, just like 99 WestEdge became Caroline, according to Reese.
At 10 WestEdge, where Crosby's Seafood once stood, the 45,800-square-foot Publix supermarket is expected to open next fall, adding a third grocery store to peninsular Charleston and a first on the western side of the construction crane-capped finger of land between the Ashley and Cooper rivers.
Back at Caroline, rental rates for the one- and two-bedroom units are set at $1,605 and $2,275, respectively. The penthouse views cost a bit more: around $4,400 a month.
Carolina is made up of six stories over commercial space on Fishburne-fronting units and five stories over commercial space along WestEdge Street.
The structure includes 1,002 parking spaces shielded from street view. About 300 are set aside for tenants. The Medical University of South Carolina will lease 325 for its employees. The city of Charleston will provide short-term and monthly parking options for a fee in the public parking deck.
The building includes a dozen commercial spaces. Four have been leased by fitness center Barre South, Japanese restaurant Hokkaido, baked goods retailer BKeDSHoP and sandwich shop Jimmy John's. Two others have provided letters of intent. The remaining spaces range from 1,600 square feet to 2,900 square feet.
"We have up to 6,000 square feet of contiguous space so we would combine for a tenant needing larger space," said Michael Maher, CEO of WestEdge Foundation, which is overseeing the site's development.
Next up
At 10 WestEdge, the supermarket on the ground floor is under contract to be completed by October 2018. The building will have four smaller commercial tenants. Maher said there is interest, but none have been announced.
A day spa is looking at one corner of the building, according to Frank Peters with WRS Inc., a Mount Pleasant-based leasing company for 10 WestEdge.
The supermarket will sit below the 870-space, five-level parking deck. Grocery store patrons will park on the second floor and part of the third level. Rental rates for the apartment units have not been set.
Just over 70 parking spaces will be set aside for the neighboring Holiday Inn Express Hotel. About 400 parking slots are allotted for the future research and commercial building called 22 WestEdge next to the hotel, but they will be shared with apartment residents during business hours.
Construction workers have started on the sixth floor of the nine-story 10 WestEdge structure at Spring Street and Lockwood Boulevard.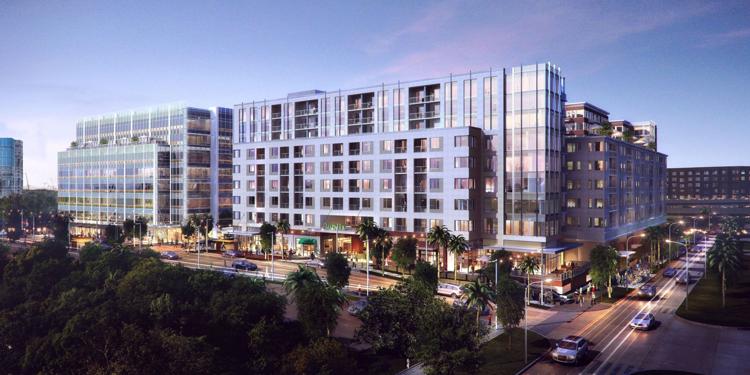 "Our big push right now is getting as high as we can as quickly as we can," said Mark Wills, project manager of Alabama-based construction company B.L. Harbert International. "Things are going well."
The project is on schedule for the supermarket's planned opening in October. Wills said the remnants of Hurricane Irma in September had "a little bit of impact" on construction when the cranes had to be lowered. "We were lucky (the hurricane) turned when it did."
The office and research structure will rise seven floors above ground-floor retail space for six tenants. Once construction begins, hopefully by the spring, 22 WestEdge should be completed in 17 months.
"That will happen once we get the financing down," Maher said. Part of that includes lining up tenants to satisfy lenders.
Reese said 50 percent of the property has lease commitments, a threshold needed for lenders to back financing.
"We are on the verge of getting the pre-leases required to get the project financed," he said. "It will be the tallest speculative office building on the peninsula."
Coming soon
At Caroline, apartment units will wrap around three sides of the building. On the second floor will be the club room with an indoor and outdoor bar for residents and storekeepers near a saltwater pool. A 24-hour fitness center will sit next to the club room.
The building includes two private elevators for residents and two public elevators for the garage. Four restaurants will sit along Fishburne Street, all with outdoor seating.
Because much of the WestEdge site was part of a former dump site, the developers chose to cap the property rather than excavate it to save time and money. The land at 10 WestEdge has been raised about 10 feet for the base of the building. A 54-inch pipe sits under the WestEdge property to drain away water.
"We have the only hill in Charleston," Reese said.
Inn demand
Long-range plans call for more hotels behind the existing Charleston Marriott, according to Reese. Auro Hotels, a division of what was JHM Hotels of Greenville until recently, owns the 7.4-acre tract on Lockwood Boulevard.
"In general, we have a master plan to build more hotels," said Jay Burnett, vice president of real estate for Auro Hotels. "We don't have any specific plans. The timing of that is based on the development of WestEdge and the demand for more hotels. We want to coordinate it with them and build nice hotels that complement WestEdge so it's one cohesive development."
Connecting the new WestEdge Street that's being built on either end of the tract will require using part of the hotel firm's land that juts into the greater WestEdge parcels, Reese said.
"It's not a deal that's been made, but it's a conversation that's been had," Burnett said. He called it a possibility that's doable.
Plans for WestEdge also call for several other office and apartment buildings on undeveloped portions of the expansive tract, but those projects are in the future.
Developers also want Hagood Avenue to extend across Spring Street and connect The Citadel and Hampton Park areas with the medical district to the south.
That's intended to allow medical workers easier access to living arrangements, restaurants and shops north of Spring Street.
Like any other project that requires government approval in Charleston, each WestEdge project has to clear the crucial Board of Architectural Review or planning arms of the city.
The new namesake street that will wind through the property, WestEdge, took five months to win approval.
But, Reese said, the name "WestEdge" is now being recognized for the developing community that was once envisioned to be called Horizon, after a street that is now called WestEdge.
"I hear it being called 'WestEdge' all the time now," he said. "It's catching on."