The final design for the National Medal of Honor Museum near the Yorktown in Mount Pleasant — which will have to pass a divided town council — will be announced Tuesday in a community forum at Wando High School.
The town's planning commission overwhelmingly rejected the original design in January because it was 125 feet tall. The design that's likely to replace it, based on feedback at a community forum last month at Alhambra Hall, is 99 feet.
At least two council members have been vocal in their opposition to the new design, which looks much like a smaller version of the original. Mayor Will Haynie and Council Planning Committee Chairman Joe Bustos have said they expected a more complete revision that was no taller than 80 feet.
The Planning Commission, which must approve the height and other factors as part of a planned-unit development, is scheduled to take another look at the project next month, according to Joe Daniels, CEO of the National Medal of Honor Museum Foundation. Their decision is not binding on council but will be a key test.
"We have heard from the public," Daniels said Friday. "Now we want council to approve the project so we can go to donors, who are more likely to invest in the project if they know it's been approved by the town."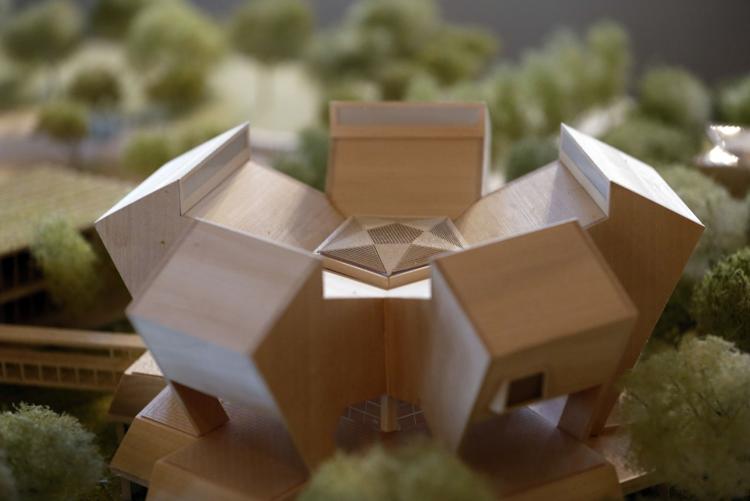 Raising some money fairly quickly is key to maintaining support from the Patriots Point Development Authority, of which Haynie is a board member. Patriots Point, a state agency, is leasing the land for the museum to the foundation for $1 a year.
The lease contract, which was approved by the state's Fiscal Accountability Authority, specifies that work to move a section of Patriots Point Boulevard must start by Nov. 30. Before that can happen, the foundation has to raise about $4 million for an escrow account to satisfy the town, which has already committed $1.5 million to the project and must switch rights of way with Patriots Point for the project to proceed.
Daniels says he's confident he can raise the escrow money, but it will be a lot easier if the town approves the design. 
"We are talking to major corporations right now who are very interested," he said. "An approved design is absolutely essential in major donor fund-raising. They want to know the money is going to build the project, and you need something to be approved in order to do that."
The contract with Patriots Point also specifies that construction of the museum should start in July 2020. The foundation needs to raise $75 million by then for that to happen, and at least another $25 million for the museum to open in March 2023.
The foundation has about $2 million on hand, not including $5 million from the state. Haynie said during a council meeting last week that he will demand "a full accounting" of that money. Daniels said it's in a separate account that's not been touched.
Daniels, who took over as CEO this spring, was grilled by the Patriots Point Development Authority's board members during a weekend retreat at the Beach Club, which was also built on land that Patriots Point owns.
Ray Chandler, the authority's chairman, told Daniels he should give up on the design.
"That building design is going to have to go," he said bluntly. "That dog is not going to hunt."
Since it was announced that public input would determine a new design in May, the foundation has raised $1.5 million, including $1 million from the six current board members.
Five new board members, including a Medal of Honor recipient, will be announced Wednesday at a foundation board meeting.
"The main function of the board of a nonprofit is fund-raising," Daniels said. "We're adding board members with a lot of national reach."
The original design of the museum, by internationally known architect Moshe Safdie, was developed with little or no input from town officials. When it was unveiled in 2015, the foundation listed 18 board members, including actor Gary Senise.
It sent shock waves through the community when Maj. Gen. James Livingston, a Medal of Honor recipient who lives in Mount Pleasant, quit the board and took most of the others with him early last year. Livingston said he resigned because the board hired the previous CEO for $400,000 a year against his advice.
Bustos said he wants to see the museum built in Mount Pleasant but was not happy with the process for the new design.
"Mr. Daniels said the old plans would be scrapped and totally new plans would be submitted that were within town zoning regulations," Bustos said in a tweet after the last design meeting. "That did not happen."
Haynie tweeted that "countless people" had complained the survey used to guide the design only allowed positive responses.
Daniels said the design is a response to public input.
Note: The original article was amended to remove a reference that the $5 million in state money could be used to help move road. In reality, there is disagreement over how that money can be used.