"Charleston is one of the best built, handsomest, and most agreeable cities that I have ever seen." – Marquis de Lafayette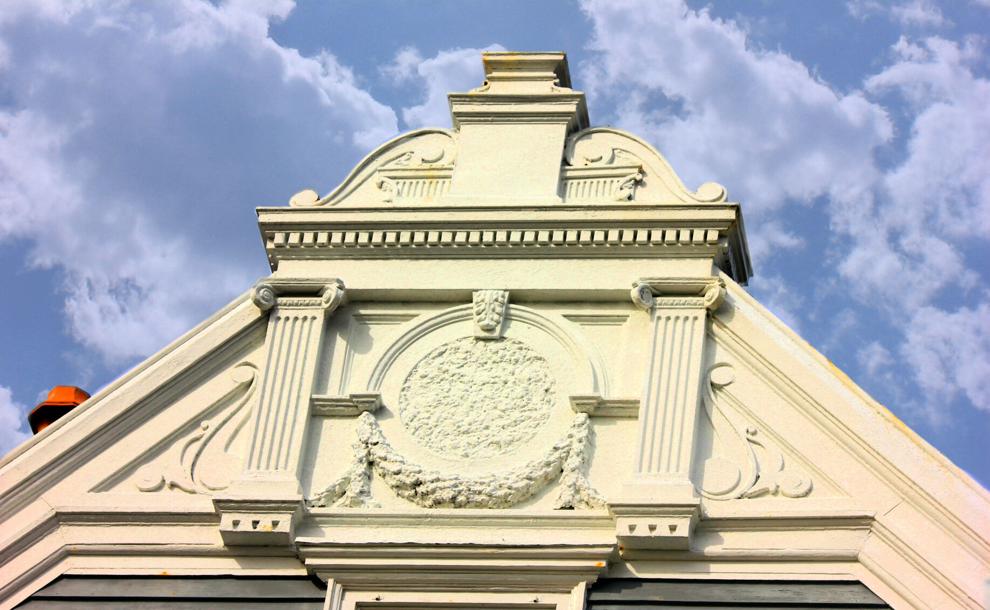 Mid-February usually signals the beginning of Charleston's tourist season. SEWE, a traditional event that normally kicks it off, draws in over 40,000 visitors annually. The weekend-long event coincides with Presidents' Day weekend and generates about $50 million to the Lowcountry's economy.
"SEWE has been very important to the historic district as a whole as I consider that event the kick off for spring season visitors, some who already know Charleston, some discovering and falling in love with the city for the first time," said Charles Sullivan of Carriage Properties. "However, more recently first-time visitors continue to seek out Charleston as a pleasant alternative to other locations."
For the first time since SEWE's inception in February 1983, the decision was made to cancel the event because of COVID. But, people are still flocking to our fair city. The reason? Charleston's real estate market.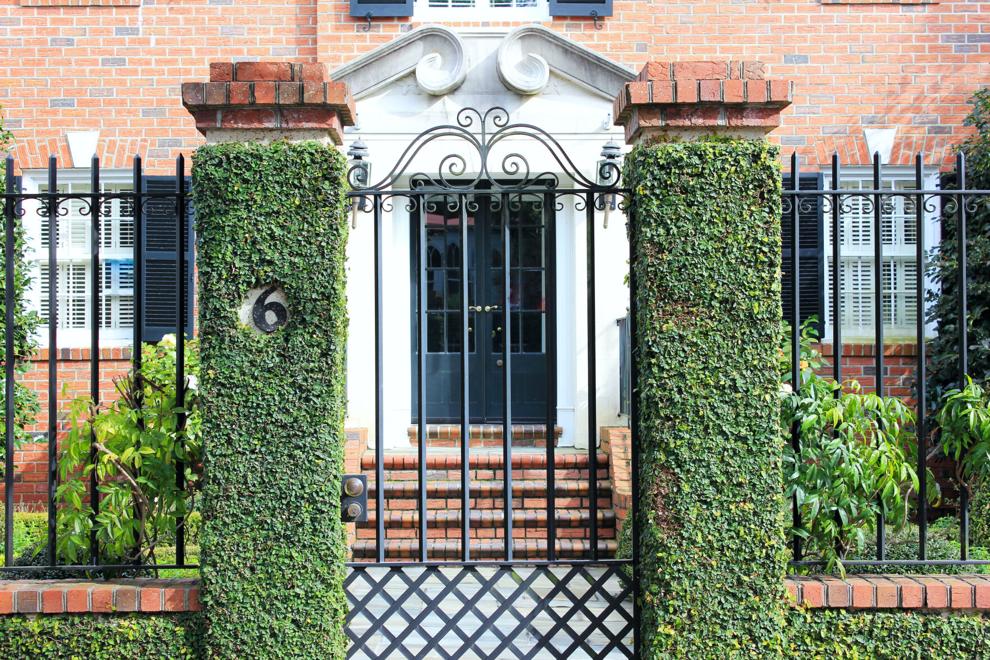 I found that to be the case the day I went on a walking tour downtown. People were out, strolling the streets and parks. Being a tourist in my own town, I explored the neighborhoods, the homes, and the streets that make up Charleston's architectural and historic grandeur. It was a perfect day, sunny, with temps hovering around 60 degrees.
The French Quarter
I parked near St. Phillips Church's and headed south on foot. The church, built in 1838, has a churchyard containing tombstones dating back to the 1600s, including patriots, who signed the Declaration of Independence. Known as "Charleston's fabled walled city," this is the oldest French Quarter in the country.
"Charleston's historic French Quarter is a small neighborhood on the southeastern corner of the peninsula with Broad, Meeting, East Bay and South Market streets acting as parameters," said Adam Edwards of The Cassina Group. "This quaint borough gets its name from the high concentration of French Huguenots that immigrated to and lived within the area."
The borough was added to the National Register of Historic Places in 1973 and comprises several Charleston landmarks and must-sees—the French Huguenot Church, Dock Street Theatre, Old Exchange and Provost Dungeon, Charleston Market, Powder Magazine, the Old Slave Museum and the Charleston Pink House, to name a few.
Taking a right onto State Street, I noted art galleries with residences intermingled. Pastel painted homes, all dressed up in all various architectural styles including hundred-year-old Gothic Revival. Some streets and alleys, including Lodge Alley, between East Bay and State streets, are paved of granite blocks whose pattern mimics the same found in old English towns and many towns in France.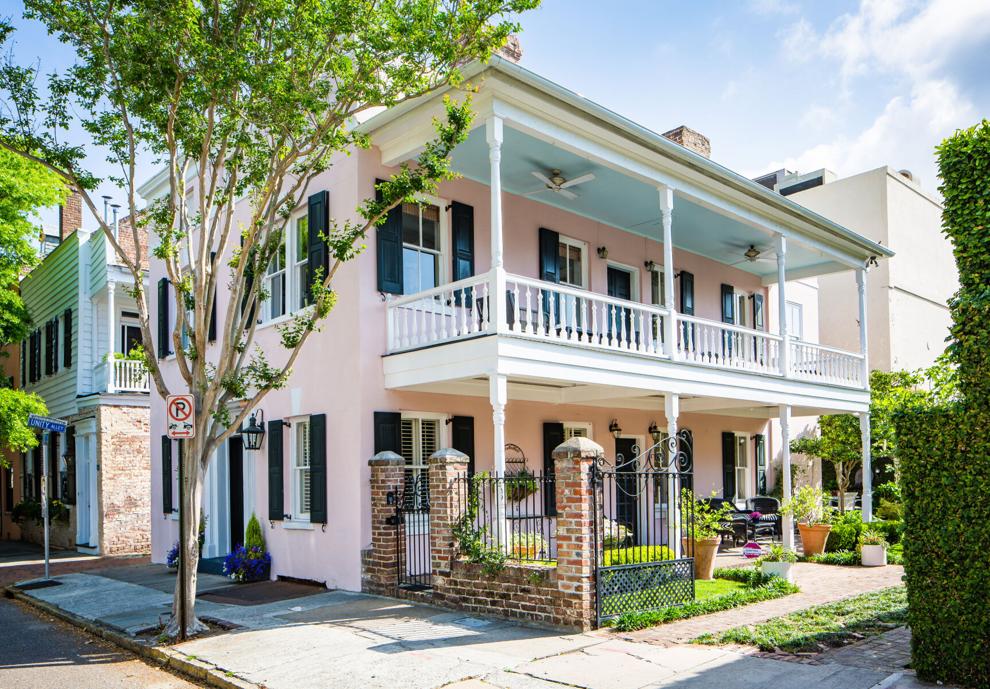 Once I crossed Unity Alley, I came to 18 State Street, a pink-colored double-piazza home.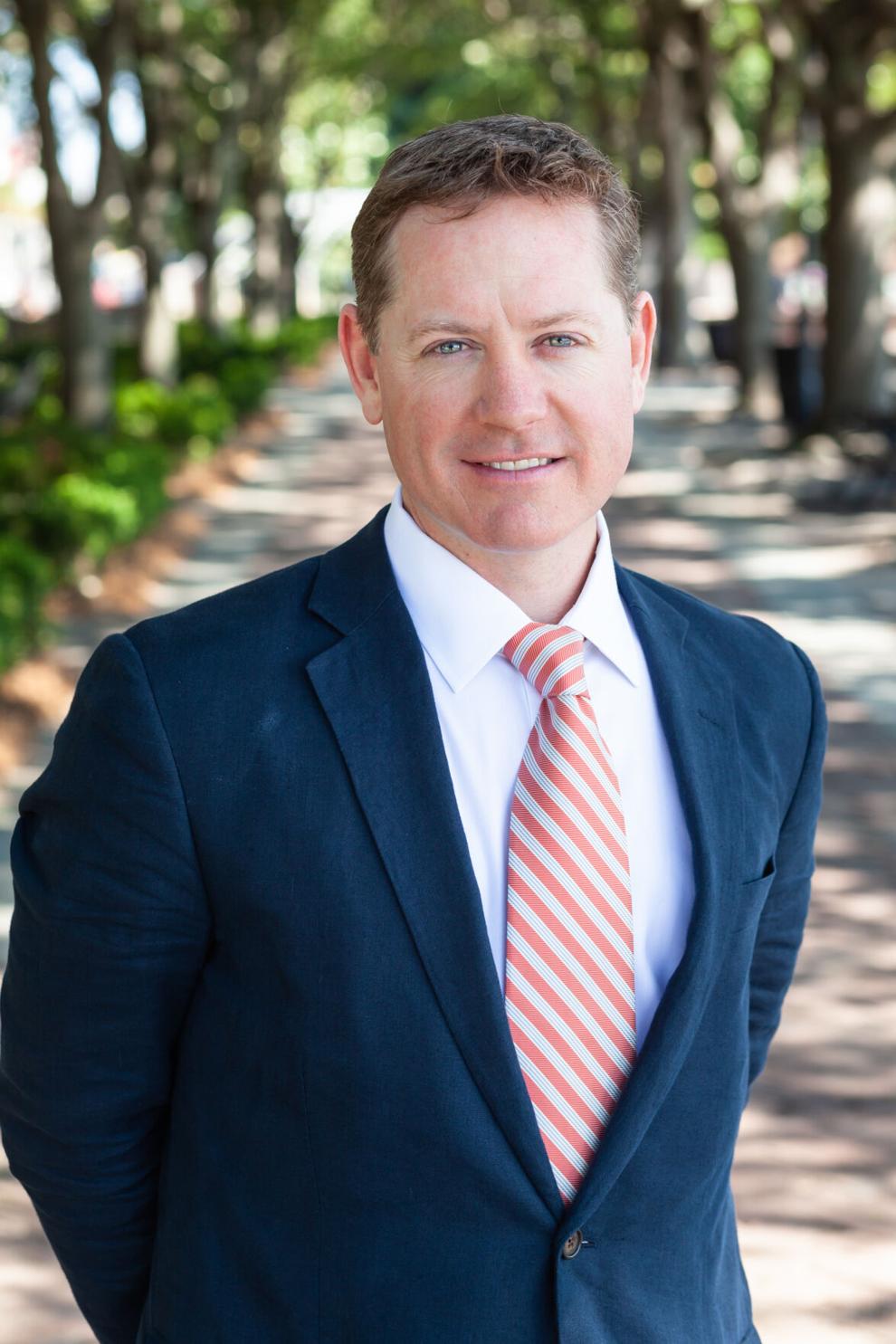 "This property was owned by the Hart family for investment purposes from 1815 to 1905," said Edwards. "It was used in various capacities over the years including use as a bakeshop and the home of a river pilot."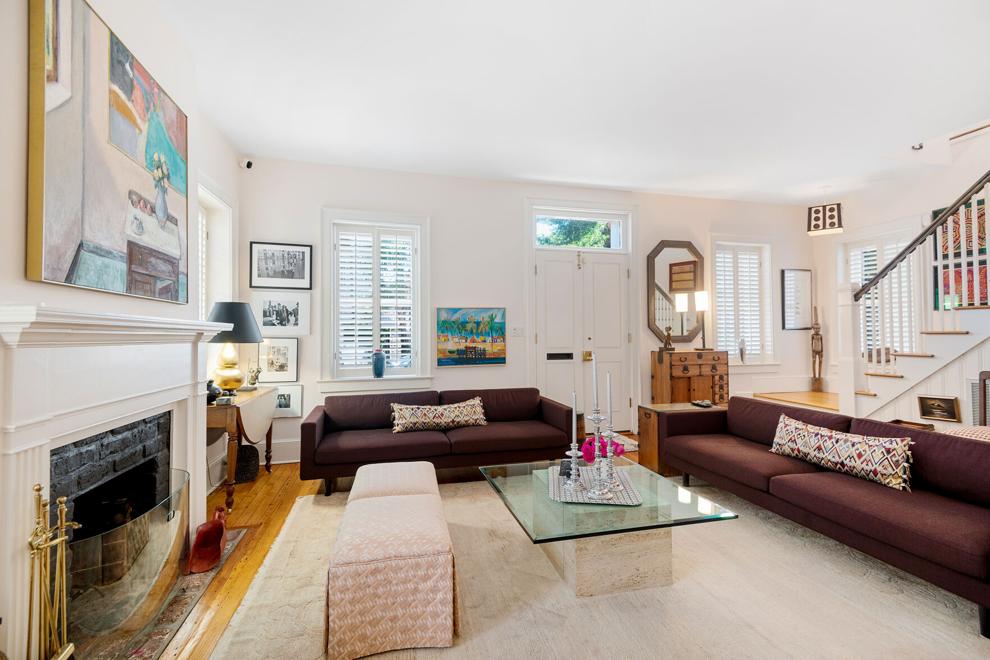 The classic masonry over brick home has turned columned side piazzas and six fireplaces. A double door with transom faces the street. A brick and black iron gate/wall provides privacy. The bricked walkway carries onto the lower piazza and a deep driveway with detached climate-controlled garage at the end allows roomy, off-street parking. Modernity mixes with historic charm inside—original heart pine floors, bright white walls, plenty of windows, built-ins and a showstopper of a kitchen.
"There is a Wolf gas range, Sub-Zero refrigerator, Bosch dishwasher, additional wall oven, wine cooler and walk-in pantry," Edwards said. "French doors open to a walled garden lend great connectivity between the indoor and outdoor living spaces."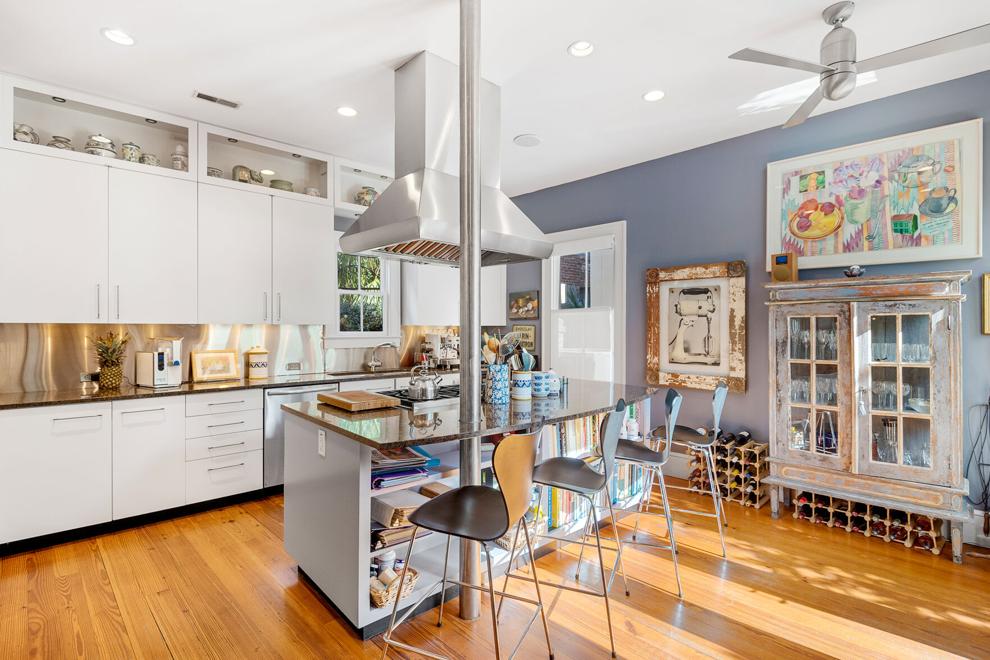 The three-bedroom home, which lists for $2.195 million, has over 2,700 square feet and was built in 1815. Its primary suite has a fireplace, large windows and ensuite bath with glassed shower and free-standing tub. From the upper piazza, one can take in views of the neighborhood and Charleston's skyline.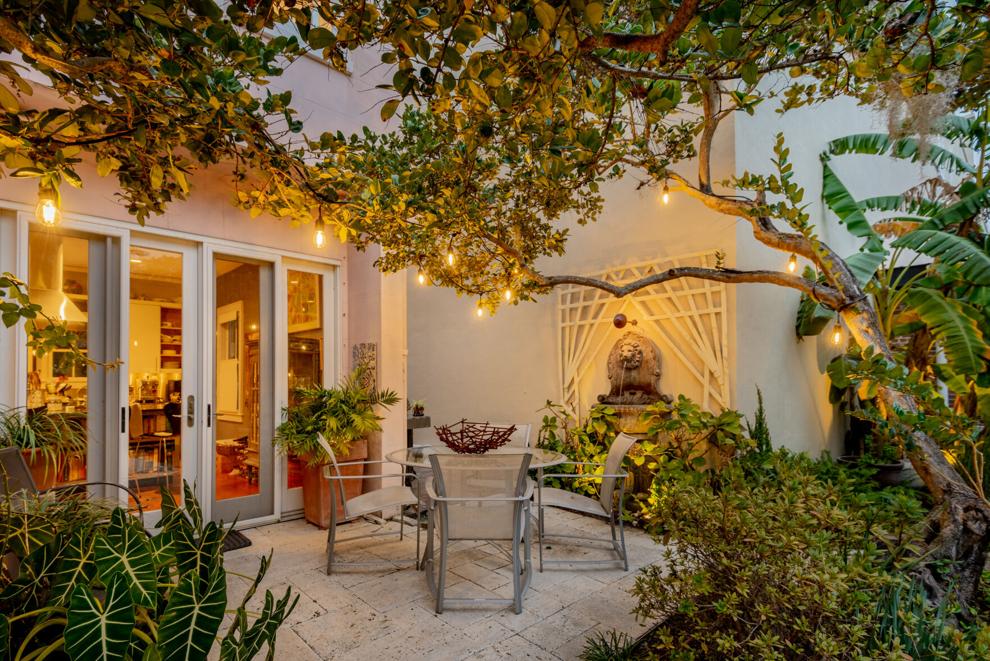 "One of the many benefits of living in the French Quarter is the proximity to several Charleston's landmarks," Edwards noted. "The Waterfront Park and Washington Square are nearby, along with renowned restaurants including Oak Steakhouse, SNOB, Magnolias, 82 Queen and many more, plus you can walk to numerous boutiques and art galleries."
South of Broad
Next, I took a right on Broad Street. Merchants and craftspeople occupied this area in the 1700s, and the "Four Corners of the Law" are here. Named "Broad" for being one of the city's widest streets, it is a blend of businesses, boutiques and smatterings of residences, plus pubs and law firms. Church Street crosses Broad and I took a left and headed south.
The tony South of Broad (SOB) location is quiet and refined, world-renowned for Rainbow Row, White Point Gardens, historic landmarks and exclusive residential, tree-lined streets, A few art galleries are here. Walking past "Goat, Sheep, Cow," a wine and cheese shop, the sign on the doorway (and a sign of the times) read: "No mask, no cheese." I could hear the muffled clang of church bells. Quiet blanketed the street.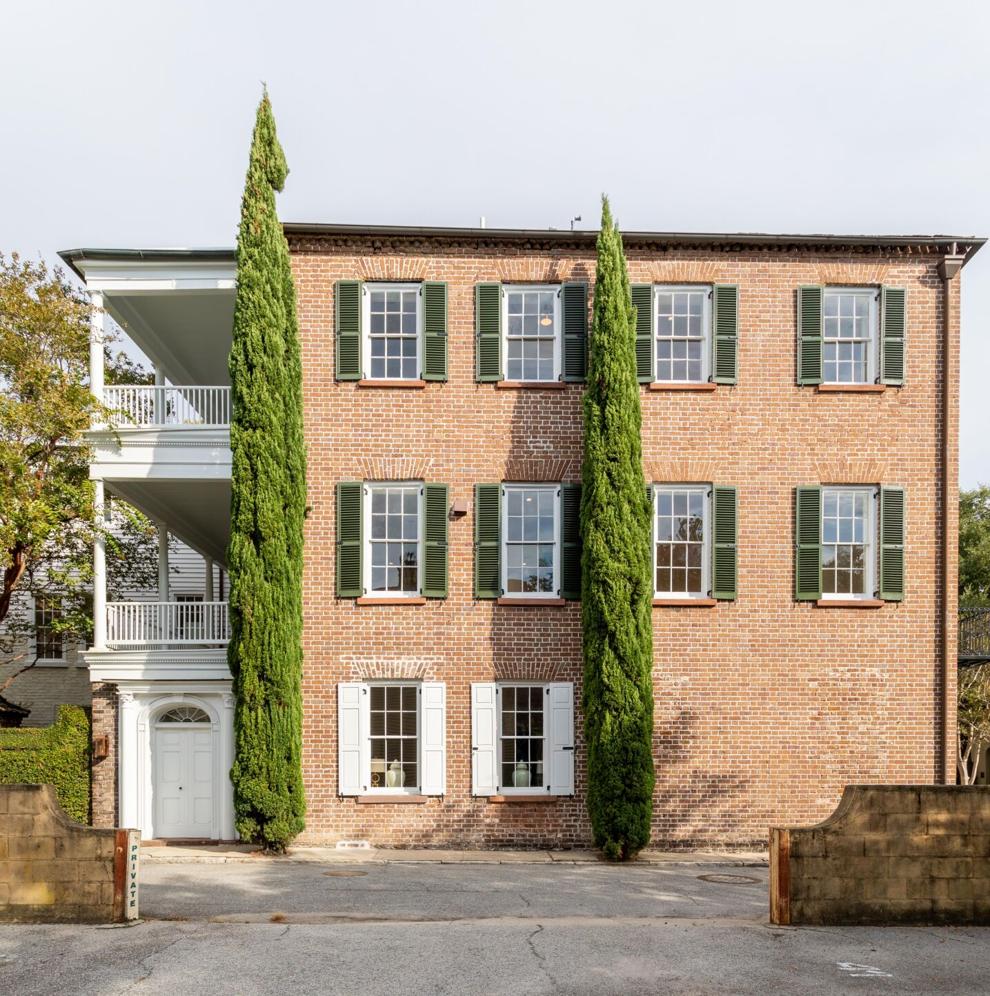 Coming to a home at 103 Church Street at the corner of Church and St. Michael's Alley, I was struck by its stately exterior and the 40-foot Italian cypresses that lined the side of it along St. Michael's Alley.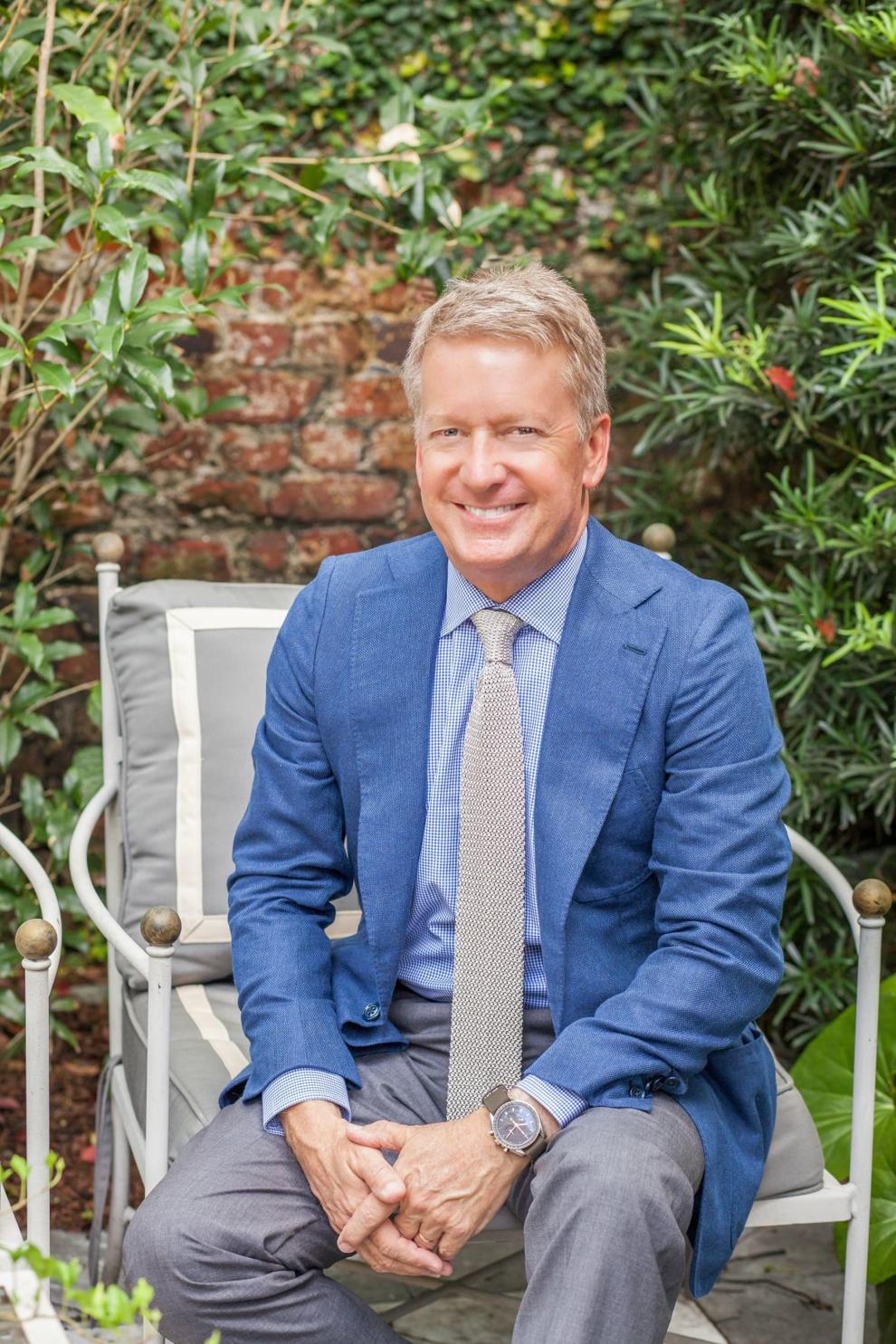 "The location of this property is excellent, right in the middle of eighteenth-century Charleston, which means on a high elevation in the shadow of St. Michael's iconic steeple, one block south of Dock Street Theatre, one block north of Tradd, and the Heyward Washington House," said Sullivan. "It sits south facing the corner of St. Michael's Alley and Church Street, allowing for well-lit rooms."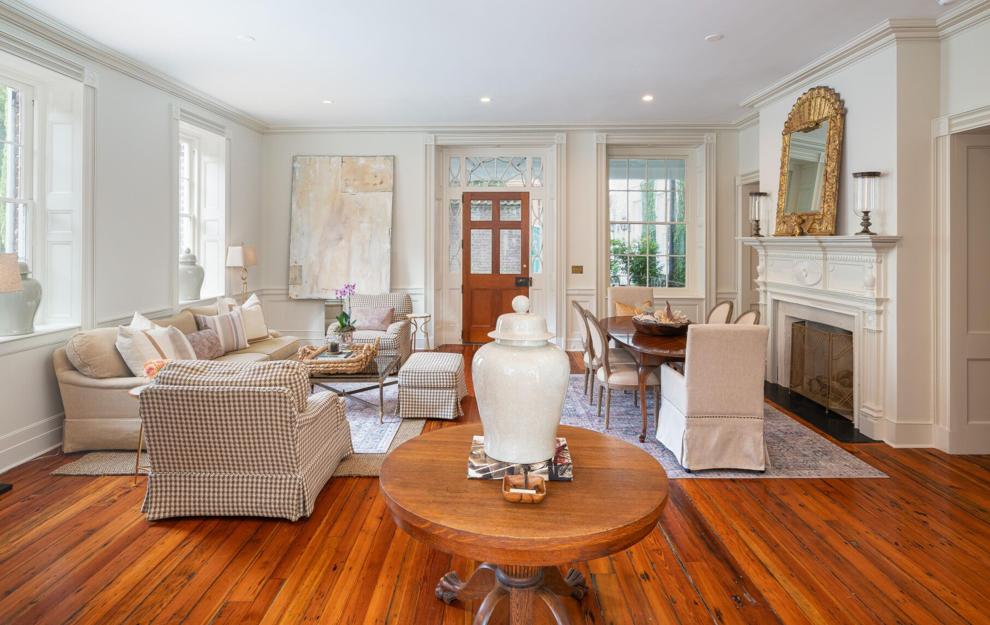 Sullivan said the pristine property, listed for $2.495 million, has a 200-plus year history. The lot was originally owned by Ambassador Joel Poinsett, who introduced and discovered the Poinsettia plant we decorate our homes with every holiday season. Later in the nineteenth century, Nat Fuller, an African American entrepreneur and chef, operated his restaurant, "Bachelor's Retreat," which, at the time, was known as the finest in Charleston.
"One of his noteworthy events occurred as Fuller celebrated the end of the Civil War with a grand feast inviting diners of all racial, cultural and ethnic backgrounds to sit down together," Sullivan said. "Nat Fuller and his legacy on this site was honored in 2015 through a Spoleto project honoring locations important to the city's Gullah culture and history."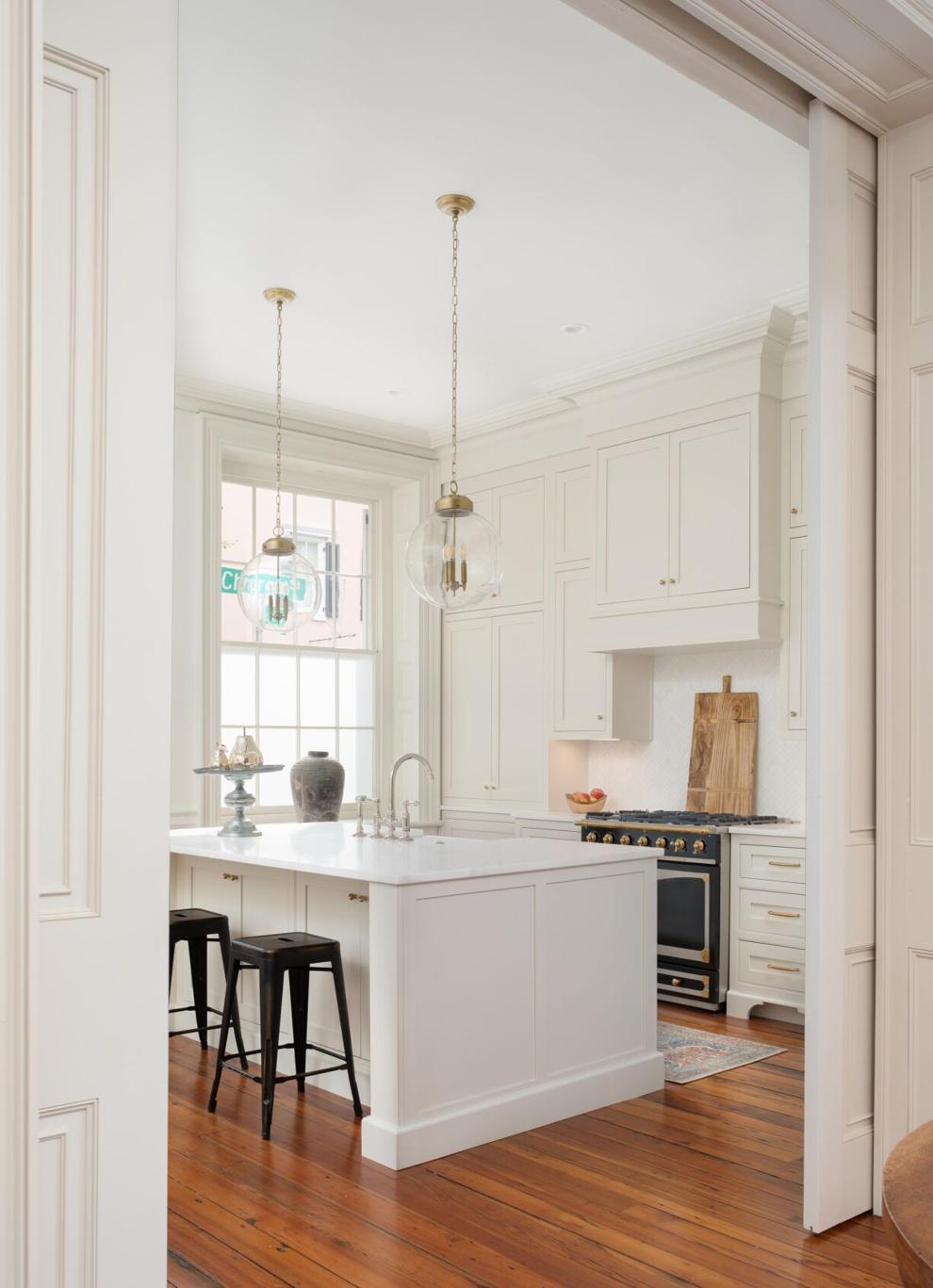 The home was converted from a five-unit mixed use building into three luxury condo properties. Sullivan said he recently contracted and closed the second-floor space, and the third is not yet on the market. His current listing is Unit A, and it's the only one of the three offering a private garden and a private entrance from St. Michael's Alley. It's herringbone brick and covered piazza provides additional space for entertaining or relaxing.
"A condo offering with its own private garden and space is rare," he said. "Everyone involved in the renovation process was very careful to retain and respect the historic fabric of the building—from the exterior architecture to the original floors, trim and moldings."
A collaboration between Charleston building and design professionals, Vanderking Properties, architect Julia Martin, interior designer Lauren Sanchez and general contractor Southeastern Construction Company, resulted in a cohesive blend of turnkey meets traditional/transitional. Eleven-foot ceilings, abundant natural light and symmetry that speaks to its nearby neighbors, Sullivan said, were important to the restoration.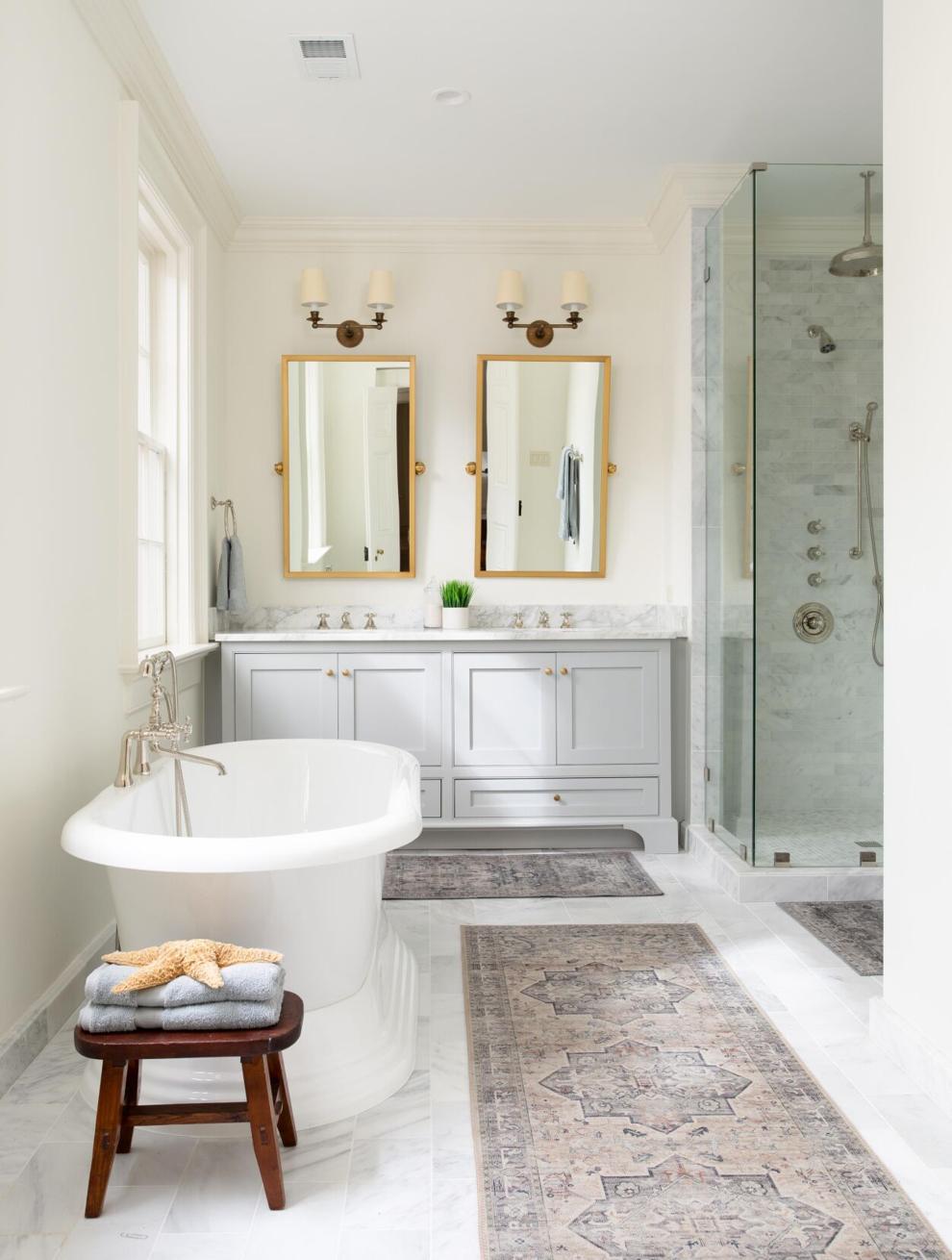 "Most of these homes date from the 1700s to the present and this particular architectural period dates from the 1790s to the 1820s, heavily influenced by new arrivals to Charleston from England and France," he explained. "These two or three-block areas surrounding 103 Church Street is where Charleston began."
Magnificent mansions
Continuing on Church Street, past Charleston singles and Georgian-style homes with broad porches, I walked by Catfish Row. A beautiful example of 18th century architecture, it is two homes connected by a central passageway. Formerly known as Cabbage Row because families of freed African American slaves sold cabbage from their windowsills, the name was changed when the book, "Porgy," was published in 1925. Charlestonian Debose Heyward novel's setting was here and in it, he referred to it as Catfish Row. Porgy was the inspiration for the opera, "Porgy and Bess."
This stretch of Church is reminiscent of Rainbow Row, with its pastel-hued homes and gaslight lanterns flanking doorways. The Heyward Washington House, built in 1772, was named for its owner Thomas Heyward, Jr., one signer of the Declaration of Independence, and for a famous week-long resident, George Washington in 1791. It now stands as a museum where one can view priceless antiques and formal gardens.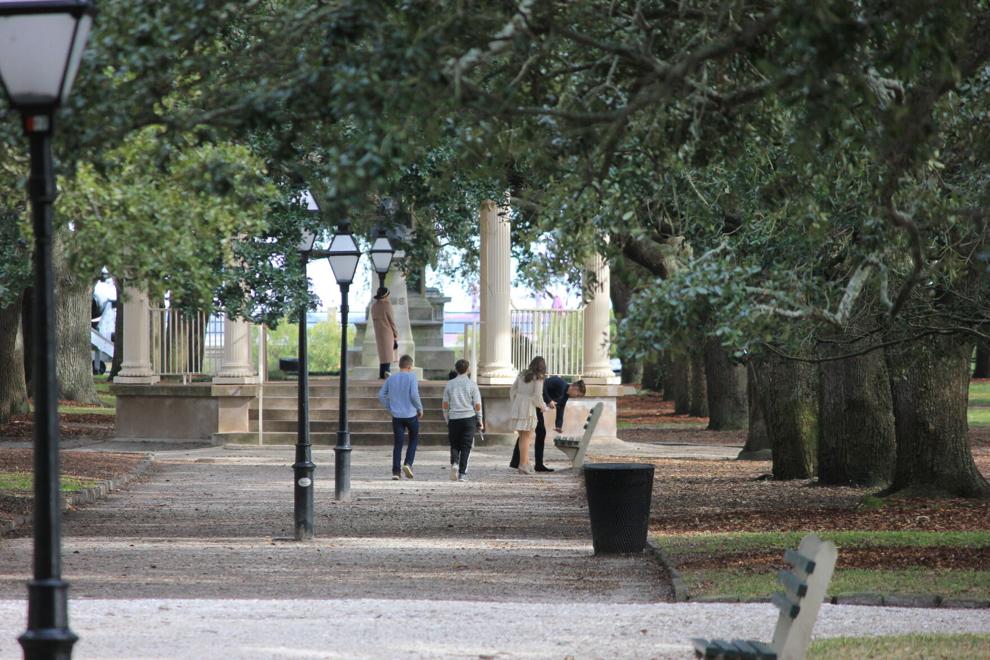 As I crossed over Atlantic Street, I could see the Charleston Harbor and peeks of the park, noting bricked roads, flowering window boxes and doorways decorated for spring. Taking a right onto South Battery, I faced White Point Garden. People strolled along the harbor's seawalls and walked their dogs. A boater skimmed the harbor.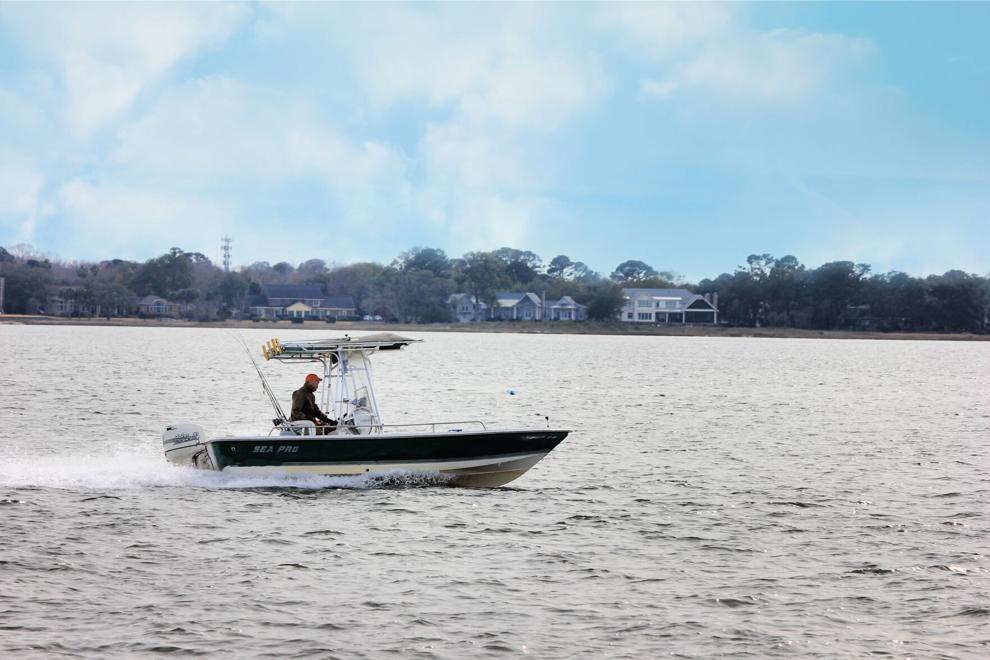 South Battery is lined with mansions, each one as grand as the next. Lined up like stately soldiers, I crossed Meeting and came to 44 South Battery, known as the Johnston House built in 1835 and one block from White Point Garden.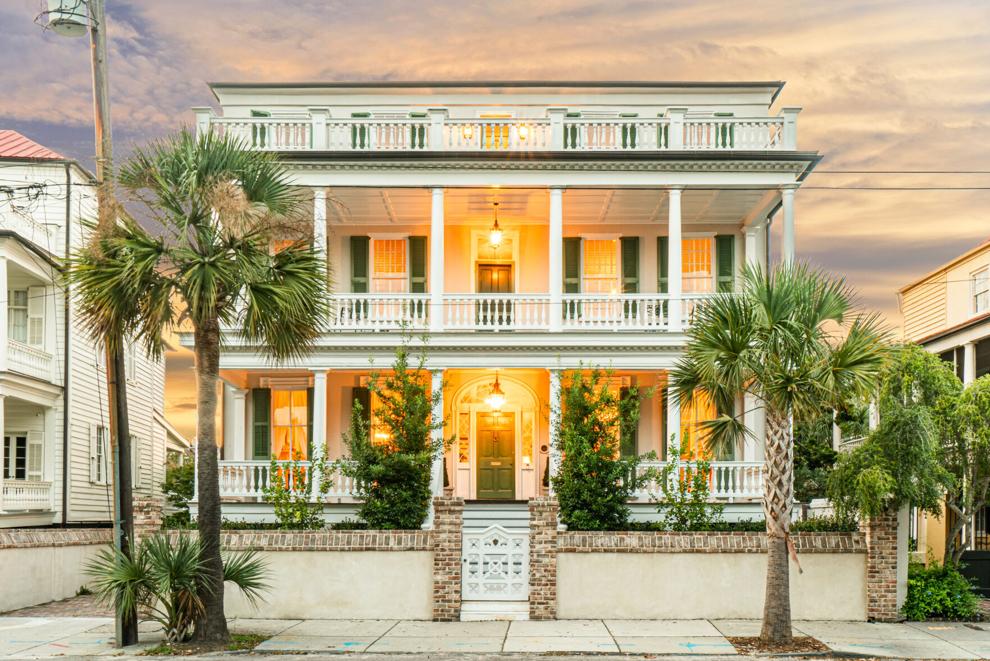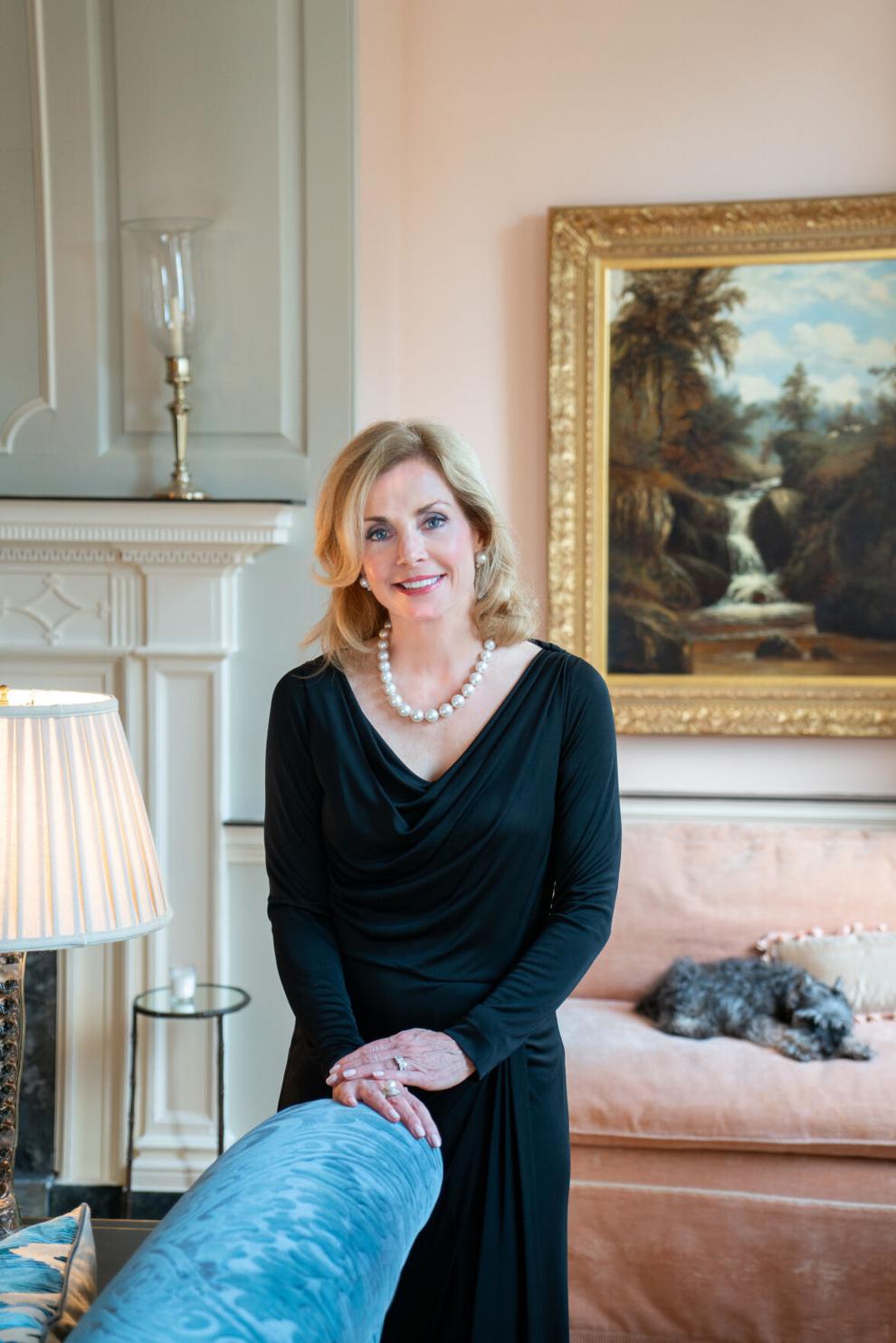 Debbie Fisher of Handsome Properties, who lists the property, said: "This home was built by two sisters, Anne and Catharine Johnston who inherited their lots from their grandfather, and it was later owned by the senior major-general of the South Carolina troops who was also a South Carolina attorney and a state representative."
The seven-bedroom, six bath home lists for $6.95 million and has been extensively renovated. It has over 7,500 square feet and according to Fisher, it has most of its historic integrity intact, including the original privy from 1835. Architect Glenn Keyes and landscape architect Sheila Wertimer had a hand in bringing this beauty to its full modern-day glory. The historic inns, Battery Inn and 2 Meeting Street, are within two blocks.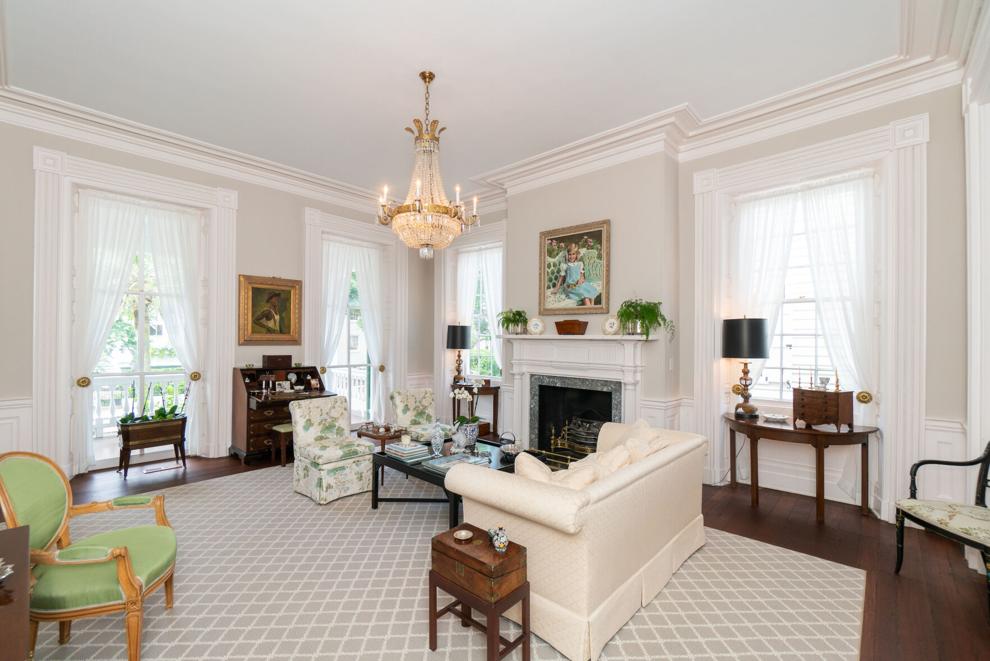 "This home is a traditional double house, which is rare and difficult to find in Charleston," Fisher said. "Most of our homes are built as single homes, which is one room wide. The double house is two rooms wide, with the home's entrance being the midpoint. This home has been completely renovated while preserving the original woodwork and moldings. The rooms are grand and all the fireplaces are original and have been rebuilt to function well."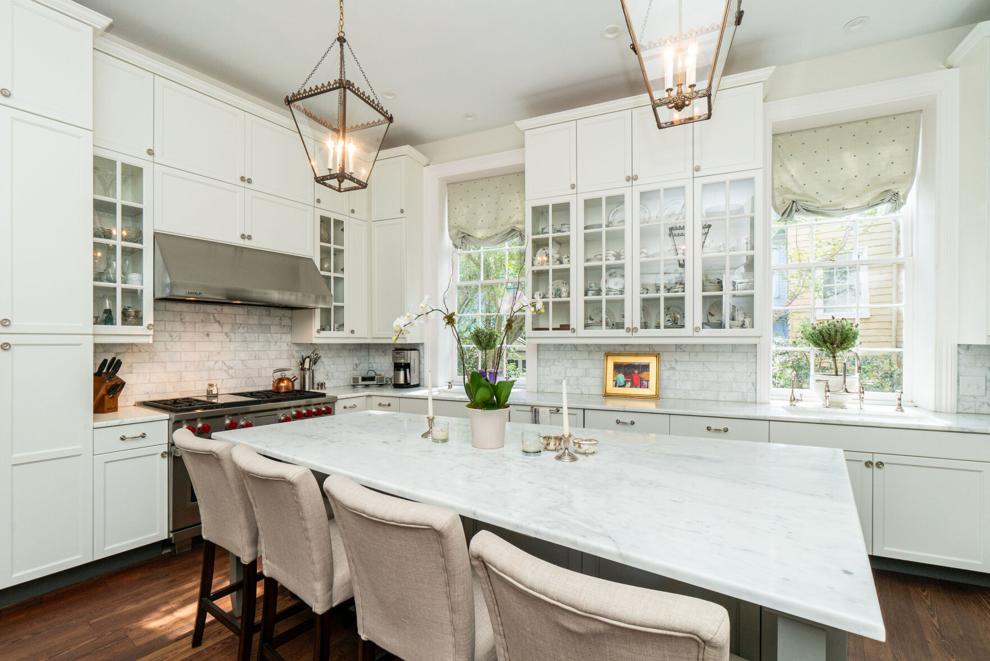 Three piazzas are spread across its front, offering gorgeous views of White Point Garden and the Ashley River. Rooms are grand and spacious, with the second floor housing the primary suite with fireplace, dual closets and a spa-like bath with double vanity, oversized shower and clawfoot tub. A separate kitchen home is over 1,900 square feet and can be used as a guest house or legally rented nightly. Fisher said the 1,358 square foot ground floor could be converted into a one-of-a-kind wine cellar, artist studio or workout room. It includes a half-bath.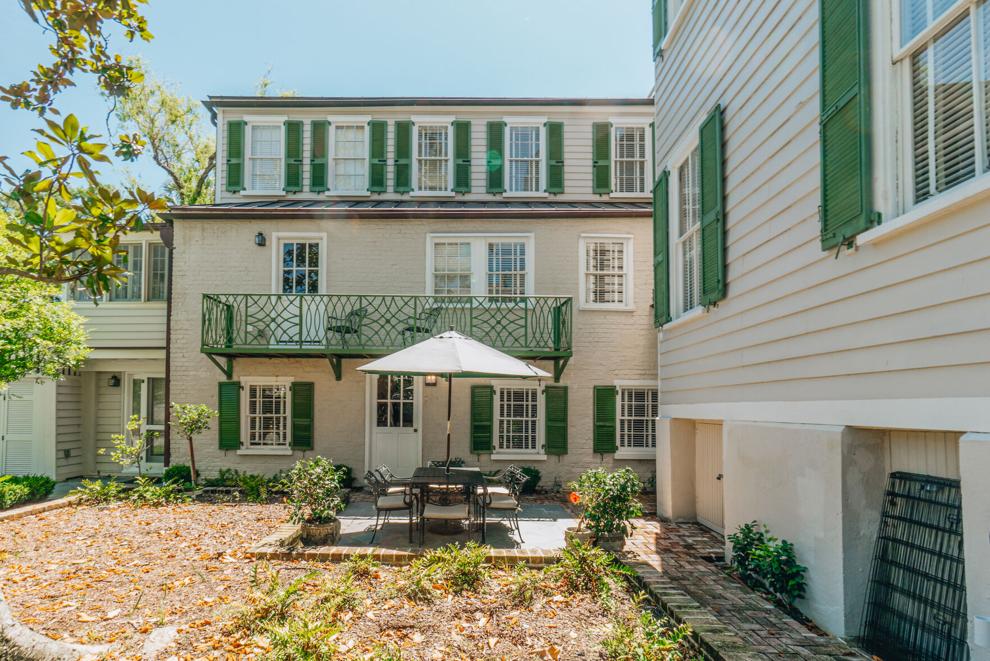 "This is a turnkey property with significant history and it lives beautifully," Fisher added.
Haute homes with pretty patinas
Continuing west on South Battery, I came to Legare Street where I took a right. This SOB area is off-the-charts charming. Bucolic yet sophisticated. Walking north, a horse-drawn carriage with a few patrons passed. I crossed over Gibbs Street and came to the Simmons Edwards House, a National Landmark and neo-classical Charleston single home that was built for Francis Simmons, a Johns Island planter in the 1800s. Behind tall wrought-iron gates, with pineapples atop its columns, is one of Charleston's most beautiful formal gardens, Shamrock Garden, restored by The Thornton family in the late 1990s.
A woman out taking her daily afternoon walk said to me, "This is my favorite part of Charleston."
Crossing Tradd, I came to 53 Legare, a four-bedroom home built in 1810. This home has a stop-you-in-your-tracks patina. Pinks, taupes and creamy ivory blend and taper out along the stucco exterior. A Charleston single, it is a Category 2 home, meaning a home of "excellent high style regional architecture, fine Charleston style," and "irreplaceable importance, to be preserved in situ at all costs" according to Charleston's Board of Architectural Review.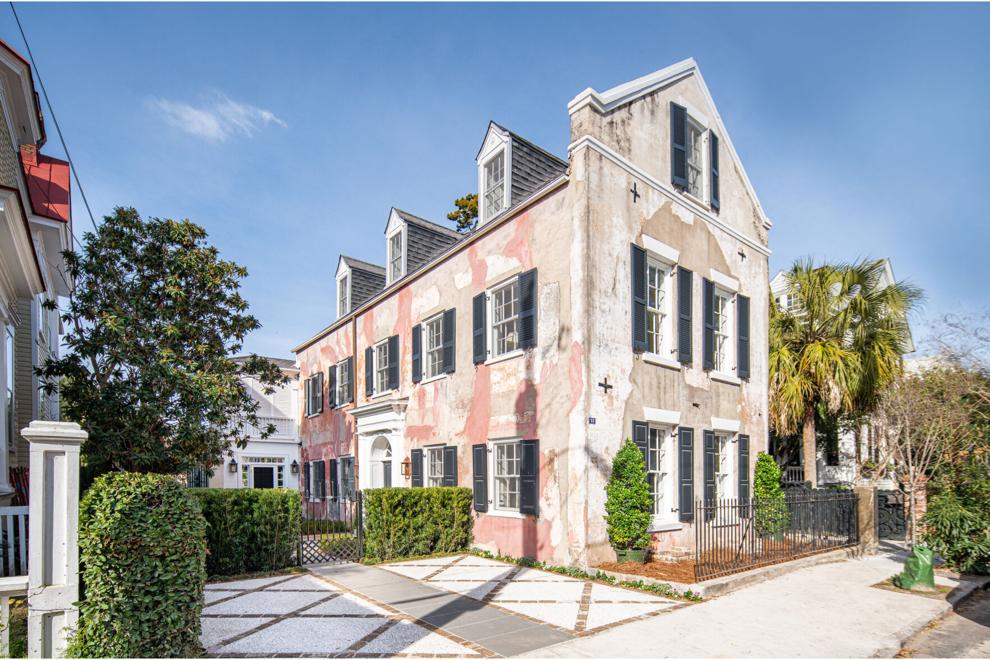 "The exterior is original," said Leslie Turner of Maison Real Estate who lists the home for $2.995 million. "The area has cobblestone streets, slate sidewalks, church bells ringing on the hour and the smell of salt air from the Charleston harbor mixed with luxurious jasmine."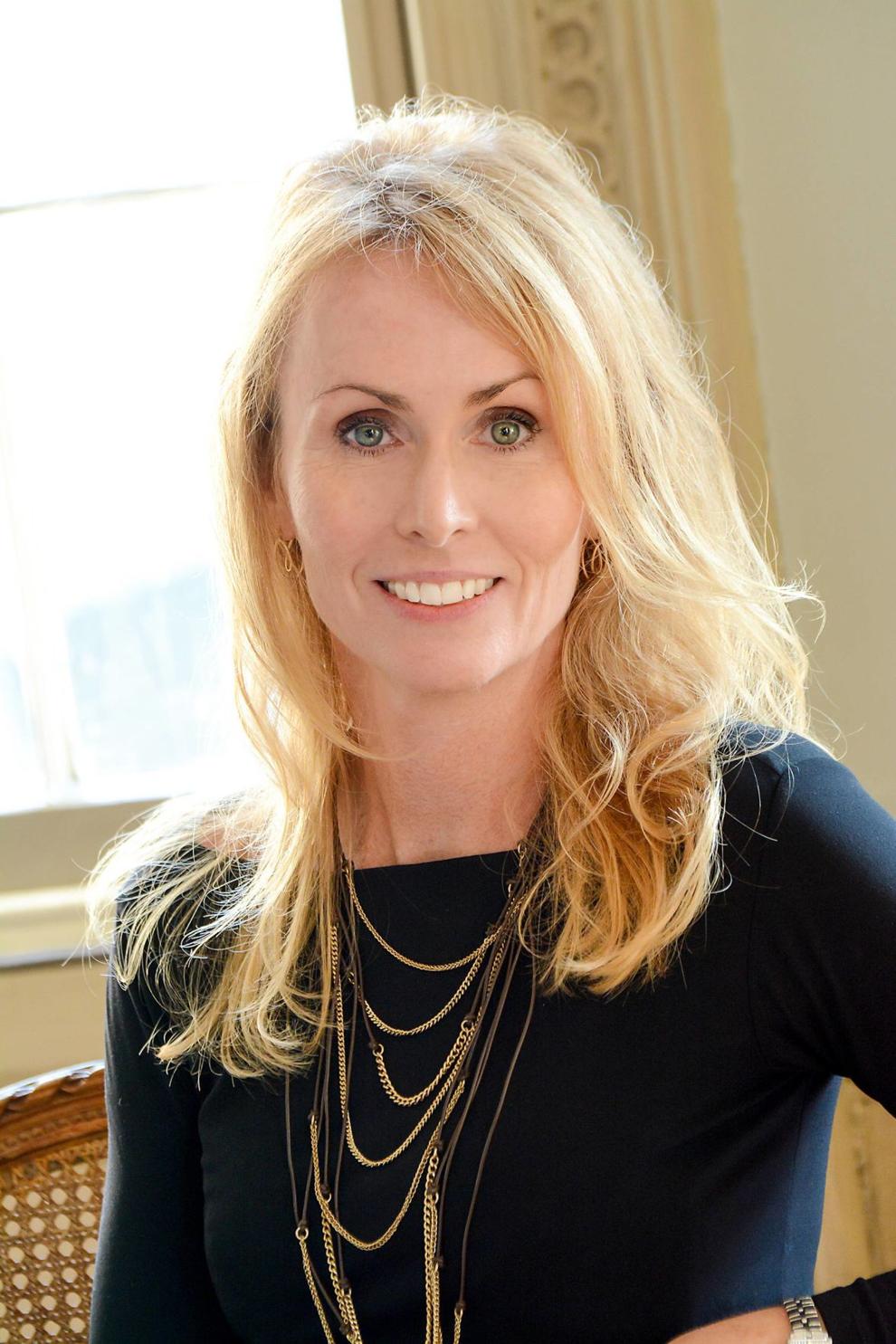 Turner said that many homes in this area were built by wealthy merchants and often feature Georgian-Palladian architectural details and styles. Famous for lush gardens and detailed iron gate-work, South of Broad homes are historically and aesthetically some of the finest homes in Charleston.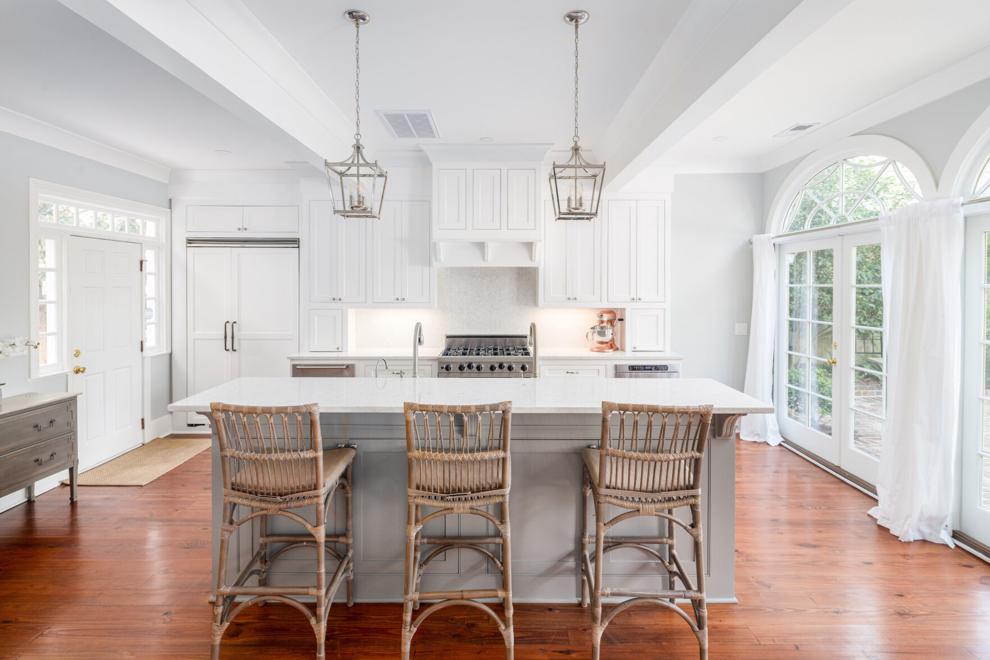 "The sellers spared no expense on the complete renovation of the house," said Turner. "The renovation combines the best modern features while retaining the historic charm."
Renovation included adding steel beams in the kitchen and living room for an open flow and removal of a rear staircase to expand the openings between rooms and let in light. Five fireplaces were converted to gas, with all mechanical, electrical and plumbing brought up to modern-day standards.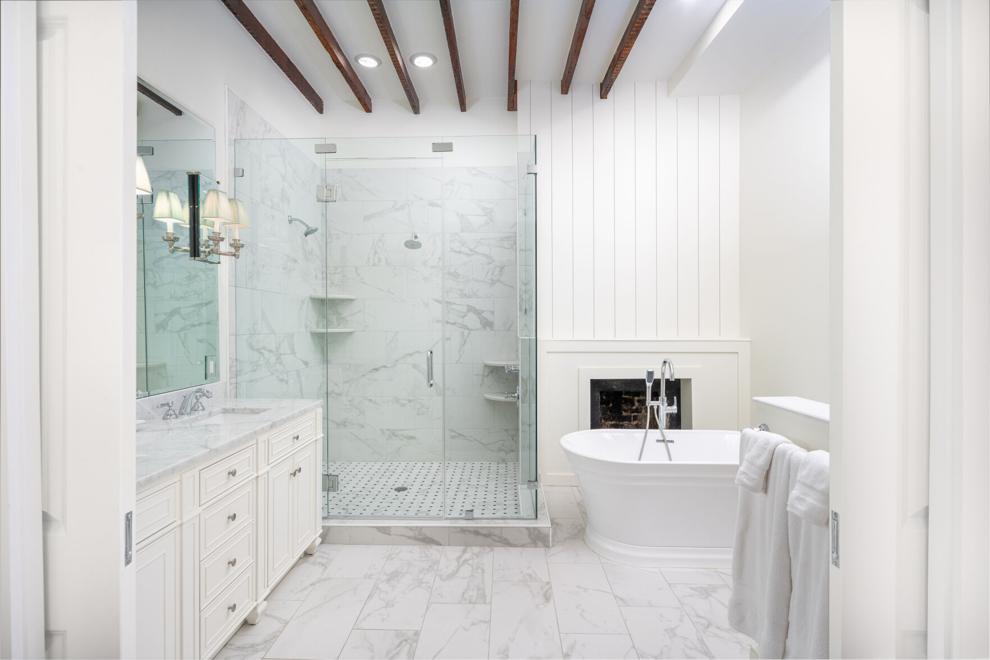 Palladian French doors from the kitchen and family room open onto the garden. The stunning kitchen has Viking appliances and is made for entertaining with two sinks, two dishwashers, tons of storage and stainless-steel and quartz countertops. Original floors, redone, run throughout the home. Upstairs comprises a front guest room with bath and the primary bedroom has dual vanities, an oversized shower and soaking tub in front of a fireplace. The suite overlooks the back garden. The third floor has two bedrooms with a shared bath.
Outside is one of those iconic Charleston gardens everyone loves to catch a glimpse of—this one, designed by Elizabeth Pope and installed by Bill Kent. The front garden has a wrought-iron gate with bluestone and brick pathway and foundation. Another tall, artisan made wrought-iron gates leads to the backyard oasis. Here, a large brick terrace, gas firepit, seating walls and an oval lawn lead to a heated pool, surrounded by bluestone and a brick. A stone wall makes this special area private.
"The market for downtown luxury homes is fast and furious," Turner said. "This past year of COVID have made selling seasons less defined as more and more people make the move to Charleston."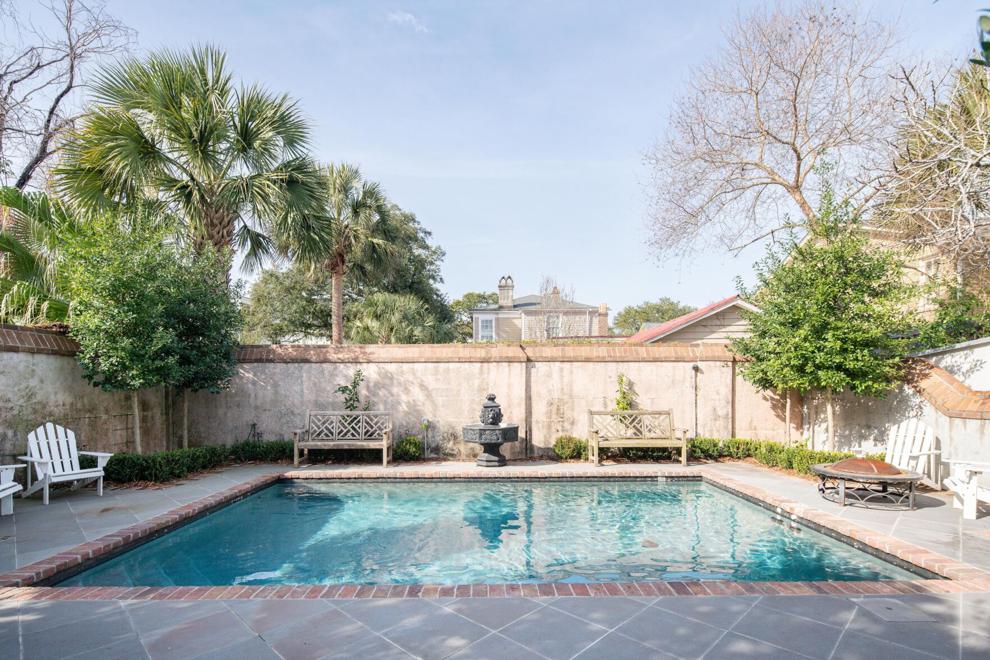 At the end of the day
After walking through nearly three miles of Charleston's neighborhoods and streets, it's understandable why this city is a world-class destination and now, a place where many homebuyers are looking to settle. It's wondrous when you stop and think about it—seeing evidence of how a grand city began. The craftmanship of Charleston homes is second to none, and the neighborhoods that surround them appear as picturesque European villages.
"A client of mine who recently made the decision to purchase a home in the historic district said to me, 'Charleston offers everything I enjoyed in my big city neighborhood with a small-town charm.' That's the draw," said Sullivan.
At the very least, it's a marvelous way to spend the day.
***
Contact Brigitte Surette at bsurette@postandcourier.com.