Dominion Energy made a splash last week when it offered to write South Carolina Electric & Gas customers refund checks worth $1.3 billion in its bid to buy the utility's parent company.
But ratepayers might already have been entitled to most of that money.
That's because the refunds are connected to a massive settlement SCE&G signed last summer with Toshiba, the company that was responsible for building a pair of nuclear reactors north of Columbia. SCE&G had promised to pass on the proceeds of that $1.2 billion payment to its ratepayers anyway, even if Dominion had not come along.
The proposed refund checks are intended to make good on that promise, according to the terms of Dominion's offer filed last week.
SCE&G and partner Santee Cooper agreed to settle with Toshiba rather than pursue legal action after their $9 billion nuclear project went bust. Toshiba owns Westinghouse Electric, the company that designed the now-abandoned nuclear reactors in Fairfield County.
Virginia-based Dominion says the typical home will receive a check for $1,000 in the months after it completes its buyout of SCANA Corp., the Cayce-based owner of SCE&G. That would make up for about three-quarters of the money SCE&G customers have paid into the failed expansion of the V.C. Summer Nuclear Station.
The refund checks are the flashiest aspect of Dominion's offer to South Carolina. But to be sure, it's not the only enticement the energy giant offered in its bid to calm the outrage roiling lawmakers and regulators as they decide who pays what for the project.
Dominion has also offered to cut about a fifth of SCE&G's nuclear-related electric rates, buy a power plant and eat more of the cost of project. SCE&G customers would still pay about $2.2 billion over the next two decades for the company's 55 percent stake in the project, according to a Post and Courier analysis of the Dominion's offer.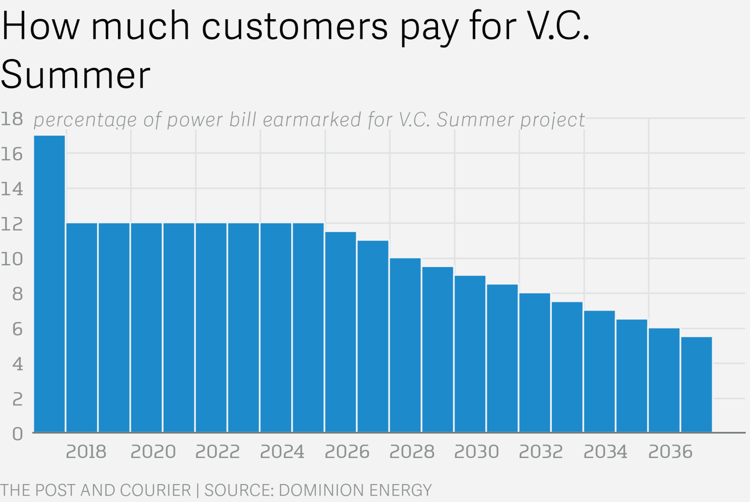 "We are returning the Toshiba settlement money to customers — and much more," Dominion spokesman Ryan Frazier said in an email. "Our offer extends more than $4 billion in benefits to SCE&G customers. Those costs will be borne solely by Dominion Energy and its shareholders."
Even so, some of those benefits — including the Toshiba settlement — would likely have been due to SCE&G customers regardless of Dominion's offer.
That's the position of the Office of Regulatory Staff, a state agency that's tasked with keeping tabs on electric utilities. The agency asked the Public Service Commission, which sets utility rates, to decide how the Toshiba money should be spent. The commission has agreed to that request but has not decided how the money should be allocated. 
"We think it should go back to the customers — to their credit somehow," said Dukes Scott, the watchdog agency's departing director.
Technically speaking, the Toshiba money has already been spent. SCE&G used the funds to cover some of its short-term debt — the corporate equivalent of paying down a credit card. But the company has said it could borrow that money again to repay customers.
In fact, Dominion says that's part of the plan. The company would pay for half the refunds by borrowing on SCE&G's credit line, Frazier said. The rest would be covered by selling company stock.
Dominion's plan for rate cuts and a refund would require the approval of state regulators, who are already in the process of deciding what SCE&G customers should pay. And it unofficially needs the blessing of state lawmakers, who have threatened to halt the nuclear payments that make up 18 percent of SCE&G electric rates.
Shutting off those payments — which total $37 million a month — could torpedo Dominion's South Carolina ambitions, and executives say it could push SCANA to bankruptcy. Lawmakers could take their first vote on the proposal as early as next week.
Dominion's acquisition of SCANA marks one of the largest transactions in South Carolina's history. The all-stock deal is worth $14.6 billion, including debt.
But it might not be the last deal to reshape the state's embattled utility business after the nuclear project was called off last summer: Lawmakers are expected to consider whether to sell the project's government-owned minority partner, Santee Cooper, later this year.