Dominion Energy announced Wednesday it would pledge $2.5 million to Charleston's International African American Museum, one of the single largest donations the company has given in its history. 
In addition to that sum, which will go toward the construction and design of the museum, the Virginia-based utility will give another $25,000 to fund 1,000 museum memberships for Charleston area residents. 
The memberships will go to people served by the Charleston Promise Neighborhood, an organization that provides educational programs for children and families in under-served areas of the peninsula. 
The CEO of Dominion's Southeast Energy Group, Rodney Blevins, announced the donation at the future museum grounds Wednesday. 
"When I think about our company's areas for community giving — which include education, community vitality, arts and culture — it makes this announcement today even more meaningful," Blevins said to a group of Dominion employees, local officials, and museum staff and supporters gathered at the site.
The waterfront lot next to the Charleston Maritime Center was once a section of Gadsden's Wharf, a site where tens of thousands of enslaved people arrived in Charleston. 
Museum officials plan to break ground there sometime in October and are hoping to secure approval for a construction contract from City Council on July 16.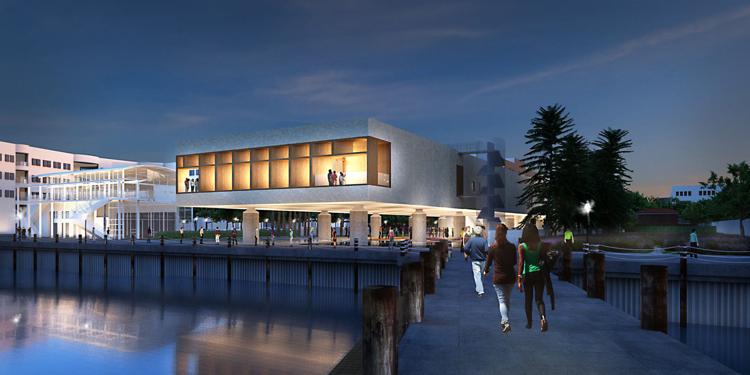 Earlier this month, the museum's CEO and president, Michael Boulware Moore, announced he would resign from his position in early August. Moore said he had stayed in the job longer than he'd anticipated and felt that the leader who will ultimately run the museum should oversee its construction.  
The former marketing executive said he plans to return to work in the private sector after leaving his museum post, which he has held since 2016. 
Moore, a Boston native, compared the museum's fundraising to Boston's annual marathon and the final months of securing donations to the race's last major incline, nicknamed "Heartbreak Hill." 
"This gets us over our fundraising 'Heartbreak Hill,' " Moore said Wednesday of Dominion's pledge. 
The International African American Museum got its start almost two decades ago when then-mayor Joe Riley announced plans to build a museum in Charleston that honored African American stories. 
After years of fundraising, the museum reached its original goal of $75 million in August 2018. Several months later, Moore and Riley announced that at least another $10 million needed to be raised before the museum could break ground, largely due to construction costs.
Dominion's pledge is one of the largest donations the museum has announced this year. Steel giant Nucor Corp. also gave $2.5 million, split evenly between a cash contribution and an in-kind donation.
The Church of Jesus Christ of Latter-day Saints, the founders of Spartanburg's Johnson Collection and the New York-based Andrew W. Mellon Foundation each announced donations of $1 million or more this year. 
Dominion's contribution will be recognized in the museum's "South Carolina: Power of Place" gallery, which focuses on connecting the International African American Museum to other important sites and museums in the region and statewide.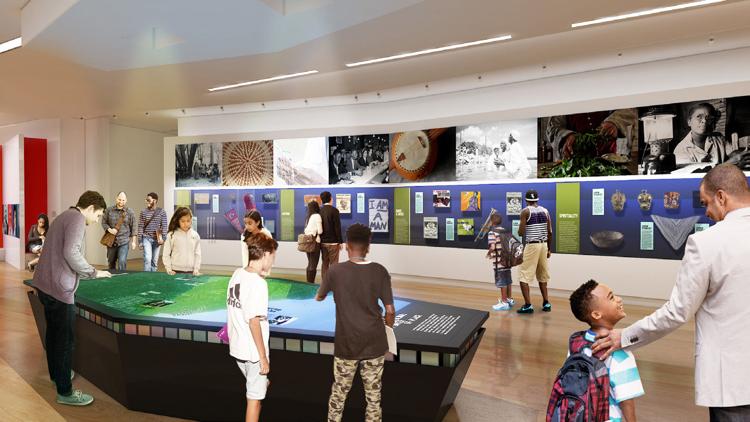 The center of the exhibit will be a large interactive media table that shows a map of South Carolina. Visitors can zoom in on different spots and learn about places that are important to African American history and culture.
In January, Dominion purchased South Carolina Electric & Gas from Cayce-based SCANA Corp. The $14.6 billion deal came after the failed expansion of the V.C. Summer Nuclear Station in Fairfield County, which SCANA and state-owned Santee Cooper abandoned in mid-2017. 
About four months after the sale was approved, the company rebranded the utility as Dominion Energy South Carolina.
As part of its increased presence in the Palmetto State, Dominion said it would give at least another $1 million in philanthropic contributions in South Carolina a year over the next five years. This gift is in addition to that commitment and marks one of the largest one-time pledges to a nonprofit in the company's history, Blevins said.