A friendly reminder from your neighborhood electric utility executive: The much-anticipated Dominion Energy rate case is just six months away.
Dominion CEO Tom Farrell reiterated to investors on an earnings call earlier this month that the utility will be seeking to revise the power bills for former South Carolina Electric & Gas ratepayers by May.
Details haven't been disclosed, though it's hard to imagine bills will go down, given that those same customers are saddled with paying down debt from the failed V.C. Summer nuclear project for another 20 years.
Farrell also told analysts and investors that Richmond, Va.-based Dominion is making less money than it's currently entitled to collect under state law from SCE&G's roughly 722,000 electric ratepayers.
"We are under-earning in South Carolina. It's well-known to everybody, and we're formulating and completing that regulatory strategy now," he said.
Dominion's so-called base rates, which don't include routine fuel-cost adjustments, are frozen in the Palmetto State until 2021. That was a condition of the sale of SCE&G, which raised prices nine times over about as many years to finance the two unfinished reactors.
As Farrell first announced earlier this year, Dominion will file its case with the S.C. Public Service Commission by May. The goal is to have the new base rates take effect the following January, just as the grace period expires.
Farrell said Dominion has kept its head down since the SCE&G-SCANA Corp. buyout closed in January to avoid any further political fallout from the failed Fairfield County project.
"As we closed the transaction, we said to policymakers that our intention was to stay out of the headlines," he added. "That was our goal. And that's exactly what's happened in the state of South Carolina. Things are moving along very well there, progressing well. We're out of the headlines."
For now, at least. No matter its request, Dominion will surely find itself back in the spotlight by springtime.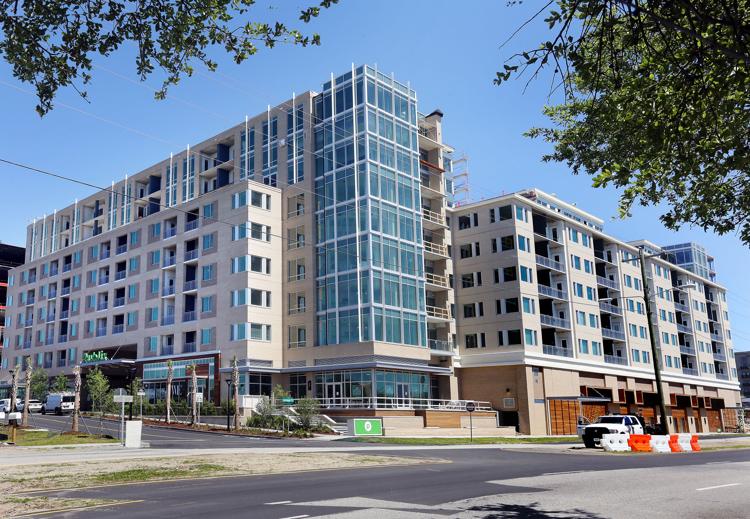 On the block
A big-ticket item is on sale at the new Publix near Brittlebank Park in downtown Charleston: The supermarket itself.
The Atlanta office of Cushman & Wakefield is marketing the grocery store on the ground floor of the 350-unit 10 WestEdge apartment complex for $25 million, or $475 a square foot.
According to an online brochure on LoopNet, the newly built retail property comes with a 5 percent capitalization rate, meaning it generates $1.25 million in annual rent payments. It's classified as a commercial condominium within 10 WestEdge.
Publix opened in March, giving peninsula residents their third full-service grocery store. 
The company that's looking to sell the supermarket bought the then-mostly vacant 2.6-acre property near Spring Street and Lockwood Drive for $9 million in 2016. Its owners include Atlanta-based Gateway Development Services, one of the main developers at the WestEdge site, where plans call for up to 700,000 square feet of office space 1,700 apartments, 1,350 hotel rooms and 290,000 square feet of retail space.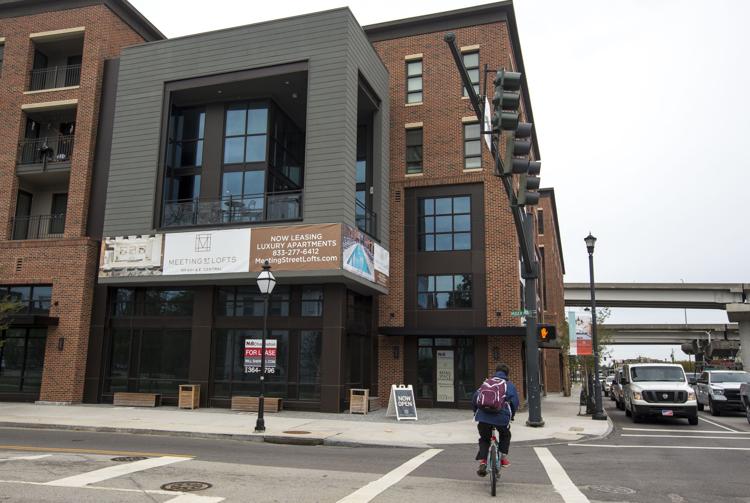 Inn suspense
It appears the owner of a downtown apartment complex that wants to use some of its residential units as hotel rooms is thinking this one through. 
The request was deferred for a second time last week, delaying a review that would need to pass muster with a newly updated city ordinance.
One of the biggest potential snags is a new policy that prevents hotels from displacing residential dwellings on the peninsula. 
The 142-unit short-term lodging use is being sought for the Meeting Street Lofts, one of the newest residential developments downtown. The property is zoned for hotel use, but the Board of Zoning Appeals would still have to grant a special exception to allow it. The developer has not commented about the reason for the proposed change. 
The item first appeared on the zoning board's agenda for its Oct. 15 meeting, but the applicant delayed the request that same day. The second deferral was Tuesday. 
The recently passed hotel ordinance has "a number of tools" that would limit a hotel use on that site, said city planning director Jacob Lindsey. In addition to the rule that prevents hotel rooms from displacing residences, Charleston now requires hotel developers to pay a fee to fund affordable housing projects.
Solo acts
While poets and songwriters might extol the elation of being young and in love, the Holy City apparently is lacking half of that equation.
U.S. Census Bureau figures show the population of millennials is, well, booming in the three-county Charleston region. But 67.4 percent of those residents born between 1981 and 1996 classify themselves as being "single with no steady partner."
That ranks the Charleston area No. 13 on a list of such places where those in their 20s and 30s are still looking for love — or not looking at all.
"In recent years, Charleston has become a millennial magnet," said Insurantly, an insurance research group that crunched the data. "A flourishing tech start-up economy coupled with a thriving restaurant and arts scene have helped to attract droves of young residents, of which nearly two-thirds are unmarried."
Millennials make up about one-fourth of the region's population, earning a median income of $35,600 a year. Nearly 60 percent of Charleston-area millennials are employed full-time and there are 12.5 percent more males than females.
The Charleston area ranked ahead of No. 15 Indianapolis and No. 14 Orlando. The top place for single millennials is Boston, followed by New York and San Francisco.
Half-Moon and the sun
The owner of North Charleston-based Half-Moon Outfitters has always tried to incorporate green building methods in his fleet of outdoor gear stores. His new Upstate outpost is no exception.
As part of the upfit in a former Greenville auto parts store, owner Beezer Molten installed awnings that act as solar arrays to offset utility costs.
The devices allow the winter light in but protect from the summer sun, which fosters daylighting or the utilization of natural light for store functions instead of artificial light, Molten said. They also offset a meaningful portion of the business's power needs but look and perform like a simple door or window awning.
The idea was to make the building a "net zero" structure, meaning the amount of energy it uses and generates is equal. 
"I was really hoping to make this a net zero building, but in the end the renovation proved too complicated to work that in," Molten said. "We are not done yet, though, and will get an NZ building done somewhere — and hopefully in this market."
The retailer moved from Laurens Road to 603 E. Stone Ave. in part of a 15,000-square-foot space that also houses Grace Coffee Co., Circa Barbershop and Tetrad Brewing Co.
Half-Moon, founded in 1993, operates eight locations in South Carolina and Georgia, including stores in downtown Charleston, Mount Pleasant and West Ashley. It's had a presence in Greenville since 1995.