WEST COLUMBIA — It's not the first time the Columbia Chamber of Commerce has heard comments on the lower cost of doing business on State Street in West Columbia.
"But we hear it in a frequent manner now," said Carl Blackstone, president and CEO of the Columbia chamber.
New development has taken off, making the area more attractive, and it's all less than a mile across the Congaree River from The Vista entertainment district in Columbia. Blackstone said the amount of recent business on West Columbia's State and Meeting streets is significant.
Look through numerous windows along the 100 block of State Street and you'll see construction crews at work building walls and installing new countertops.
"You're just seeing sizable investment all up and down," Blackstone said.
Lower taxes in comparison to South Carolina's capital city are part of the appeal. Before factoring in sales tax-based or other discounts, commercial property taxes in West Columbia came to $23.43 per $1,000 of a property's taxable value in 2018. In Columbia, that number was $33.58.
Blackstone and others say it's more than just taxes. Utility costs are lower and business licensing is less. A restaurant, for example, making $10,000 in annual receipts would pay $35.50 for a license in West Columbia compared to $60.50 in Columbia.
The city also works to make the permitting process simple, said Joe Taylor, the former state Commerce Department commissioner who now operates private equity and investment management companies on State Street.
"We knew this area was up and coming," said Alexis Stockard, who operates The Cigar Box with her brother, Brian Stockard.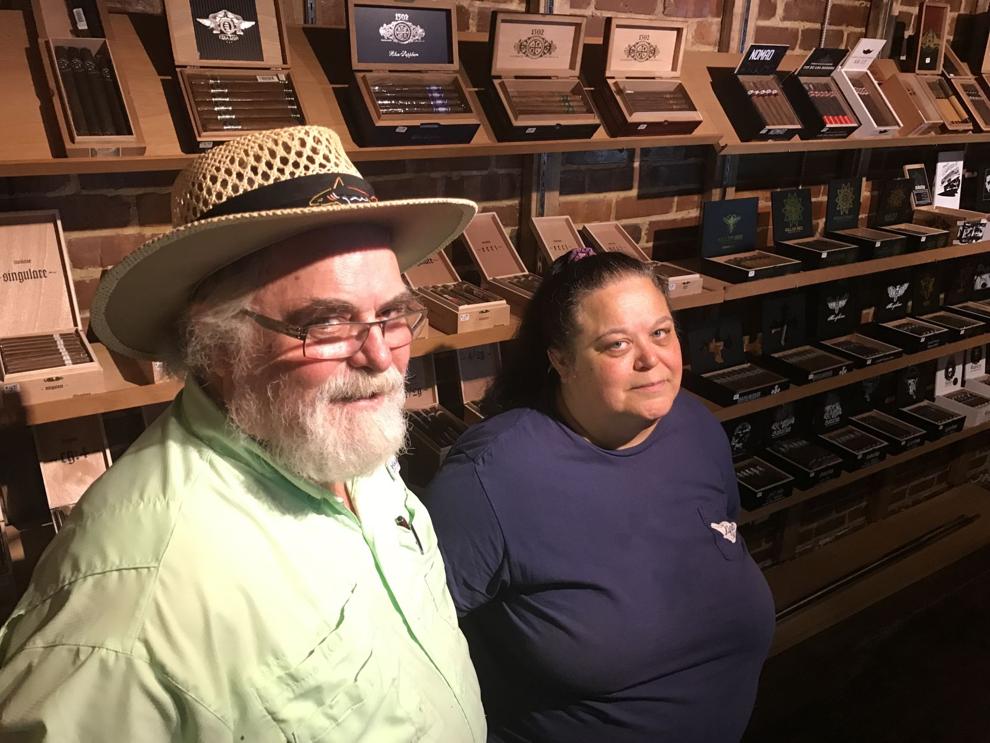 Alexis Stockard said her nephew lives just a couple blocks away from the cigar lounge's new State Street location.
"He was watching," she said. "And everything seems to be growing."
So when a new owner bought the building that housed the lounge's Main Street Columbia location, the Stockards made the move across the Congaree River, renovating the former Red Door Tavern comedy club, complete with a VIP room and a deck.
Alexis Stockard expects many of her customers will be willing to make the drive to the new location. Additionally, "a lot of my customers were from West Columbia," she said.
When West Columbia made the investment in improving the area behind State Street by resurfacing the parking lot, burying power lines and creating an art park and artisan market space, Taylor said it brought out pride in nearby property owners and spurred them to match with their own property improvements that are now under way.
Terra restaurant just completed a renovation of its dining room, and upgrades are being made to the former Clark's Beauty Shop building.
"Those are private dollars," Taylor said.
Also among them is Laurent Prescelti, the owner of Crepes and Croissants on Sumter Street in downtown Columbia. Prescelti and a partner are opening The Westside, a breakfast and fast lunch spot on State Street in the former cat cafe space. They're investing about $50,000 in equipment and upgrading the property with custom carpentry, he said.
"I've been interested in West Columbia for a while but never had opportunities for finding the right spot," Prescelti said.
The Westside will serve avocado toast, sandwiches and paninis, pastries, and, eventually, artisan breads. Prescelti said he didn't notice much of a difference in his permitting and startup costs, but building projects, like the Brookland apartment buildings, are what made him choose the spot.
"With the new construction, we felt it was time for our concept over there," he said. "I think there is good potential over there."
Other upcoming businesses in the area include Savage Craft brewery and beer garden taking over a historic city hall and jail, a poke restaurant, and, in the early planning stages, a possible oyster restaurant, Taylor points out as he walks down the streets. An art gallery and Primal Gourmet meal prepping are two other recent openings.
"We really work with businesses to try to say yes," city spokeswoman Anna Huffman said.
She points to an ordinance the city wrote to allow for a food truck court and a recent special zoning district that will allow for an infill housing project. Huffman said they also house development-related staff all in one place in an effort to ease permitting roadblocks and answer questions quickly.
"It's probably a little bit competitive," Blackstone said of the sister cities. "But really (West Columbia development) should be viewed as complementary. This marketplace is broad enough and big enough for everyone to do well."
"I know it's West Columbia, but it's all Columbia to me," Alexis Stockard said.