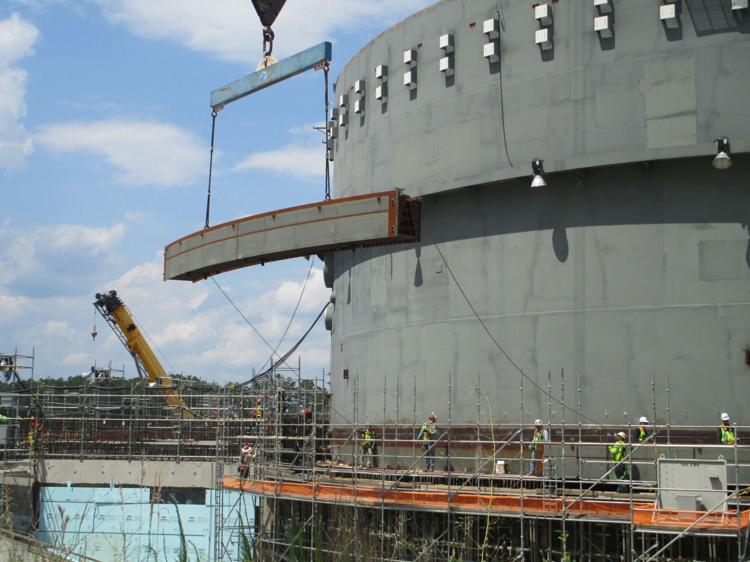 The financial meltdown at a construction and engineering contractor will push back the already delayed V.C. Summer Nuclear Station expansion to the end of 2020.
The first of the two new reactors, which Westinghouse Electric was to finish in August 2019 under the previous schedule, will now be ready in April 2020, Santee Cooper announced Tuesday. The completion of the second unit will be delayed about four months, to December 2020.
Financial terms that were renegotiated in 2016 are unchanged, the Moncks Corner-based utility said after a closed-door board meeting that lasted almost three hours. CEO Lonnie Carter was not available for comment, a spokeswoman said.
Santee Cooper's board of directors met in Columbia, hours after Toshiba Corp. reported $6.3 billion in losses from its nuclear energy business early Tuesday, raising concerns about its critical role at V.C. Summer. The Japanese company owns Westinghouse, the engineering, procurement and construction contractor at the Midlands project.
"We expect Westinghouse and Toshiba will continue to support our contract and complete ... units 2 and 3 in accordance with the fixed-price option we executed last year," Santee Cooper said in its statement. 
The state-owned power utility also said it is reviewing financial information that Toshiba disclosed Tuesday and that its "management remains in regular contact with Westinghouse," according to the statement. 
Santee Cooper, which owns 45 percent of the V.C. Summer project, also said Westinghouse plans to provide for review a new construction schedule supporting the new completion dates. 
South Carolina Electric & Gas owns the other 55 percent of the Fairfield County nuclear plant. It is expected to discuss Toshiba's troubles and the revised schedule during a conference call with investors and analysts Thursday. 
Toshiba warned late last year that it would be reporting a big loss tied in large part to the diminished value of CB&I Stone & Webster, the company hired to expand V.C. Summer and build another nuclear plant near Augusta. Westinghouse, which designed the reactors for both sites, agreed to buy that business in 2015 for $229 million to settle disputes with SCE&G and Georgia Power over construction delays and cost overruns.
V.C. Summer is being outfitted with the new reactors to meet projected demand for electricity in South Carolina and to offset the falling number of coal-fired electric generators around the state. The project is at least two years behind schedule and will cost about $4.2 billion more than originally projected.
While reporting its deep losses Tuesday, Toshiba announced that its chairman was resigning and that it must sell off some or all of its lucrative computer-chip business to raise cash. It also plans to stop building nuclear plants and could sell stakes in other subsidiaries, including U.S.-based Westinghouse.
Satoshi Tsunakawa, Toshiba's president, bowed deeply at a news conference to apologize for "troubling investors and stakeholders." He also acknowledged that the company viewed its expansion into the nuclear industry by acquiring Westinghouse more than decade ago as one of the missteps that led to its current financial troubles, according to the Associated Press.
SCE&G agreed last year to cap the cost of the V.C. Summer expansion to settle a dispute with groups critical of the way the company financed its portion of the work. Under that deal, customers of the Cayce-based utility won't be responsible for unexpected expenses beyond that amount.
Shares of SCE&G parent SCANA Corp. fell more than 4 percent Tuesday to close at $66.86.