A post-lockdown surge in global beef and poultry consumption combined with the Southeast's growing population has cold-storage warehouses in the Charleston region and elsewhere expanding to handle more frozen meat and chilled produce.
Lineage Logistics said last week it will add more room to its 180,000-square-foot warehouse at Palmetto Commerce Park in North Charleston, but the company did not say how much additional space will be made available.
The deep-freeze structure, which stores meat shipped through the Port of Charleston, opened in 2016 with the ability to double in size depending on demand. While meat is Lineage's bread-and-butter, so to speak, this expansion is designed to handle growth in frozen french fries imported to the U.S.
The expansion, to be completed by February, will cost $34 million and will add 36 jobs.
"South Carolina's numerous business advantages, in addition to the booming market, have helped Lineage to better service our export and import customers, as well as our domestic shipping partners," CEO Greg Lehmkuhl said in a prepared statement.
Refrigerated cargo moving through the Charleston waterfront has increased by 80 percent since 2010, driven largely by the Southeast's growing population and changes in grocery consumption trends, said Jim Newsome, president and CEO of the State Ports Authority. 
The SPA in recent years spent $18.5 million to accommodate the shift, including a $14 million refrigerated cargo yard, more electric outlets for refrigerated containers and a denser storage arrangement for boxes at the Wando Welch Terminal in Mount Pleasant. More outlets are being built at North Charleston's new Leatherman Terminal, which is scheduled to open in March, where refrigerated boxes will be stacked six stories high.
All told, Wando Welch and the first phase of the Leatherman Terminal will have nearly 2,000 refrigerated container receptacles.
"Providing excellent refrigerated cargo services and partnering with private companies in this sector perfectly aligns with our efforts to attract more retail and consumer goods through the Port of Charleston," Newsome said.  "Lineage Logistics has consistently grown its operations since establishing a Lowcountry presence in 2016. This expansion is particularly important as it entails servicing imported frozen cargo to the Southeast market."
The expansion comes at a time of increased domestic demand for meat products. The U.S. Department of Agriculture reported red meat and poultry consumption was at 223.7 pounds per person in 2019 — the highest level ever recorded. Poultry consumption alone has nearly tripled since 1960. And as coronvirus-related lockdowns have eased, consumers are returning to grocery stores to take advantage of lower prices brought on by an oversupply of beef and chicken.
"While chicken results were weak early in the (fiscal) quarter, driven by significant declines in food service and deli demand that affected both volume and mix, we experienced a volume rebound later in the third quarter as states began to reopen, and this has carried over into the fourth quarter." Noel White, CEO of Tyson Foods, told analysts during a conference call last month. Tyson's third fiscal quarter ran from April through June.
Beef production is also on the rise, Bank of America analyst Peter Galbo told Bloomberg News, adding: "We are going to have this flood of red meat coming into the market" this fall.
Exports are also up to places like China, which has agreed to purchase $36.5 billion worth of U.S. agricultural products including poultry as part of the Phase 1 agreement of trade talks between the two nations.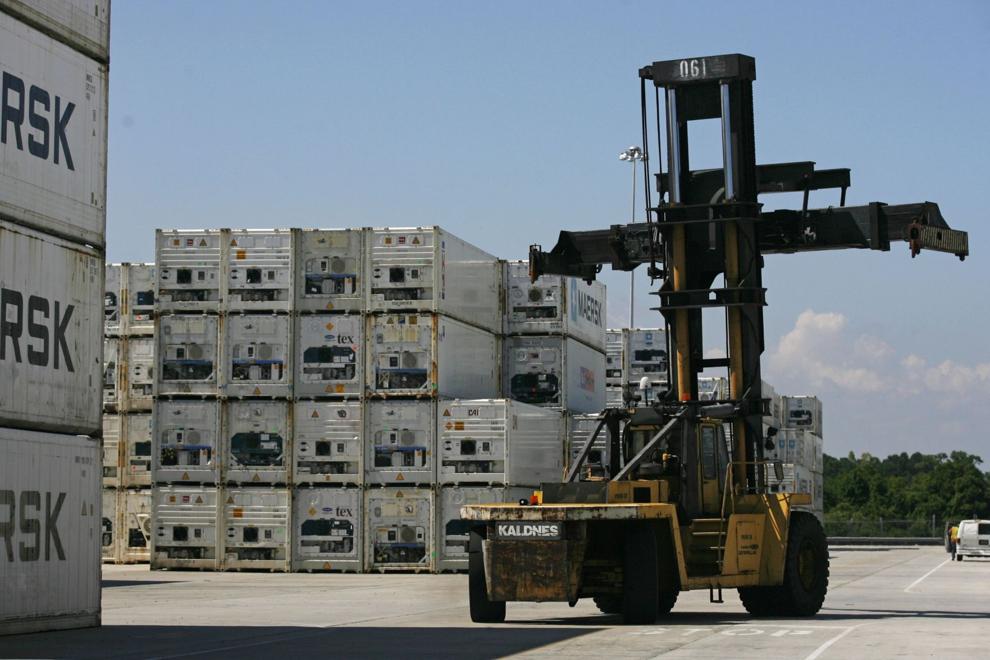 In turn, warehouses that store meat are filling fast. A survey by the USDA shows nearly 365 million pounds of chicken were at cold-storage facilities in the South Atlantic region on July 31, the latest data available. That's a 6 percent increase over last year. Nationally, the amount of chilled chicken in storage was within 1 percent of a record set in 2018.
Warehoused beef volumes stood at 18.6 million pounds on July 31 — 74 percent higher than the same time a year ago.
Other commodities are also on the rise at Southeast warehouses. The amount of nuts and dairy products in cold storage has increased by nearly 10 percent. Blueberries are up by 48 percent. And frozen green beans have surged by 79 percent.
While the pandemic has shifted shopping patterns and restaurant closures have led to more meals cooked at home, the ongoing demand for meat has cold-storage warehouse firms bullish on the future.
"Demand remains consistent," Fred Boehler, CEO of Atlanta-based Americold Realty Trust, told analysts last month. "What people eat and where they eat may change, but people are still going to eat."
Americold has seen its stock price rise by more than 25 percent since the height of the pandemic and last week spent $107.5 million to acquire facilities in Tampa and Dallas. 
Family-owned Lineage Logistics, based in Michigan, recently purchased cold-storage rival Emergent Cold in a $900 million deal announced in November. It's among the latest of roughly 40 acquisitions for Lineage since the company was founded in 2008 and it included a second North Charleston warehouse on Remount Road once owned by New Orleans Cold Storage. Lineage now has about 1.7 billion square feet of cold-storage space worldwide.
The North Charleston sites are in addition to a 121,000-square-foot blast freezer and cold storage site in Summerville owned and operated by Agro Merchants Group.
A recent report by the commercial real estate firm CBRE said between 75 million and 100 million square feet of new cold-storage space will be needed to meet U.S. demand over the next five years, particularly from growth in the online grocery business.