A third Chick-fil-A restaurant is on the way to Mount Pleasant. Plans have been filed for a new building at 653 Long Point Road across from Belle Hall Shopping Center.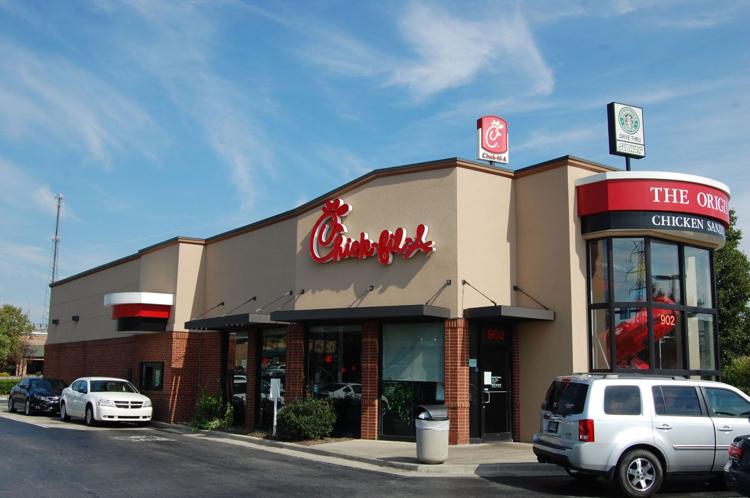 Other nearby Chick-fil-A restaurants are on Johnnie Dodds Boulevard near Anna Knapp Boulevard and on Ironclad Alley off U.S. Highway 17 in the northern end of town.
Additionally, the nearby Blue Water convenience store and gas station at 701 Long Point Road is slated for a makeover.
Also looking to move into a new building in the town is Bikram Yoga. It will be part of a 4,900-square-foot, two-story building planned for 1135-1139 Bowman Road.
The town's Commercial Design Review Board will consider all three buildings Jan. 25.
Pet project
James Island's newest pet supply store will host its grand opening Saturday.
PetSmart will hold a ribbon cutting at 9 a.m. for its new 19,000-square-foot store at 850 Folly Road in the Super Bi-Lo-anchored shopping center.
The first 50 customers will receive a mystery gift card ranging from $5 to $50, and all shoppers will receive free giveaways such as T-shirts, pet treat samples, pet toys and discount coupons while supplies last.
Also, Charleston Animal Society and the store's adoption partner, Pet Helpers, will have pets available for adoption during the grand opening. PetSmart does not sell dogs or cats.
PetSmart operates four other stores in the Charleston area: in Mount Pleasant, North Charleston, Summerville and West Ashley.
Branching out
Waffle House is looking to add an eighth location in North Charleston.
The breakfast provider has applied for a stormwater permit to build a new restaurant on a nearly 1-acre vacant commercial lot at the corner of Sumner Avenue and Paulson Street in North Charleston.
The site is off North Rhett Avenue opposite a new Bojangles' Famous Chicken and Biscuits restaurant that opened in December near Interstate 526.
Fast-food
McDonald's plans to add a new restaurant in Goose Creek.
The fast-food chain intends to build a new diner at 1645 Red Bank Road beside Wal-Mart Neighborhood Market near the Naval Weapons Station. A vacant building on the site will be demolished, according to Berkeley County property records.
Branching out
West Ashley soon will see a new beauty shop.
Vanity Salon plans to add a second location at 2875 Ashley River Road. It will offer the same services as the Mount Pleasant site, including hair styling, airbrush makeup, spray tanning, bridal services and beauty products.
Shop owner Kim Coleman has been in the industry for more than 10 years.
Vanity Salon also is home to Charleston's "Style Bus," an 18-person bus that has been transformed into a styling salon which can also serve as a bridal suite.
A grand opening is set for Feb. 4, with tours and a chance to win a special salon package. A cocktail reception will start at 5 p.m.
The new location will be open 9 a.m.-7 p.m. Tuesday through Thursday, 9 a.m.-6 p.m. Friday, and 9 a.m. to 5 p.m. Saturday.
Turning the page
Just under a year after opening in downtown Charleston, a gallery and book shop is closing. Pulp will shut its 3,541-square-foot art and popular culture shop Jan. 28 at 535 King St., shopkeeper Will Eiseman said. He hopes to find another location in the downtown area he can afford.
Sip and paint
Wine & Design will host the grand opening of its new painting-class shop with a ribbon-cutting at 5 p.m. Jan. 25 at 138 S. Main St. in Summerville. Specials and freebies will be offered Jan. 25-29. It's the third shop by Sarah and Bryan Dubay in the Charleston area. Others are in Mount Pleasant and West Ashley.
Cash for cameras
AccuPhotoLab will host a camera-buying event Friday and Saturday at 1757 Savannah Highway in West Ashley. Cardinal Camera will be on site and pay the taxes on purchases of its products.
Third Thursday
Several shops in downtown Summerville will stay open late Thursday. Shoppers on Third Thursday will find a variety of businesses, including salons and spas, apparel and shoes, jewelry, home decor, kitchenware and gadgets, food and gift baskets, women's accessories, antiques and vintage items, dance wear, quilts, sewing and knitting needs, as well as others
For a complete list of participating merchants, go to summervilledream.org/shop.
Spring sprout
The Fresh Produce women's clothing store relocating in downtown Charleston is set to blossom in early April, according to Jennifer Davis of Domicile Real Estate, which handled the transaction.
The Colorado-based, coastal-inspired clothing company is moving into 218 King St., where clothing store Nine West was located until last fall, from The Shops in Belmond Charleston Place, one block away.
Fresh Produce also will host a Meet Up & Clean Up event to coincide with the opening. It asks customers and the community to help clean up a beach or area of town that needs attention. For more information about the clean up, send an email to community@fpcolor.com.