A Florida-based restaurant chain hopes to add 10 new locations in the Charleston area, with its first in Goose Creek, under a new modular building design.
Checkers and Rally's of Tampa believes its new design will save on construction costs, speed up building time and allow it to enter markets that were once cost-prohibitive, according to John Palumbo, director of franchise development.
"We don't have the sites selected for all of the proposed restaurants in the Charleston designated market area, but we think the region will support that many more new restaurants," Palumbo said. "We hope to have the first one open in Goose Creek later this year."
The company currently operates three of its drive-through restaurants in the Charleston region: two in North Charleston and one in Summerville.
On the menu
Four years after chef Patrick Owens said he had an appetite for a third restaurant in the Owens Dining Group family, his plate is complete.
Wood & Grain, a wood-fired pizza and raw bar, opened Wednesday two doors down from his original restaurant, Langdon's, at 778 Shelmore Blvd. in Mount Pleasant.
"My two favorite things are pizza and raw seafood," Owens said. "It is exciting to use wood to roast seafood and shellfish in an open hearth oven."
Under chef de cuisine Jeffrey Allen, the restaurant will offer items such as roasted octopus, ceviche and a variety of pizzas, salads and raw seafood.
The raw bar opens daily at 4 p.m., with the full-service dinner menu available after 5 p.m. The restaurant will close at 10 p.m. Monday through Thursday and 11 p.m. on Friday and Saturday.
Owens' other restaurant is Opal, also in Mount Pleasant.
Name change
Triangle Char + Bar at 9800 Dorchester Road has been renamed. The North Charleston restaurant reopened Wednesday as Caroline's Lowcountry Kitchen after a brief closing and menu update. It's still owned by the same group. The other two Triangle Char + Bar restaurants in Mount Pleasant and West Ashley are not affected.
Rapid repairs
A new electronic repair chain that promises same-day service is now open in Mount Pleasant.
Florida-based uBreakiFix opened earlier this week at 644 Long Point Road, Suite E. The shop specializes in cell phone and computer repairs. Its local owners are Will Siegfried and Jake Earp, who hope to open other stores in the Charleston area. The company has another store in South Carolina in Greenville.
Snip, snip
Jeri's Old School Barbershop is now open at 8983 University Blvd. in North Charleston. It's owned by John and Jeri Zidlick of North Charleston. Jeri will be running the shop and working in it. A ribbon-cutting ceremony will be announced.
Up for review
A new grocery-anchored shopping center in West Ashley is coming up for review by the city.
Charleston's Design Review Board will meet Monday to consider preliminary approval for the Harris Teeter-anchored retail center planned for West Ashley Circle at Grand Oaks Boulevard.
On the way
A new wine shop is coming to James Island.
The Tilted Glass Wine & Spirits recently leased 965 square feet in the Harris Teeter-anchored James Island Center at 1739 Maybank Highway, according to commercial real estate firm Avison Young.
The firm also announced the lease of 1,250 square feet of retail space in North Rivers Plaza at 8410 Rivers Ave. in North Charleston to clothing shop Swaggy Chern Boutique.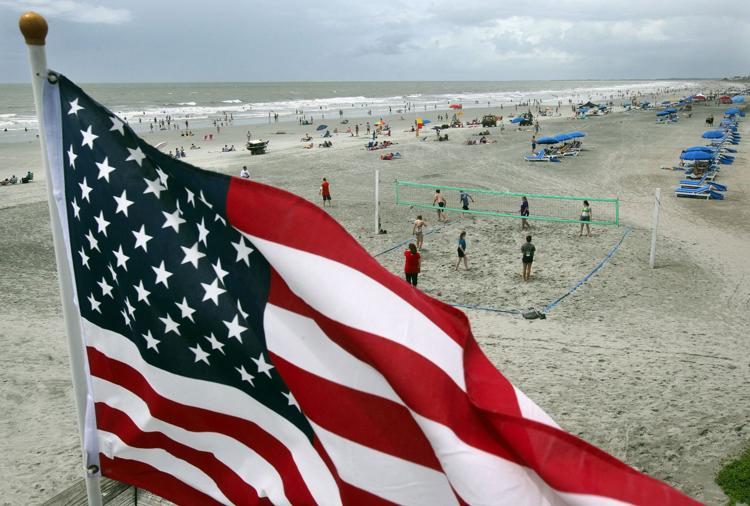 Patriotic splurge
With the U.S. economy back on solid footing after the economic meltdown a decade ago, Americans are expected to splurge a little more on the nation's birthday.
Spending on cookouts and picnics is expected to climb 4.4 percent to $7.1 billion during the Fourth of July this year, according to the National Retail Federation.
Average spending per person celebrating the holiday is expected to jump about $2 to about $73.50. The numbers cover only food items, not other holiday-related spending such as decorations, flags and clothing.
The survey found that 65 percent of consumers already own a U.S. flag, 53 percent own patriotic-themed apparel such as T-shirts, bathing suits or shoes, and 40 percent own patriotic decorations. About 28 percent plan on purchasing more patriotic items.
Giving back
A Charlotte-based car washing business is donating part of its sales next month to charity.
Autobell Car Wash, which operates in five states and has a facility at 8478 Dorchester Road in North Charleston, will give $1 from the sale of every manager's special car wash with rain repellent to the American Heart Association from Monday through July 16. It's open seven days a week with abbreviated hours on Sunday.
Its other South Carolina operations can be found in Clover and Indianland near Charlotte.
Also, for the third consecutive year, the parent company of Bi-Lo supermarkets will give 100 percent of its profits on the Fourth of July to Hope For the Warriors, a nonprofit veterans help group.
Jacksonville-based Southeastern Grocers, also parent to Harveys and Winn-Dixie grocery chains, raised more than $5.8 million over the past two years on Independence Day for wounded veterans and their families.
Customers also can donate at stores and be included in a Wall of Honor.