She might be an unlikely technology entrepreneur, and the unions that supply labor to the ports are her unlikely customers, but Jody Newman says an application she developed is in its sixth year and seeing success.
Newman, CEO of locally based Dispatch Dynamics, said her software modernizes how the International Longshoremen's Association and its affiliates manage their workforces.
The smaller of the ILA unions in Charleston — Local 1771, the clerks and checkers group — is using the application, called Harbor Watch.
Another, Local 1422, had been using the software but recently stopped. Newman also has union customers in Jacksonville, Fla., and Norfolk, Va. 
Most of the workers who work on the docks of the Port of Charleston belong to a union, while the S.C. State Ports Authority owns and operates the terminals.
Newman charges the unions $5.10 per month for each member who uses the software. For the clerks and checkers union, the monthly cost would be in the $1,400 range. 
Newman said she spent close to a year in 2011 looking over the shoulder of a former dispatcher, to learn what the needs were. The system then hinged on recordings of all daily job assignments, which workers could call in and listen to. 
"They were running with archaic practices that have been that way for the past 50 years," Newman said. 
She launched a pilot of the software in 2012. Instead of having to call in, waterfront employees can log on to their accounts at www.ila1771.com to see where and when they will be working that day. 
Log on to that site, and the dispatcher can organize the labor for the day. Workers receive text updates with their assignments and other key communications — such as when there was a bomb threat at the port in 2017, which turned out to be false.
It sends out somewhere between 3,500 and 5,000 text messages monthly to the members. Tami Lachicotte began working as the union's dispatcher four years ago, when it had already signed on to use the software. 
Some of the union members had trouble adapting to the change in routine at first, Lachicotte said. 
"We had some resistance from some of the men," she said.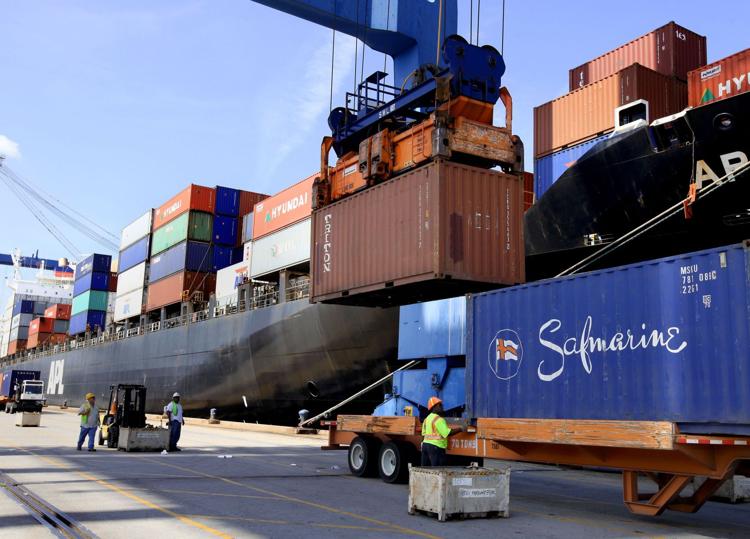 Most have come to appreciate the ease of communication Harbor Watch offers, she said. The union was founded in 1950. Some of the members are fourth- and fifth-generation longshoremen, ranging from 18 to 81 years old. 
Mark Ortega, president of a clerks and checkers union in Jacksonville, said he has been "trying to move from what we've been doing for 100 years" to modernize his organization. 
That has meant, in part, scanning dozens of file boxes' worth of documents into Dropbox, representing decades of paperwork. Introducing Newman's software required a vote among the union members, who number about 140.
"It's been a slow process, but they have adapted to the new technology," he said.
In the past, the union would draw up a work order and make a tape, Ortega explained. Workers could call the number after the tape was posted and hear where they were working that day. Ortega said a slight improvement came when they started posting the work order as a document everyone could see online. But that was still static.
The Harbor Watch software updates in real time. And it acts as a digital ledger of who worked, and where, on any given day. He likes the status updates he receives through the program about the local port, too.
Newman is 70, an older woman in a field of mostly young, male startup tech executives. She has no personal history with the port. Her last job was at a small, boutique marketing agency in Charleston.
The grandmother of four pursued the idea of creating software for the unions after an acquaintance mentioned how the current system is out-of-date. Newman has a team in Charleston, but used developers in India to build the application. 
She found many maritime unions are wary of automation, and so have been reluctant to adopt new technology. Newman has focused on making a product that simplifies their workflow issues. One of those issues important to unions is ensuring workers are assigned labor in the correct order. 
Laborers are given priority for jobs based on seniority. Harbor Watch keeps track of seniority with assigned numbers. It also gives users access to their work history, information about their health insurance, pension and more.
"It's transparency, for me and for them," Lachicotte said. "There's no room for deception or manipulation. It keeps everybody honest."