Charleston entertained almost 6.9 million visitors last year, a number that blows previous estimates out of the water because it includes short-term rentals for the first time, according to a new report.
The estimate from the College of Charleston's Office of Tourism Analysis is a 27 percent increase from the 2016 estimate of 5.44 million visitors. In addition to short-term rentals, the report includes a better count of beach rentals.
"I don't think anything has changed that dramatically," Linn Lesesne, board chair of the Charleston Area Convention and Visitors Bureau, said of the new report. "I think we just have more information."
By comparison, the visitor count increased almost 7 percent in 2016, up from 5.1 million in 2015, when short-term rentals weren't included.
It wasn't immediately clear how much of the jump represented new visitors, and not simply those who had not been counted before. Short-term rentals have mushroomed in the Charleston region over the last few years.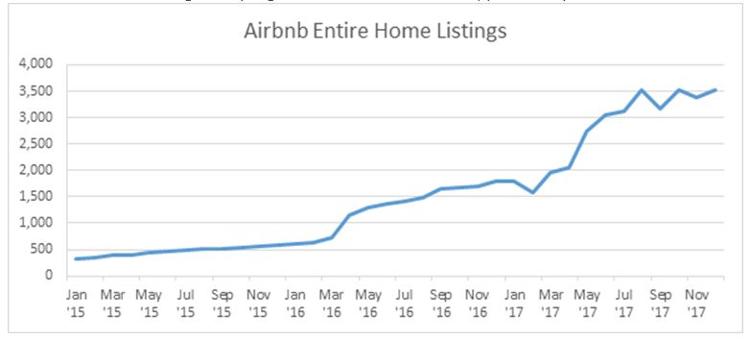 "We have gone from zero to about 3,500 whole-house short-term rentals in the last two years," said Wayne Smith, chairman of the college's department of hospitality and tourism. "That's a big, big jump."
The biggest increase was in whole-house listings, according to Daniel Guttentag, director of the Office of Tourism Analysis. The number of whole houses listed as vacation rentals through Airbnb swelled from less than 500 in January 2015 to about 3,500 in November 2017.
"The number of private room listings is smaller — roughly a quarter of the entire home listings — but the general upward trajectory has been similar," Guttentag said.
It remains to be seen how the city's new regulations to crack down on illegal short-term rentals might affect the number of visitors in the future. The new rules particularly target rentals of entire homes by owners who don't live in them.
"When one combines the growth of the short-term rental market with the August eclipse and Charleston's continued appeal to visitors, it is not shocking to see such an increase in visitors compared to last year," Guttentag said. "At the same time, 6.9 million visitors is still less than what many other destinations receive, such as New Orleans (10.45 million) and Nashville (13.9 million)."
A question many Charleston residents have been raising is how many tourists the historic peninsula can handle. Concerns have been raised over increasing traffic on the narrow streets, the threat to the city's charm and the effect of housing prices for full-time residents.
On the other hand, tourism generated about 14 percent of all the sales in Charleston County in 2015, for a total economic impact of more than $3.7 billion, according to the Office of Tourism Analysis.
An updated report on tourism's economic impact is expected later this week.