Most Charleston residents know what to do when they see a small flag stuck into a halved rubber ball on a downtown street: steer clear.
For years, cleaning crews have relied on these crude markers to pinpoint where carriage horses and mules have relieved themselves mid-tour. 
But soon, they will disappear as Charleston phases in a more high-tech means of marking animal waste. Carriage operators will be using small GPS-enabled devices to send the exact location to equine sanitation crews.
At the same spot on Market Street where tour guides check in their carriages and receive zone assignments, they will pick up one of the hand-held devices, attached to a lanyard.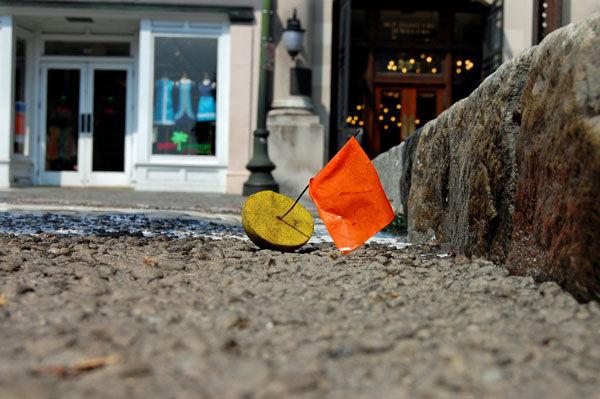 Tourism enforcement officers and equine sanitation workers can connect to the devices using tablets.
When a horse or mule takes an on-street nature break, that guide presses a button, and the equine sanitation crew is notified of exactly where to go. When the cleanup is complete, the notification is deleted.  
"It's been very accurate so far," said Dan Riccio, director of the city's Department of Livability and Tourism.
The department is now testing the technology, Riccio said. Just one carriage operator is using it now, but, in the next few weeks, the others and their employees will be trained to use the devices.
In the interim, tour guides will still be dropping the familiar ball-and-flag markers, just to be sure, Riccio said. Eventually, he said, the plan is to phase those out completely. 
The equine sanitation contractors work daily to sweep, scrape and spray downtown Charleston's streets to clear them of horse and mule muck. It can be an unpleasant task, particularly during warmer months when stenches spread quickly and tourists pile into the carriages around City Market in droves. 
"We think this is going to help get spills recorded and cleaned up as soon as possible," Riccio said. 
The devices cost about $250 each, Riccio said. The department budgeted for 40 of them to get the program started, he said, but it plans to have carriage operators pay for future costs.
The rollout of the new technology will require some minor changes to the tourism code. The section regarding animal-drawn carriages specifies that guides must drop a "sanitation flag" where waste is left on city streets. 
Because of its tracking capabilities, the device can help tourism officers ensure that carriage operators aren't taking their tours down unauthorized streets.
The devices also have an emergency notification system, but how that function will be used hasn't been determined yet, Riccio said.