A new hotel in the shadow of Emanuel AME church, the site of the June 2015 massacre of nine black parishioners, is named after the remarkable act of forgiveness that church members offered the killer.
It's called Hotel Bella Grace. When the families of the black victims told killer Dylann Roof, an avowed white supremacist, in court that they forgave him, it drew national attention.
"It's a salute to that act of forgiveness," owner Don Semmler said before a ribbon-cutting ceremony Wednesday, the church visible behind him across Calhoun Street.
Charleston Mayor John Tecklenberg, who has tried to curb the number of new hotels being built on the peninsula, was on hand to mark the significance of this property. He noted that a planned memorial to the victims will draw people from all over the world.
"You have a special responsibility with hospitality … in this special sacred space," he said.
Semmler is a former Marriott executive vice president who founded Local Hotel Adventures in Charleston. This is his second project, following the 100-room extended-stay Andell Inn near Kiawah Island in 2014.
Hotel Bella Grace consists of a historic home called the Delaney House, which serves as the cafe and gathering space, and a contemporary building that wraps around it and contains the lobby, guest rooms and parking garage. The spire of the church reflects in a three-story array of glass windows at the end of the entrance drive.
Calhoun Street Hospitality bought the 1830s Delaney House and adjacent lot, totaling 0.38 acre, for $3.2 million in October 2015, according to county property records. Semmler said a partner had put down a deposit on the land before the church shootings.
"It caused us all to reflect," he said.
Hospitality at this hotel won't come cheap. Prices start at $347 a night for Marriott members, according to the website. The first guests were scheduled to check in Friday.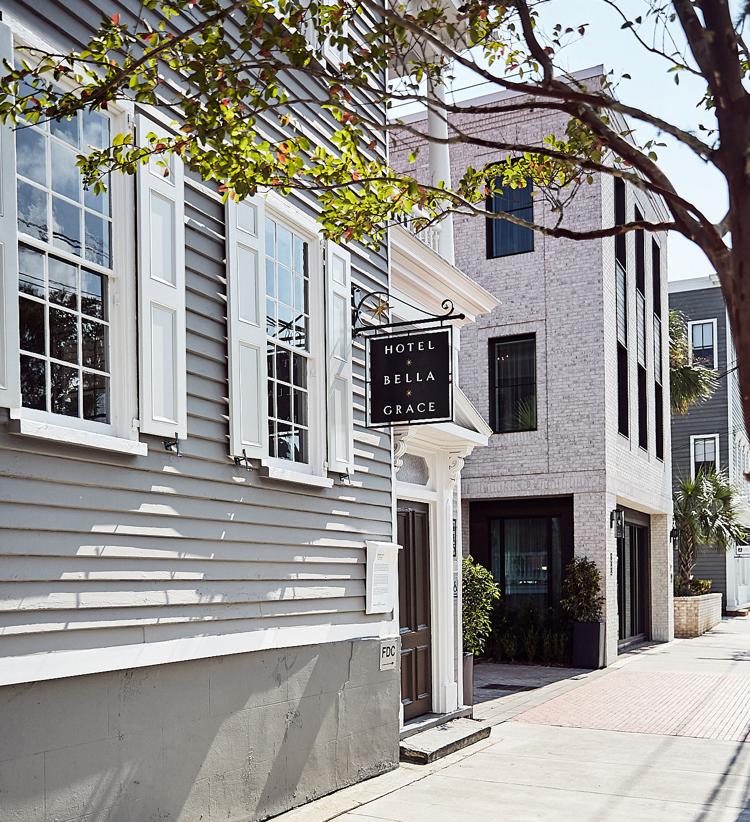 The exterior of the new building is a contemporary mixture of light brick, dark metal, dark-stained wood and glass. The interior is also mostly contemporary, with hints of history.
Two big composite marble slabs hang on black metal rollers over an alcove behind the reception desk in the lobby. On the other hand, the apothecary jars in the bathrooms are based on historical finds that were dug up during site work.
Like several other new hotels in the city, the artwork tends toward contemporary. The theme is strongly female, based on some of the strong women who lived in the house.